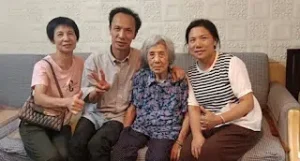 News has emerged that Deng Tianyong (52), pictured with his mother and two sisters, was released from prison on 1 July after serving a three-year sentence for selling audio Bible players. He returned to his home town of Shaxi in Zhongshan city, Guangdong province, and is reported to be in good spirits although he has lost a lot of weight.
China Aid reports, "After his release, he did not seem to be free. He never answered phone calls from close friends. Friends speculate that he, like other Christians released from prison, may have been instructed by police not to contact any Christians."
Deng  lives in the Shenzhen special economic zone located in southern China adjacent to Hong Kong. Shenzhen has become known as the "Silicon Valley" of China as it has become China's hi-tech hub. Deng is an employee of Shenzhen Tree of Life Technology Development Company, which sells Bible players – small digital playback devices that store sermons and hymns as well as audio Bibles.
The players are convenient, simple to operate and have become very popular in China, especially among older Christians. The Chinese government has made the manufacture and sale of Bible players an "illegal business" offence, and managers of other similar companies in Shenzhen have also been heavily sentenced.
The executive director and legal representative of the company was Deng's wife Fu Xianjuan, who is serving a six-year prison sentence and is not due for release until July 2026, while Deng was responsible for reviewing and managing content.
Deng is a former drug addict, of whom China Aid writes: "It was the Christian faith that completely changed him, so that he not only successfully recovered from drugs, but also became a God-fearing man." His lawyer visited him during his imprisonment and reportedly led him in worship.
Arrested, tried and sentenced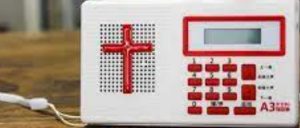 Police arrested Deng Tianyong, Fu Xuanjuan and their colleagues Feng Qunhao and Han Li on 2 July 2020 in Shenzhen's Bao'an District and detained them in Jiuwei Detention Centre. Feng Qunhao was the company technician, responsible for copying and burning videos, while receptionist Han Li managed the company's finances and was responsible for packaging and transporting the players. All their family members were threatened not to disclose the facts of their case.
On 6 August 2020 they were officially arrested and charged with "illegal business operations". The Bao'an District Procuratorate transferred the case to Bao'an District People's Court, which tried the four Christians on 27 November 2020 and again on 9 December 2020. While they remained in detention awaiting their second trial, the authorities warned their families and lawyers not to release any information about their cases.
Bao'an District People's Court found them guilty and on 16 July 2021 it sentenced Fu Xuanjuan to six years and a fine of 200,000 yuan (€26,000), Deng Tianyong to three years and a fine of 50,000 yuan (€6,470), Feng Qunhao to two years and six months and a fine of 30,000 yuan (€3,900) and Han Li to one year and three months and a fine of 10,000 yuan (€1,300). The Court also confiscated all six models of the Bible players and six computers.
Fu, Deng and Feng lost their appeals on 16 December 2021 in Shenzhen Intermediate People's Court – Han Li had been released on 1 October 2021. Feng Qunhao has also since been released.
The appeal court verdict reads, "After investigation, based on the testimonies of the appellant and the defendants of the First Instance, along with evidence such as the witnesses' testimonies and audit reports, it is confirmed that from Jan 2018 to June 2020, Shenzhen City Life Tree Technology Development company illegally sold audio players with Bible or other religious content and obtained CNY 3661847.84 (€475,000) of profits."
(China Aid, International Christian Concern, Grant Thornton)
Photos: China Aid
Share this