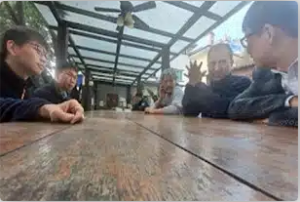 On 28 October, Early Rain Covenant Church in Chengdu, capital of China's southwestern Sichuan province, held a graduation ceremony for its Bible college, known as the Workers' College. Over thirty church members attended the service, which was held at 10 am in a hotel conference room. During the service more than twenty officials from the Political Security Bureau and the Civil Religion Bureau suddenly entered the room, interrupted the ceremony and declared the gathering illegal.
Police took five Christians to Cao Shi Jie police station (Elder Li Yingqiang, Shuqi Ding, Xuewei Jia, Yingshi Liu, Benli Li and Bo Nie) and took three to Qingyang District Xiyouhe police station (Hao Guiru, Shu Qiong and Pastor Caleb Zhang). The photo shows several of the detained Christians, including Elder Li, at the police station.
At about 5 pm Elder Li was sent in a police car to Deyang city, where he lives following intense police harassment that forced him and his family to leave Chengdu and move several times. China Aid reports that five male Christians were taken to the Huangtianba Case Centre to make statements.
Background
Early Rain Covenant Church (ERCC) is one of the most prominent unregistered house churches in China, with more than eight hundred members. It runs a Bible school with about one hundred students and a small primary school.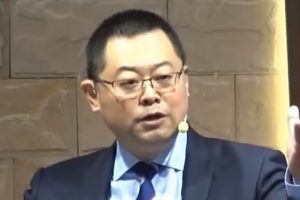 The government has harassed the church for many years and this intensified in December 2018 when lead pastor Wang Yi (pictured) was arrested following a raid – he is now serving a nine-year prison sentence. Police also detained over 150 members, many of whom said they were tortured in an attempt to extract false evidence against Pastor Wang Yi. Since then many released members have lost their jobs, been evicted or had their bank accounts frozen, and some have been sent back to their home towns in an apparent attempt to weaken the church leadership.
The authorities closed ERCC's premises (two floors rented in an office building) in December 2018 but members continue to meet in smaller groups and online. Many are under surveillance and police officers have intimidated, threatened and detained them in an attempt to prevent attendance at meetings.
ERCC issues public prayer
In response to the banning of the graduation ceremony and the detention of nine attendees, ERCC issued the following public prayer.
"The Lord's love is in China, the Lord's love is in Chengdu, the Lord's love is in the fall rain, and the Lord's love is among us. During these five years of great persecution, although the [church] was blocked and the pastor was imprisoned, brothers and sisters were fruitful in patience and gladly equipped themselves to serve the church.
"Pray that the Lord would watch over each of the brothers and sisters who were taken to the police station, and give them courageous hearts, which You have given them for their graduation, to see the Eternal Saviour in the midst of persecution and fire. Pray also for mercy on our nation and government officials, who continue to persecute the Lord Christ and His Church, not realising that this is the only way of life that can save them from death."
(China Aid)
Photos: China Aid
Share this