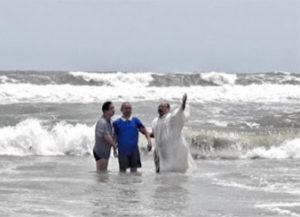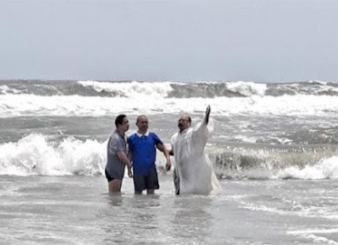 On Easter Saturday, Chinese police and government officials interrupted a  restaurant lunch to question Pastor Mao Zhibin and several members of Trinity Harvest Gospel Church. The incident occurred after Pastor Mao had baptised six Christians at a nearby beach.
Church members had driven a two-hour journey from the city of Shenzhen to a remote beach for the baptism in a bid to avoid the attention of the authorities, as the church has been harassed repeatedly during the past year. The four men and two women who were baptised had completed several months of baptism classes, and nineteen members of the church had taken turns to fast and pray for ten days ahead of the baptism.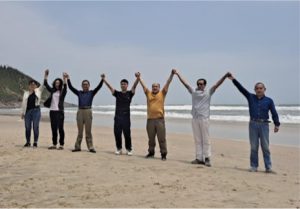 The baptism in the sea was a time of great joy for all present, but the authorities became aware of it after someone posted pictures and videos to WeChat (the popular Chinese messaging app). The church members went to a nearby restaurant for a celebratory lunch, during which Pastor Mao received a phone call from the Management of Health Hotline, asking him to verify his identity and confirm (in the name of Covid prevention) his home address. Within minutes, a local county official and several police officers arrived at the restaurant where they checked the church members IDs, scanned their Covid QR codes and also performed a facial recognition scan. It is reported that the police officers and staff were polite and waited until the Christians finished their lunch to question them.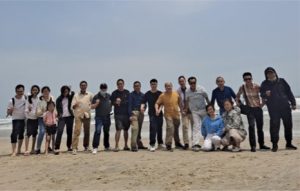 Pastor Mao was surprised to discover that a police officer already had the baptism videos on his mobile phone. He was shocked by how fast the authorities responded and later wrote: "As Christians, we get special attention from the government. When we eat lunch, a county official sits next to us and waits. As soon as they scanned our Covid QR code and performed a facial recognition scan after lunch, many of my pictures appeared on the officer's mobile phone. It was truly impressive. I majored in Information Management at my university. With the data collected from WeChat and hundreds of millions of surveillance cameras and processed with artificial intelligence algorithms, the power is way beyond any other totalitarian regime. However, God is still in control. We just need to trust Him and follow him."
Background
Police harassment of Trinity Harvest has become commonplace in the past year. It has been described by China Aid as a young church established five years ago that focuses heavily on social justice. Pastor Mao Zhibin and Elder Shen Ling joined other ministers and pastors in 2018 to support and sign Pastor Wang Yi's "A Joint Statement by Pastors: A Declaration for the Sake of the Christian Faith". The church has attracted a lot of dissidents and thus became a target of persecution.
In April 2021, police and officials of the Religious Affairs Bureau raided the church during its Sunday service, while in the following month the government closed a beach to prevent a baptism service taking place. On that occasion, church members travelled to another beach where they held the baptism.
In July 2021, the church was raided again – this time during an online service which was halted when national security agents, police officers and staff of the Religious Affairs Bureau broke into pastor Mao Zhibin and elder Chu Yanqing's room and arrested them.
In September 2021, the church planned to celebrate its fifth anniversary at a beach in Huizhou but found the beach full of police officers who mistakenly thought that the church was planning a baptism and spoke to church members, warning them not to attend.
(China Aid)
Share this