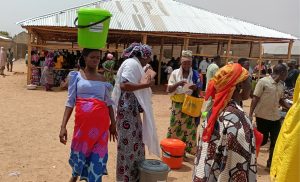 In early April, a team from Church in Chains partner Stefanos Foundation travelled to the Zuru Local Government Area in Kebbi state in northwest Nigeria to bring aid to Christians in the area who had suffered during recent attacks by Muslim militants.
The area is home to Christians, Muslims and followers of traditional religions who historically had lived in harmony, including inter-marrying. However, the introduction of radical Islamism has destroyed the peaceful coexistence of the religions. Christians report that from 2020, armed militants, many from neighbouring states, have been attacking locals and killing in the name of Allah. The guerrilla-style attacks totally overrun peaceful communities, killing innocent inhabitants, destroying properties and rendering many homeless to seek refuge in relatively safe communities.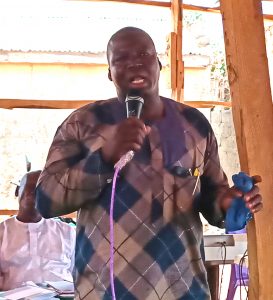 Rev Musa G'Gomo (pictured),  from Dpindu village in Wasagu district of Kebbi state described an attack in February: "I was home when one of my Church members called to inform me that bandits had invaded our village. They beat me using the top of their guns calling me all sort of names and they dragged me out into the compound and made me to sit on the ground. They told me to give them money, I then brought out the N10, 000.00 I had in my pockets but they beat me more saying it was too small. After the operation, they took me to one of their hideouts and locked me in one of the rooms. I was held captive with them for eleven days. There were days they tried to force me to denounce the name of Christ which I refused. At the end (after a ransom was paid), they told me that the God I was serving listened to my prayers. God kept me throughout this period and my faith was not shaken but rather strengthened. I want to say thank you to those that have visited us with these food items. This gift is a physical representation of God's love to us and we truly appreciate it. We appeal that you continue to pray for the Church in Zuru."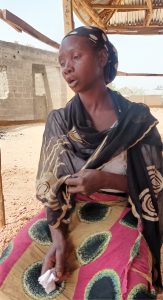 Grace James (pictured), a farmer and a mother of four children, from Mun Hayei village in Zuru LGA of Kebbi state spoke of an attack in January: " I was breastfeeding my little baby when we were informed that our village was under attack by bandits. My husband left us at home and went out. I pleaded with him to come back into the house but he refused and went out. I decided to look for a small hideout in my house. There, I laid down with my baby, my mother-in-law and two of my children from 3pm to 7pm until the place was calm.
I then went out of hiding and realised that almost my whole village was on fire. I lost my husband, my oldest son and my father to that attack. I am staying in a church premises in Zuru with my children and mother-in-law. Life has not been easy but I thank God for life. I feel very sad when I remember the death of these loved ones especially now that I don't have anyone helping me to cater for the remaining family members. Sometimes we even sleep hungry on days I don't find menial jobs to do. I want to say thank you to those who have visited us with these food items, you don't know how the Lord has used you to bless me. I pray the Lord bless and reward you richly."
The Stefanos Foundation Project Team made the long journey to the area, where the team spoke with local Christian leaders about the needs of the people. They then purchased food items from the local market and packaged them for distribution. Over 150 households from affected villages benefitted from the food relief distribution project and were full of gratitude to Stefanos Foundation and also thanked God for the food.
In 2021, Church in Chains sent over €28,000 via Stefanos Foundation to provide food and shelter for Christians forced to flee their homes as a result of militant attacks, and plans to send further aid in the coming weeks.
Share this