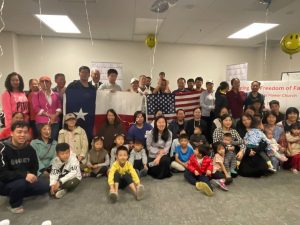 On Good Friday (7 April), 59 members of Shenzhen Holy Reformed Church in China, widely known as the Mayflower Church, arrived at Dallas-Fort Worth International Airport in Texas, having flown from Thailand where they had been detained by immigration police.
Bob Fu, founder of China Aid (partner organisation of Church in Chains), said that they arrived after "close coordination with the US Department of State, Department of Homeland Security, various UN agencies, and the Thai government". Their arrival in the USA comes three and a half years after they left China in search of freedom. They were denied asylum in South Korea and moved to Thailand in August 2022.
Four members of the church group – one pregnant woman and her family – stayed behind in Bangkok until the baby's birth, which is expected to be on 20 April. The family has been released by Thai authorities and is staying in a hotel, and will join the rest of the Mayflower Church in the USA after the birth.
Welcome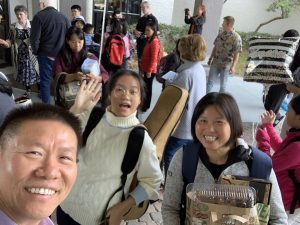 China Aid and Bob Fu held a welcoming event for the persecuted Christians at the airport. Representatives from advocacy groups including Freedom Seekers International,  Religious Freedom Institute and 21Wilberforce and about forty members of churches in Texas greeted the Chinese Christians with balloons and banners. Also present was United States Ambassador-at-Large for International Religious Freedom Rashad Hussain, who told the Mayflower church members, "It is wonderful to welcome you."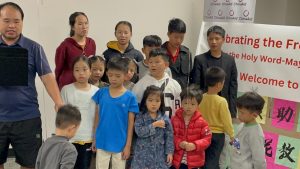 Responding, Pastor Pan Yongguang, the leader of the Mayflower Church, thanked everyone in attendance. Before giving his speech, the church's children's choir sang two Psalms: Psalm 126 and Psalm 114.
Pastor Pan thanked God for the miraculous rescue of the church and said, "Let us experience God's wonderful and mighty deeds as our predecessors on the Mayflower did in 1620. Let us follow in the footsteps of our predecessors and follow the example of our predecessors.
 "Let us and our children and grandchildren live as sojourners, not to dream of the American Dream, much less the Chinese dream, but to be a pilgrim. May God bless everyone, Amen!"
Last year, Pastor Pan told Christianity Today that the time in South Korea and Thailand had been "the hardest time in my pastoral ministry. On earth, Christians are sojourners. We can keep moving forward, but Thailand isn't my destination; neither is the United States. We are walking toward our heavenly home."
The future
Church members are expected  to settle in the city of Tyler in eastern Texas, where Freedom Seekers International has been working to make arrangements to resettle them. Since last year, churches in Texas had agreed to sponsor the congregation after their arrival, including providing housing, living expenses, and help in settling in.
The USA has often provided resettlement or humanitarian parole for people facing persecution from the Chinese government, including formerly detained Uighurs, human rights activists, and house church Christians (including a family from Early Rain Covenant Church.)
Background
Shenzhen Holy Reformed Church was founded in Guangdong province in 2012 by Pastor Pan Yongguang under the oversight of Philadelphia Bible Reformed Church in the United States, and he refused to register with the government-controlled Three Self Patriotic Movement because he was not willing to teach Chinese Communist Party (CCP)-approved doctrine. Because of Pastor Pan's connection to a foreign religious group, he was interrogated by the authorities at least twice a week beginning in 2014. Pastor Pan started a primary school for children of church members, but police forced parents to enrol them in CCP-controlled public schools and harassed those who refused.
In 2019, sixty out of around ninety church members voted to leave China together to start again in a place where they would have religious freedom. They moved to Jeju Island in South Korea in October 2019, becoming known as the Mayflower Church after the ship that brought a group of English pilgrim families to the New World in 1620. They travelled as tourists to South Korea and applied for asylum, but their applications and appeals were denied. Having exhausted their legal options in South Korea, all the church members travelled to Thailand in August 2022 to apply for UN refugee status. The church members were arrested by Thai immigration authorities in Pattaya city on Thursday 30 March.
(Baptist Standard, China Aid, Christianity Today, Deutsche Welle)
Image Credits: Bob Fu, China Aid
Share this