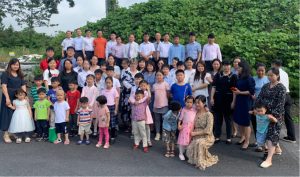 All 63 members – 28 adults and 35 children – of Shenzhen Holy Reformed Church in China, widely known as the Mayflower Church, were arrested by Thai immigration authorities in Pattaya city on Thursday 30 March.
They are currently being held at Bangkok Immigration Detention Centre. According to Bob Fu, founder of China Aid (partner organisation of Church in Chains), US government agencies and the US embassy in Thailand are working to secure their freedom. "Our team and U.S. Embassy are assessing the situation moment by moment,"  he said. According to China Aid sources, Mayflower Church families have been separated in the Centre and a woman in the group expects to deliver her baby in the next two weeks.
The unregistered church, led by Pastor Pan Yongguang, left China in October 2019 to flee the Chinese Communist Party's harassment and repressive education policy. The arrests on 30 March prompted fears that they would be sent back to China to face punishment and imprisonment. Nury Turkel, chairman of the United States Commission on International Religious Freedom (USCIRF), tweeted: "Members of the Mayflower Church are at imminent risk of being deported to China, where they will face severe consequences, including imprisonment and torture."
On the day following their arrest, the 28 adults went on trial on charges of overstaying their visas. They were fined and released on the same day. Benar News (affiliated to Radio Free Asia) reported that a local police officer denied that the church members would be deported back to China.
 "No, there won't be that thing. It's not going to happen," said Col. Tawee Kutthalaeng, chief of the Nong Prue police station. "We did not charge all of them because there were children as well. They were charged with overstaying their visas, staying too long and not renewing their visas."
Deanna Brown, a religious freedom advocate, was also briefly arrested by Thai authorities as she was visiting the church at the time of the police raid. She is founder of Freedom Seekers International, a US-based charity that has been supporting the Mayflower Church and plans to resettle them in Texas if they are able to travel to the USA. Deanna told reporters that when the church members sought to renew their Thai visas they were told they had to first report to their country's embassy. "We knew [then] that nobody could get their visas. There was no way, because as soon as they walk into the Chinese Embassy they're gone, we would not see them again. They've been hiding out since then."
Bob Fu said that a member of Mayflower Church had been coerced into informing the Thai authorities about where they were staying, which led to the police raid and arrests. He stated that he suspected Chinese Communist Party involvement, saying: "Based on the way other missing persons were treated in the past, this must be the CCP's mafia behind the scenes."
Brought to Bangkok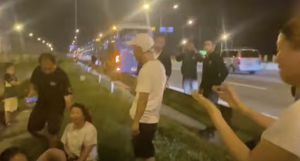 After being fined, the church members expected to be released and to be free to return to the hotel where they had been staying. Instead, they were put on two buses which first took them to the Pattaya office of the immigration police and then drove them to Bangkok for what a police officer told The Associated Press was normal processing of their case.
The buses drove under police escort from Pattaya to Bangkok. The journey, which would normally take about two hours, instead took closer to five because the passengers forced the buses to stop en route and disembarked by the roadside (pictured above), saying they feared they were being driven to Bangkok's international airport to be repatriated.  In 2015, Thailand sent 109 Muslim Uyghurs back to China against their will despite fears they would face official persecution and possible torture.
Only after receiving reassurances by phone did the Mayflower church members continue their journey, arriving early Saturday morning (1 April) at a police facility known as the Police Club in northern Bangkok that has space for large numbers of detainees.
Background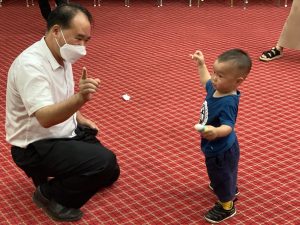 Shenzhen Holy Reformed Church was founded in Guangdong province in 2012 by Pastor Pan Yongguang (pictured), under the oversight of Philadelphia Bible Reformed Church in the United States, and he refused to register with the government-controlled Three Self Patriotic Movement because he was not willing to teach Chinese Communist Party (CCP)-approved doctrine. Because of Pastor Pan's connection to a foreign religious group, he was interrogated by the authorities at least twice a week beginning in 2014. Pastor Pan started a primary school for children of church members, but police forced parents to enrol them in CCP-controlled public schools and harassed those who refused.
In 2019, sixty out of around ninety church members voted to leave China together to start again in a place where they would have religious freedom. They moved to Jeju Island in South Korea in October 2019, becoming known as the Mayflower Church after the ship that brought a group of English pilgrim families to the New World in 1620. They travelled as tourists to South Korea and applied for asylum, but their applications and appeals were denied. Having exhausted their legal options in South Korea, all the church members travelled to Thailand in August 2022 to apply for UN refugee status.
(Associated Press, China Aid, Freedom Seekers International, Radio Free Asia)
Image Credits: Freedom Seekers International, China Aid
Share this