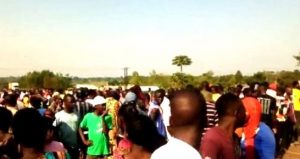 Pastor Adinani Bulwa (42) was killed by Muslim relatives on 10 March in his home village of Muterere, Bugiri District in eastern Uganda. Two months earlier he had fled northern Uganda, where he was working, following threats from local Muslims. The pastor leaves his widow, Zabiina Newumbwe, and five children between 4 and 16.
Zabiina explained, "We began preaching to the family members, and in early February four Muslim relatives got converted to Christianity, but the first-born son in the family [Pastor Bulwa's brother] resisted the Christian faith and gave a warning that we should stop misleading Muslims to Christianity. Two weeks later my husband was invited to attend a family meeting, where he was pressured to recant the Christian faith, but he said he was ready to die for Christ's sake."
On 10 March at about 9.30 pm several Muslim relatives arrived at their home, angry and shouting. Zabiina told Morning Star News, "They were saying, 'We are a Muslim family, and Allah is our God.' We were shaken, and the children and I hid ourselves in the bedroom while leaving my husband at the sitting room."
She reported that the relatives forced their way in and took Pastor Bulwa outside, adding: "About 200 metres away from the homestead, we heard a loud wailing. We remained inside the house. My husband did not return. Early in the morning, I went to see a Christian neighbour who accompanied me to the scene of the incident only to see my husband at a distance half naked. I could not control my emotions and shouted in a loud voice. Thereafter I fainted due to shock."
Pastor Bulwa's body was found on 11 March with a deep cut on the forehead, cuts on the left foot and a cloth around his neck that suggested he had been strangled. Hundreds of local residents arrived at the scene (pictured) and family members hurriedly buried his body. Zabiina said they told her she would also be killed if she named those who had killed her husband.
Since Pastor Bulwa's death, Zabiina and the children have left their home and taken refuge at the house of someone who is helping them. "The children and I are living in great fear from the relatives – our security is at stake," she said. "We had to seek help elsewhere. We need prayers so that God may guide us on what to do next."
Background
In 2016 Adinani Bulwa and his family moved to Lira in northern Uganda, where he ran a successful maize business. On 24 January 2019 the family secretly converted from Islam to Christianity and Adinani was appointed pastor to other converts at his church. They gathered secretly but in December 2022 Muslims saw Pastor Bulwa and his family outside the church premises in Lira and word spread that he had become a Christian.
"Since December 2022, the Muslims started threatening to kill us if we continued missing attending the mosque," Zabiina said. "As the threats continued escalating, my husband decided that we would leave Lira and go back to our home in Muterere village." The family fled Lira in January and began an evening fellowship at their home in Muterere.
Uganda is majority Christian and its constitution and other laws provide for religious freedom but in areas with high concentrations of Muslims, especially in the east of the country, there has been a huge increase in attacks on Christians. Morning Star News documents and reports on these incidents.
Pastor and son attacked, church building destroyed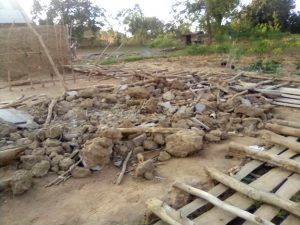 Elsewhere in eastern Uganda, a mob of Muslim extremists attacked and seriously injured Pastor John Balidawa (35) and his son Gilbert Sanja (14) on 15 March as they prepared for an all-night prayer vigil at Ebenezer Christian Centre in Kigulu village, Mayuge District. The mob seriously injured Pastor Balidawa and Gilbert and destroyed the church building (pictured).
Pastor Balidawa reported that he and his son were preparing for the vigil when they heard stones hitting the roof of the premises. Six Muslim extremists entered and Sheikh Shafi Mukama ordered the two Christians to leave while the rest of the mob kept watch outside.
"When I refused to obey their orders, the sheikh and two others started slapping me and then pushed me to the floor and thereafter stepped on my stomach," Pastor Balidawa told Morning Star News. "Others started boxing my son, who started wailing and crying for help. For me and my son to survive is by God's grace."
The pastor was beaten unconscious and woke alongside his son in hospital to see the senior pastor of the church, Gerald Kato Wakabi (39), standing beside their beds. He told Pastor Balidawa that the attackers had taken their mobile phones and destroyed them along with the church building and over seventy chairs.
Pastor Balidawa sustained a broken leg, a broken bone in his hand, facial swelling and injuries to his intestines, while Gilbert suffered a deep cut on his forehead, a broken bone in his right hand and facial swelling.
Pastor Wakabi said that on 16 March he found a written note at the site of the demolished church building that read, "No more church in this area. This area is holy ground for Allah's worship only." He added that in August 2022 Sheikh Shafi Mukama had sent him a threatening message that read, "You should remove your church, because we cannot watch our members turning to Christianity and keep quiet."
Pastor Wakabi told Morning Star News, "This incident has scared many believers. I believe they will be restored spiritually, but, all in all, it is not easy."
The church began in January 2022 and has 47 in attendance, including twelve converts from Islam. It has broken into small house fellowships and Pastor Wakabi says the congregation is searching for another place of worship about 30 km away from the town mosque, and that after settling there they will consider filing a police report.
"The priority now is to safeguard the faith of the Christians from falling away from the faith, especially those members who converted from Islam to Christianity," he said.
(Morning Star News)
Images: Morning Star News
Share this