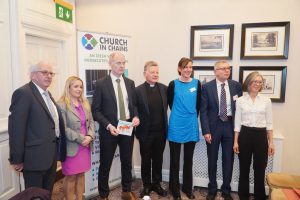 On 2 March in Dublin, Church in Chains launched the fourth edition of its Global Guide, which gives an overview of the persecution of Christians worldwide.
The Global Guide was formally launched by Rev Trevor Sargent (Church of Ireland minister and former Green Party leader). He told an invited audience of church leaders, journalists and politicians that the Global Guide is an important resource detailing how over 200 million Christians are at constant risk of persecution.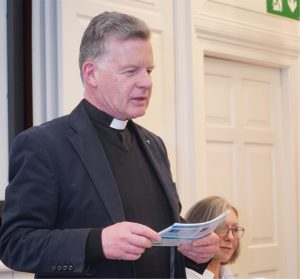 He said that the challenge is now for church leaders and politicians to take it up and use so that action is taken to help those facing such dreadful persecution. He said "Church in Chains has done the heavy lifting in doing the extensive research into the current worldwide situation – it is time now for all concerned people to act". He likened the persecution of Christians described in the Global Guide to "the canary in the coalmine" – if the right to religious freedom is denied in a country, it is likely that many more basic freedoms are also denied. View speech
Five TDs – Ivana Bacik (Labour), Mattie McGrath (Independent), Carol Nolan (independent), Ossian Smyth (Green) and Peadar Tóibín (Aontú) – were present at the launch. Deputy McGrath and Deputy Nolan each responded by expressing their concern about the persecution of Christians and offering support in raising further awareness of the issue in Dáil Éireann, while Minister Ossian Smyth stated that he had come to the launch "in listening mode".
Read the RTÉ report of the launch
View a gallery of photos taken at the launch
Global Trends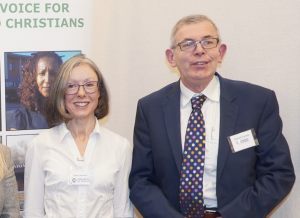 In her speech at the launch, Virginia Chipperfield (pictured with David Turner), Church in Chains Researcher and Writer, highlighted some trends from the new edition of the Global Guide: "One striking trend is the expansion in sub-Saharan Africa of militant groups affiliated to Islamic State. These groups attack Christians, government forces and institutions and moderate Muslims and are increasingly spreading into countries where Christians and Muslims previously co-existed peacefully. These regions are now experiencing the kind of violence that has beset Nigeria for years.
"We noticed a similar growth of extremism in South Asia, where those of different faiths had also co-existed peacefully in the past. In each of the South Asian countries in the Global Guide, extremists from a majority faith are intolerant of religious minorities, and Christians, especially in remote rural areas, are at risk of violent attack. This is typified in India, where Hindutva ideology promotes the belief that India is for Hindus only, leading to an intensification of persecution.
"Another trend is the increasing government control of religion that's particularly evident in Central Asia and East Asia. Typical of this is China, where the government's ever-tightening restrictions are part of a campaign to control all religions and make them subject to Chinese Communist Party ideology.
"We've seen improvements in several countries, notably Egypt, where positive actions by President al-Sisi and his government in promoting religious tolerance and supporting churches have made a real difference to the Coptic community. Reforms initiated in Sudan in 2019 and 2020 led to advances in religious freedom including the abolition of the death penalty for apostasy, although there has been some reversal since the military coup of October 2021. View speech
Call for action by Irish government
David Turner, director of Church in Chains, said in his speech, "The persecution of Christians worldwide has been ignored for far too long by successive Irish governments which have repeatedly stated a commitment to prioritising freedom of religion or belief [FoRB] in foreign policy. Regrettably, Irish governments have not followed this through by raising individual cases of persecution of Christians directly with the governments that are actively persecuting Christians or facilitating the persecution of Christians. This new Guide demonstrates the overwhelming need for action to give credence to their words."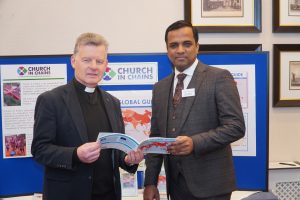 The Church in Chains Global Guide lists sixty countries where Christians face persecution because of their faith. It divides the countries into three colour coded categories – severe (where many or all Christians face persecution including imprisonment, torture, murder or violent mob attacks), significant (where some, but not all, Christians face arrest, attack or serious restrictions) and limited (where some churches or individual Christians face restrictions or discrimination).
The Guide describes how some persecution comes from authoritarian regimes such as China, North Korea and Eritrea that are keen to keep Christianity (and other religions) under strict control. In other countries such as Nigeria and India persecution comes from violent fundamentalists of other religions intent on forcing Christians out.  About half of the countries in the Guide have laws or policies in place to protect the majority religion (whether it be Buddhism, Hinduism or Islam) and prevent conversion to Christianity.
Share this