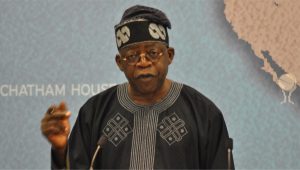 Nigeria's Independent National Electoral Commission (INEC) has announced that Bola Tinubu from the ruling All Progressives Congress Party, who campaigned under the slogan "It's my turn" has won the presidential election with 37% of the vote, ahead of Atiku Abubakar (Peoples Democratic Party) on 29% and Peter Obi, a Christian candidate from the Labour Party, on 25%.
BBC News quoted Irish MEP Barry Andrews, the EU's chief observer at the election, saying, "Broadly speaking we were able to see that there was evidence of vote-buying. It's too early for us to conclude how widespread this was." Commenting on delays uploading the results, he noted "a clear anomaly between the fact that votes for the presidential election were not uploaded, whereas votes for the legislative elections were uploaded.
"Our message is very clear – that we would encourage any complaints to be brought through the appropriate legal channels. But our observations certainly bear out significant shortcomings in the electoral process."
BBC also noticed extensive alterations on some of the results uploaded on INEC's server, but could not confirm if they were altered maliciously.
Christian Reaction
Christian Solidarity Worldwide, which has an office in Nigeria, stated "Prior to the announcement [of the result] the Labour Party, whose candidate for the presidency [Peter Obi] had taken a clear lead in available copies of verified results across the country, and the Peoples Democratic Party, had called for counting to be halted" [to investigate allegations of vote-tampering].
Former president of Nigeria Olusegun Obasanjo said the electoral process had been corrupted and asked President Muhammadu Buhari to cancel results in areas where violence and malpractices had occurred. The Labour Party has decided to mount a legal challenge.
The Nigerian Christian Elders Coalition issued a statement calling on INEC to cancel the presidential elections so as to restore the integrity of the electoral process in Nigeria. It said: "We are pained beyond measure that our beloved country has been dragged again to the precipice because of deliberate failure of the Independent National Electoral Commission (INEC) to comply with its own regulation and the electoral law.
"We have read reports and received briefings from several of our members who voted and monitored the elections. We have also listened to the preliminary reports of international and domestic election observers. All these eminent observer missions lamented the colossal failure of logistics and integrity of the process provided by law in the conduct of elections. The most distressing aspect of the conduct of the election is the refusal of INEC to electronically transmit the results of voting directly from the polling units [to the approved platform] as required by the electoral act. This failure is unbelievable and surprising considering that what is at the heart of the new electoral law is the mandatory electronic transmission of results to enhance the credibility of the process."
(BBC News, Christian Solidarity Worldwide, Nigerian Christian Elders Coalition)
Share this