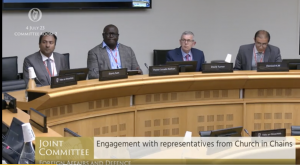 On 4 July, a Church in Chains delegation comprising Director David Turner, Mr Davood H. M. (from Iran), Mr Stanly Sam (from India) and Pastor Lesado Nathan (from Nigeria) made a presentation on the persecution of Christians worldwide to TDs and Senators at the Oireachtas Joint Committee on Foreign Affairs. The meeting was held following the publication of the fourth edition of the Church in Chains Global Guide, which lists sixty countries where Christians face persecution because of their faith.
Watch the Committee Meeting (begins at 20.34)
David Turner began by reading Article 18 of the Universal Declaration of Human Rights which states: "Everyone has the right to freedom of thought, conscience and religion; this right includes freedom to change his religion or belief, and freedom, either alone or in community with others and in public or private, to manifest his religion or belief in teaching, practice, worship and observance."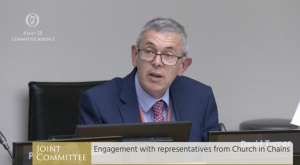 He told the Committee: "We, in Ireland, have been privileged to enjoy total religious freedom for many years and rarely, if ever, do we think about it. Therefore, it comes as a great surprise to most Irish people, even practising Christians, to be told as we are telling you today that over two hundred million Christians live at constant risk of persecution in sixty countries worldwide.
"Persecution of Christians does not often receive much media coverage and even when it does, the coverage may be framed to fit in with a prevailing narrative which is often put forward by governments. Today, we want to highlight the other side of the story – from the standpoint of the victims of persecution by highlighting five countries where Christians face persecution. Each country has an Ambassador resident in Dublin."
CHINA
David Turner said that there had been a marked increase in persecution in China as President Xi Jinping has gained more power and demanded that religion be sinicised ­– made Chinese in character and brought into submission under the Chinese Communist Party (CCP). The CCP has long repressed religious freedom and all religions have suffered in recent years, particularly Uighur Muslims, Tibetan Buddhists and Falun Gong practitioners. However, he described the current situation as the worst since the Cultural Revolution under Chairman Mao in the 1960s.
PAKISTAN
Mr Turner told the Committee that in Pakistan, religious minority groups such as Christians and Ahmadis are considered second-class citizens and often experience discrimination and social hostility. He pointed out that Pakistan's controversial blasphemy laws are often misused to settle personal scores resulting in many innocent people spending years enduring appalling conditions in prison awaiting trial or appeal. He also drew attention to the scandal of the abduction, forced conversion and marriage of many young Christian girls,  saying that perpetrators know that the likelihood of conviction is low, as police often help the suspects rather than investigating the abductions.
IRAN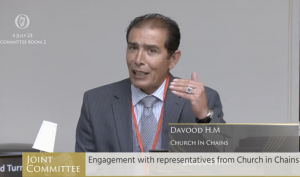 Davood H.M. explained that all laws in Iran are based on Shia Islamic teaching and that minority religions are severely restricted and members often face harassment, arrest and torture, especially Christians from a Muslim background (at least half a million) and the Baha'i community (350,000). Christian converts from Islam face persecution for meeting together to read the Bible and worship or for sharing their faith with others. They are often arrested in raids on their homes by government intelligence agents who regularly accuse them of being "infidels who are against our country". The Iranian government consistently denies that it persecutes Christians as it maintains that all ethnic Persian Iranians are Muslims and does not recognise conversion.
INDIA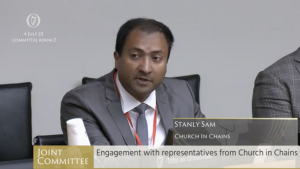 Mr Stanly Sam told the Committee that India's constitution guarantees religious freedom and Christians enjoy freedom in much of the country, but in rural areas they face increasing persecution from Hindu extremists motivated by the Hindu nationalist ideology, Hindutva. The extremists attack small churches, beat pastors and members, set fire to homes and church buildings and accuse Christians of being involved in "forced conversions" of Hindus. There has been an upsurge in persecution since the 2014 victory of Narendra Modi's Hindu nationalist Bharatiya Janata Party (BJP). The Evangelical Fellowship of India documented 505 cases of persecution of Christians in 2021.
NIGERIA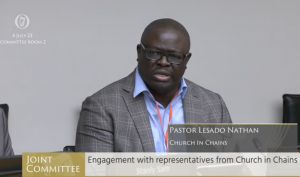 Pastor Lesado Nathan said that the north of Nigeria is mainly Muslim and the south is mainly Christian, with the country divided by the volatile Middle Belt region. Islamist terrorist group Boko Haram brutally attacks Christian communities in the north, and militant Fulani herdsmen carry out attacks across the Middle Belt, using heavy weapons to drive largely Christian farmers off fertile grazing land. Many analysts now describe the situation in these regions as genocide. Islamist militants have killed at least 10,000 Christians since 2015 and have injured, raped or kidnapped thousands more. Millions of Christians have been internally displaced. There is currently a huge surge of violence in Plateau state – at least 300 Christians have been killed in Fulani attacks since the beginning of May.
RECOMMENDATIONS
David Turner recommended three actions that the Committee could make: (1) Write to the ambassadors of the countries highlighted (China, India, Iran, Nigeria and Pakistan) to express the committee's concerns about the persecution of Christians. (2) Write to the Minister for Foreign Affairs to request that the Department prioritise freedom of religion or belief in Ireland's foreign policy and (3) Recommend that the Irish government create a dedicated refugee path, with a  small annual quota, for Christians who have been persecuted for their faith.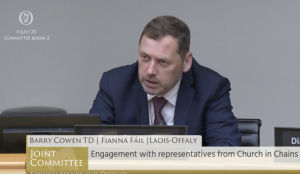 Committee members responded to the presentation with a number of comments and questions. Barry Cowen TD thanked the delegation for its presentation and said that he thought that the recommendations made were reasonable asks that he would support. David Stanton TD also said that he supported the three recommendations, and described the map of the world shown in the Church in Chains Global Guide as pretty harrowing – covering as it does much of Asia and Africa. Senator Niall Ó Donnghaile said that there was real merit in the Church in Chains presentation and that the recommendations were worthy asks.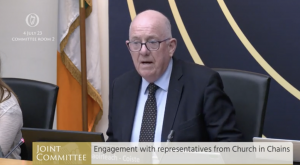 Committee chair Charlie Flanagan TD asked a number of questions about the history and operation of Church in Chains and its engagement with the Department of Foreign Affairs, the European Union and the United Nations. Senator Joe O'Reilly expressed his absolute support and solidarity to the work of Church in Chains and also referred to the vast area of the world in which Christians face persecution.
In closing remarks, Davood H.M. outlined the personal toll of persecution of Christians in Iran, saying that he could not go back to Iran to see his family because of his conversion to Christianity. He appealed to the Committee to make a stand in the name of human rights so members could say "we did our part". Stanly Sam contrasted the freedom to go to church in Ireland with the fear that Christians in certain parts of India feel attending church because of the frequency of attacks and the lack of support from police, courts or government. Pastor Lesado Nathan said that one of the major values of democracy is to give people freedom of religion and said this is under threat in Nigeria where a recently retired state governor was filmed saying in a speech that "We have an agenda to sideline Christianity".
Concluding the meeting, Charlie Flanagan TD thanked the Church in Chains delegation for its participation and wished the organisation well "in the "important work that you do".
Share this