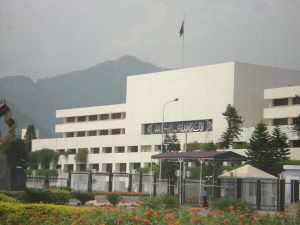 Pakistan's government has conceded to demands from Islamist opposition party Tehreek-e-Labbaik Pakistan (TLP) and signed an agreement that allows blasphemy cases to be tried under anti-terrorism laws. This will strengthen the county's notorious blasphemy laws, which are already a source of great fear and suffering to Christians and other minorities.
On 17 June Federal Interior Minister Rana Sanaullah and Economic Affairs Minister Sardar Ayaz Sadiq signed a wide-ranging agreement with TLP leaders Muhammad Shafique Amini and Allama Ghulam Abbas Faizi. One of the provisions of the agreement is that those charged with defaming the prophet Muhammad under Section 295-C of the Pakistan Penal Code will also be charged under Pakistan's Anti-Terrorism Act. The government is working on draft amendments to the Anti-Terrorism Act that must pass through parliament for the agreement to take effect. (The image shows Parliament House, Islamabad.)
The penalty for blasphemy against the Prophet Mohammad is currently death (although this has never been carried out; instead, victims suffer in prison for many years awaiting appeal) and it is not clear how an additional punishment under the Anti-Terrorism Act would be applied – the Act prescribes a maximum five-year prison sentence and fine for "acts intended or likely to stir up sectarian hatred".
Pointing out that derogatory remarks about the prophet Muhammad do not fall under the definition of terrorism, Muslim lawyer Asad Jamal of the Supreme Court told Morning Star News, "Going ahead with any move to amend the Anti-Terrorism Act to include Section 295-C will only worsen the human rights situation in Pakistan."
The agreement also provides that the government will establish a Counter Blasphemy Department under the Federal Investigation Agency to take action against dissemination of "blasphemous content" on the internet, and it provides that trials of blasphemy suspects and the appeals process will be speeded up.
Reaction
Rights activists are very concerned about the fairness of blasphemy trials in anti-terror courts. Lawyer Asad Jamal explained to Morning Star News, "Statements of the accused taken in police custody… are usually considered involuntary by the courts, which is why the accused are given an opportunity to record their statements again in the courtrooms. However, anti-terror courts routinely admit statements given in police custody, which may pose a serious issue for the accused."
He said that if blasphemy suspects' cases are heard under anti-terror laws they would face a double stigma of both blasphemer and terrorist, and added: "Such surrenders [by the government] embolden religious forces to abuse the laws with more vigour and impunity. I hope the government realises the consequences of this agreement with TLP and instead works to curb the false accusations of blasphemy which have tarnished the image of Pakistan globally."
Human rights lawyer Aneeqa Maria, who is Chief Executive of Lahore-based Christian rights organisation The Voice Society, also stated that including blasphemy under anti-terrorism laws would mean suspects could face a compromised judicial process, including unfair trials, and pointed out that accusations of blasphemy already carry a high risk of vigilantism.
"If a blasphemy accused is tried under anti-terrorism laws in Pakistan, it would have significant impact and consequences on the victims," she told Morning Star News. "By associating blasphemy with terrorism, the accused may face limited legal protections and an increased risk of violence or vigilante attacks against them. Additionally, bail could be denied further, prolonging their detention and exacerbating the emotional and physical toll on the victims.
"Trying blasphemy cases under anti-terrorism laws could further escalate this risk, as it would be seen as a matter of national security. The accused, their lawyers, their families, and their communities could become targets of violence and threats from extremist groups or individuals who believe they are defending religious sensitivities."
Persecution relief charity Barnabas Aid suggested that characterising blasphemy convicts as terrorists may even be motivation for the authorities to apply the death sentence. Commenting on the proposed Counter Blasphemy Department, Barnabas Aid said it creates the narrative that blasphemy is a dangerous problem that needs urgent action and that "As well as leading to further accusations, such a narrative could also lead to increased incidences of mob violence."
Read more about Pakistan's blasphemy laws.
(Barnabas Aid, Morning Star News)
Image: Wikimedia Commons
Share this