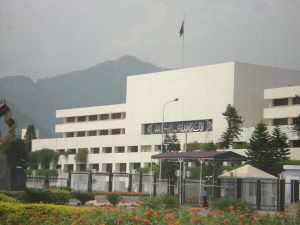 A major religious freedom issue in Pakistan concerns the controversial blasphemy laws, which cover offences such as defiling the Quran and defaming the prophet Mohammed. They are often misused to settle personal scores, resulting in many innocent people spending years enduring appalling conditions in prison awaiting trial, their families forced into hiding, and some have to emigrate for safety once acquitted.
Blasphemy is dealt with under Section 295 of Pakistan's Penal Code. The original law, based on the British colonial penal code of 1860, simply forbids damaging or defiling a place of worship or a sacred object. It was amended in 1927 by the insertion of Section 295-A, which deals with deliberate and malicious acts intended to outrage religious feelings, punishable by up to two years' imprisonment. In 1982 the president, General Zia, added an amendment, Section 295-B, which made wilfully defiling the Quran an offence punishable with life imprisonment.
These blasphemy laws require that an offence be intentional. They were seldom used until 1986, when General Zia amended them again, adding Section 295-C to forbid defamation of the prophet Mohammed. Initially, the punishment for breaking this law was either the death penalty or life imprisonment, but a 1991 ruling made the death penalty mandatory. Unlike the rest of Section 295, section 295-C omits any requirement for the offence to be committed deliberately or with criminal intent.
The mandatory death sentence and lack of requirement to prove criminal intent make this law a cause of fear to the Christian community, stoked by the influence of local mullahs in rousing Islamists against alleged blasphemers. Muslims as well as members of minority religions are at risk, and it is easy to break the laws accidentally. In March 2013, a 3,000-strong mob destroyed nearly 300 homes in a Christian colony in Lahore over a false allegation of blasphemy.
In January 2023 Pakistan's National Assembly voted to extend the blasphemy laws, unanimously passing a bill that increases punishment for insulting the Prophet Mohammed's companions, wives and family members from three years' to ten years' imprisonment, along with a fine of 1 million Pakistani rupees (approximately €3,700). The Criminal Laws (Amendment) Act 2023 was passed in Pakistan's Senate on 7 August 2023.
In June 2023 the government conceded to demands from Islamist opposition party Tehreek-e-Labbaik Pakistan and signed an agreement that will strengthen the blasphemy laws, allowing blasphemy cases to be tried under anti-terrorism laws, once the government's draft amendments to the Anti-Terrorism Act pass through parliament.
Death row
Several Christians have spent years on death row for alleged blasphemy, notably Punjab farm labourer Asia Bibi. Since 1986, more than 1,000 people have been accused under the blasphemy laws, with over 50% of the cases involving religious minorities, including Ahmadis, Sikhs and Hindus as well as Christians. No one has been executed for blasphemy by the government, but since 1990 extremists have murdered at least 78 people over blasphemy allegations, including lawyers, two judges and over fifty defendants on release (at least 15 of whom were Christians). Once an accusation has been made, some extremists see it as their duty to kill the person concerned, whether or not their guilt has been proven.
Lawyers who defend those accused of blasphemy face threats of violence and judges are often afraid to hear prominent cases, knowing their lives are in danger. Extremist organisations often bring busloads of protesters to intimidate those involved in legal proceedings. A Human Rights Commission of Pakistan lawyer was shot dead in May 2014 for defending a university lecturer accused of blasphemy.
Assassinations
Several senior politicians have attempted to reform the blasphemy laws or amend them to prevent their abuse (including Benazir Bhutto in 1994) but this has never happened because of mass demonstrations and extremist threats. In February 2011, Pakistan People's Party MP Sherry Rehman withdrew her attempt to amend the laws after receiving numerous death threats.
In 2011, two senior government figures – Salman Taseer and Shabhaz Bhatti – were assassinated for their opposition to the blasphemy laws and their support for Asia Bibi.
Punjab Governor Salman Taseer was a liberal Muslim who spoke out against the misuse of the blasphemy laws. He visited Asia Bibi in prison in November 2010 and arranged for her to sign an appeal for clemency, which he presented to President Asif Ali Zardari. In January 2011, his bodyguard shot him dead.
In March 2011, the Taliban shot dead Minorities Minister Shabhaz Bhatti, the only Christian in cabinet. He too had been an outspoken opponent of the blasphemy laws and had supported Asia Bibi.
(Barnabas Aid, BBC, Christian Solidarity Worldwide, International Christian Concern, Morning Star News, World Watch Monitor)
Photo of Parliament House, Islamabad: Wikimedia Commons