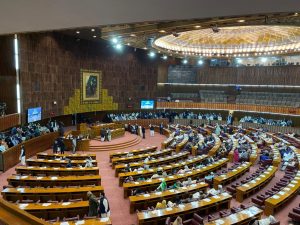 On 17 January Pakistan's National Assembly unanimously passed a bill increasing punishment for insulting the Prophet Mohammed's companions, wives and family members from three years' to ten years' imprisonment, along with a fine of 1 million Pakistani rupees (€3,700 approx.).
The bill was introduced by Maulana Abdul Akbar Chitrali of the Islamist Jamaat-e-Islami party, who said that punishment for disrespecting figures held to be sacred who were close to Muhammad had been negligible.
"Disrespecting a companion of the Holy Prophet and other sacred personalities not only promotes terrorism and disruption in the country but also hurts people belonging to all walks of life. Such lenient punishment also leads to people taking the law into their own hands, resulting in violence," he told members of the assembly.
Zahid Akram Durrani, deputy speaker of the National Assembly, called the legislation "historic" as he congratulated assembly members for carrying out what many saw as their religious duty.
Pakistan's blasphemy laws cover offences such as defiling the Quran and defaming the prophet Mohammed and are often misused to settle personal scores, resulting in many innocent people spending years enduring appalling conditions in prison awaiting trial, their families forced into hiding, and some have to emigrate for safety once acquitted.
Read more about Pakistan's blasphemy laws
Reaction
Dr Azad Marshall (pictured), Moderator Bishop of the Church of Pakistan, commented: "The existing blasphemy laws have encouraged religious persecution for decades, and this new legislation is bound to exacerbate the problems for our people." He said the church has repeatedly protested blatant misuse of the blasphemy laws against Christians and the new amendments would only lead to more abuse.
"Time and again we have demanded stricter punishment for false accusations of blasphemy as a deterrent to curb the misuse of the laws, but our pleas have fallen on deaf ears," he said. "The unanimous passage of this bill shows that the political parties are not inclined to protect citizens from false charges and are instead focused on appeasing their Islamist vote bank."
The Human Rights Commission of Pakistan also expressed its "deep concern" over the latest legislation. "Given Pakistan's troubled record of the misuse of such laws, these amendments are likely to be weaponised disproportionately against religious minorities and sects, resulting in false charges, harassment, and persecution," the group said in a statement.
Universal Periodic Review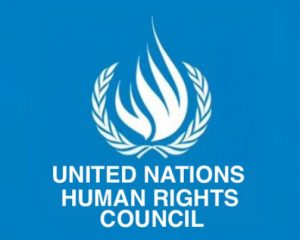 Pakistan's human rights record will be examined on Monday 30 January by the UN Human Rights Council's Universal Periodic Review.
Ahead of the review, Pakistan's submission to the UN about its human rights record has been heavily criticised by Geneva-based UN Watch, an independent non-governmental human rights organisation.
"Our report documents ten false claims, and we call on the UN Human Rights Council to hold the Pakistani regime's representatives to account for trying to cover up gross and systematic human rights violations," said Hillel Neuer, executive director of UN Watch. "The UN must urge Pakistan's military-dominated regime to put an end to torture, enforced disappearances, child labour, and violence against women, and to stop crushing independent media, censoring Facebook and Twitter, persecuting Hindus, Christians, Sikhs, Shia, and Ahmadis, hosting terrorist groups, and backing China's persecution of Muslim Uighurs."
Among the issues highlighted by UN Watch was Pakistan's claim in its submission: "The Government of Pakistan is committed to curb the misuse of blasphemy laws."
UN Watch pointed out that the Pakistani NGO Centre for Social Justice reported that in 2021 at least 84 people were accused of blasphemy in Pakistan and three people were extrajudicially killed.
(Christian Solidarity Worldwide, Morning Star News, UN Watch)
Share this