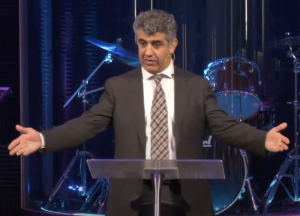 Mansour Borji (Director of Article 18) told delegates at Church in Chains' annual conference at St Mark's Church in Dublin's city centre about the four different types of church in Iran – Church Overground, Church Underground, Church Online and the Church in Prison.
He began by highlighting the practice of the early church in meeting together and quoted from Acts 2 which reads:
"They devoted themselves to the apostles' teaching and to fellowship, to the breaking of bread and to prayer. Everyone was filled with awe at the many wonders and signs performed by the apostles. All the believers were together and had everything in common. They sold property and possessions to give to anyone who had need. Every day they continued to meet together in the temple courts. They broke bread in their homes and ate together with glad and sincere hearts, praising God and enjoying the favour of all the people. And the Lord added to their number daily those who were being saved."
Mansour emphasised the repeated use of the word "together" in the Bible passage and said that this was what the church in Iran was seeking to emulate despite constant persecution from the Iranian authorities.
Describing the church overground, Mansour shared some old photos from his home church in Tehran showing a building crowded with worshippers and explained how that church and many others had been closed down. He told delegates that the only open churches in Iran are for the Assyrian and Armenian ethnic minorities which operate under strict restrictions – no visitors are permitted and no services can be conducted in Farsi (Iran's national language). Three Anglican churches also operate under tight restrictions including a prohibition on visitors.
In speaking about the church underground, Mansour spoke about the huge growth of the church since it was forced underground. He said that the number of Christians in Iran was impossible to verify but many estimates are in the range of 800,000 to one million Christians. He explained that Christians meeting together in homes were in constant danger of being arrested by the Iranian police who regularly raid gatherings of Christians. He also highlighted how the authorities were now charging Christians with national security charges rather than religious charges in a bid to disguise their religious persecution policy. He then played an audio recording of a telephone call made by Naser Navard Gol-Tapeh from prison  in which he spoke of persecution, forgiveness and justice.
Mansour spoke about the extensive use that Iranian Christians make of social media apps to communicate with each other and which they also use for evangelism and discipleship. Speaking about the church in prison, he highlighted the fact that there are often opportunities for Christian prisoners to share their faith with fellow prisoners and guards many of whom are curious as to why they have been imprisoned. Christian prisoners also often seek to help with the needs of fellow-prisoners.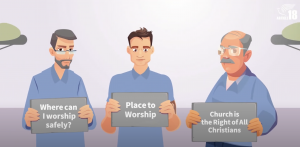 Mansour ended by explaining about the #PLACE2WORSHIP campaign which started this year. The campaign was started by Iranian Christians including some former prisoners to ask for the basic human right to be allowed a place to worship. The reality of the situation for Christians seeking to worship together in Iran and the basic aims of the campaign were outlined in a short animation video.
Questions and Answers
One of the most interesting sections of the conference was a Q & A session with Mansour in which he answered a wide range of questions from delegates including How do prisoners and their families cope financially? Are Iranian Christians living abroad in any danger from the Iranian security services? Are the authorities and the judicial system ever impartial or always biased towards the regime? Are many Christian women in prison in comparison to men? Has the recent Supreme Court ruling (that it's not a crime to belong to a house church) had any real impact? Why do people voluntarily report for prison sentences rather than flee the country? Why is the organisation he represents called Article 18?
Global Updates

Delegates at the conference viewed a short video update from Eric Foley who spoke at the 2021 Online Conference  about the situation in North Korea. Virginia Chipperfield then shared news about the increasing persecution of Christians in Nigeria where Muslim militant groups  continue to attack and kill Christians and where kidnappings of Christians have become more frequent in the past year. She also spoke about India and the continuing drive to introduce anti-conversion laws at state level which are often accompanied by an upsurge in anti-Christian violence. The further tightening of China's restrictive laws on religion was also highlighted by Virginia as she described how new laws governing online religious activity were impacting on the lives of many Christians.
Susanne Chipperfield later shared an update on how Church in Chains had sent €170,000 overseas to aid persecuted Christians in the past year. She gave details of how the money was channelled through a network of trusted international partners who submit regular feedback about how grants are used. She outlined how the funds were used to assist Christians fleeing death threats in one country; support Christians displaced by militant attacks in two other countries and to support Christian prisoners and their families in several other countries.
Each section of the conference was followed with prayer and the conference also ended in prayer.
Share this