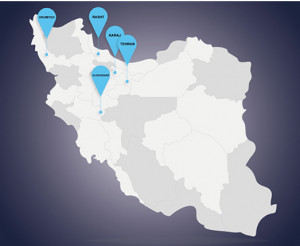 More than fifty Christian converts have been arrested in five Iranian cities over the past week, with fears that the number could rise much higher as fresh reports keep coming in.
The Christians were arrested in their homes or house-church gatherings in the cities of Orumiyeh, Rasht, Karaj, Tehran and Aligoudarz and at least 51 remain in detention on unknown charges, while others have been released on bail.
The news was reported by Article 18, which cannot share any more details but points out that the incidents mark a clear change in approach after very few publicly-reported arrests of Christians this year.
Mansour Borji, Article 18's advocacy director, commented: "The reason for this sudden surge in nationwide arrests of Christians is not clear at this stage. What is obvious is that Iran has begun a fresh crackdown on civil liberties, and the traditionally vulnerable groups, like Christians, are on the front line of those targeted."
He drew a parallel with the recent return of the morality police to the streets of Iran to enforce womens' dress code, ten months after the death in custody of Mahsa Amini, who had been detained for allegedly wearing "improper" hijab.
"Overall there seems to be a renewed or more aggressive crackdown on groups the regime feels threatened by," Mr Borji said. "The relative withdrawal of the so-called 'morality police' forces from the streets in recent months was perhaps an attempt to restore peace after months of protests that were violently suppressed. However, that approach seems now to have given way to a new wave of aggressive social policing, which could potentially reignite protests, as only within a day of visibly reintroducing the morality police the people are back on the streets."
With just two months until the anniversary of Mahsa Amini's death, Mr Borji added that the return to a more forceful approach may be "to send out a message, both nationally and internationally, that they are not moved or deterred, though the reality may be completely different as recent admissions by IRGC commanders and senior officials show that elements of the government and core elites feared an 'imminent collapse' of the system, while warning against the resurgence of protests".
(Article 18)
Map: Article 18
Share this