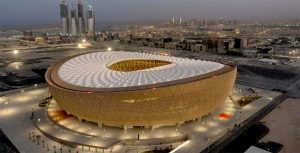 The eyes of the world will be on Qatar from Sunday 20 November as it hosts football's World Cup Finals. Qatar's hosting of the tournament has led to increased international attention on its human rights record, with particular criticism focused on the unsafe working conditions of the large migrant workforce – over 6,500 of whom died while building stadiums and infrastructure. Qatar's widespread discrimination against women and LGBTI people has also been strongly criticised internationally, but the treatment of Christians has been largely overlooked.
As the World Cup draws near, the Qatari government has sought to allay concerns of visiting supporters. Nasser Al-Khater, the CEO of the Qatari government's World Cup organising committee, said: "We have a country that's conservative, however we are a welcoming country… we understand the difference in people's cultures and beliefs. Everybody will be welcome and everybody will be treated with respect… all we ask is for people to be respectful of the culture. At the end of the day, as long as you don't do anything that harms other people or are destroying public property, then everybody's welcome and you have nothing to worry about."
How many Christians live in Qatar?
An estimated 400,000 Christians live in Qatar – the overwhelming majority of whom are expatriates (many from India and the Philippines). Indeed, expatriates make up over 80% of the overall population of three million people.
Qatar follows the Wahhabi version of Islam, but less strictly than Saudi Arabia. While offending Islam, blasphemy, apostasy and proselytising are all illegal, Qatar has taken steps to allow non-Muslim worship for expatriates in a large religious complex on the outskirts of the capital Doha and expatriate churches that worship there enjoy considerable freedom. However, the ban on evangelising (or proselytising) is enforced – often by deporting the expatriate Christian who is accused of evangelising.

The Mesaimeer Religious Complex has six main church centres catering for Roman Catholic, Greek Orthodox, Syrian Orthodox, Anglican, Coptic and Indian Christians. Despite the size of the complex, Christians have complained that it is insufficient to cater for all those who wish to worship there, as can be seen by the fact that the Roman Catholic Church holds 33 masses every Saturday and that the Anglican Centre (pictured) hosts 150 worship services every weekend  for 85 Evangelical, Pentecostal and interdenominational churches.
Expatriate Christians may only worship in the dedicated religious complex, where crosses and steeples are prohibited. Direction signs for the churches have been replaced with a more generic term, "Religious Complex".
A Roman Catholic priest summarised the situation by saying, "The State of Qatar gave us this patch of land in the desert to build our churches and here we have complete freedom, beyond that we respect the rules."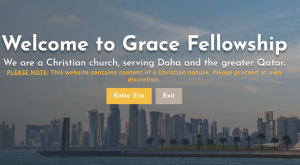 An indication of the efforts to shield Qatari citizens from Christianity is a pop-up warning page on church websites that states, "This website contains content of a Christian nature. Please proceed at own discretion".
Prior to the Covid-19 pandemic, Qatar unofficially allowed churches to operate outside the complex. However, these churches were closed during the pandemic and have not been permitted to re-open.
What is life like for Qatari Christian converts?
The vast majority of known Qatari Christians converted abroad and most have not returned to Qatar due to fear of persecution and attack from their families and communities in what remains a strongly tribal society.
The few known Christian converts living in Qatar keep their faith secret and do not have contact with expatriate Christians. Qatari citizens are not allowed to attend religious services in the Mesaimeer Religious Complex. Qatari security personnel at the entrance to the complex require churchgoers to produce ID.
Bible distribution at the World Cup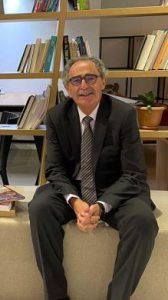 The Bible Society in the Gulf plans to distribute thousands of Scriptures to expatriate workers and visitors during the tournament, according to its General Secretary, Dr Hrayr Jebejian, who said, The Bible Society in the Gulf plans to distribute thousands of Scriptures to expatriate workers and visitors during the tournament according to its General Secretary, Dr Hrayr Jebejian (pictured).
"The 2022 FIFA World Cup is an amazing opportunity for Bible Society in the Gulf to spread the good news of the gospel to thousands. The plan is to reach migrant workers and World Cup international visitors through the distribution of the Gospel of John and the New Testament in Arabic, English, French, German, Hindi, Italian, Malayalam, Nepali, Portuguese, Sinhala, Spanish, Tagalog, Tamil and Telugu. This is a tremendous chance for the Bible Society in the Gulf to reach lonely, depressed, and troubled people – workers and visitors – with the comforting and life-giving word of God."
(Amnesty International, Bible Society, Doha Guides, Guardian, Oasis International Foundation, Open Doors, SAT-7, The Tablet, US State Department, Yahoo Sports)
Image Credits: Lusail Iconic Stadium (Matías Giraudi/Wikipedia), Anglican Centre Qatar, Bible Society
Share this