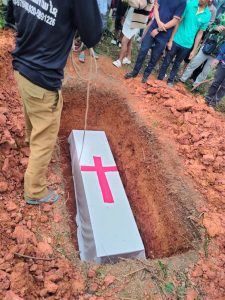 Preacher Sy Seng Manee (48), known as Pastor Seetoud, was found dead on 23 October at the edge of a forest near his home village of Donkeo, Nakai district, in central Laos' Khammouane province. He had been missing for three days and Christian leaders said his body was severely disfigured and showed signs of torture. Pastor Seetoud's Bible was found close to his body and his motorbike was nearby on the road. His body was taken to hospital and he was buried on 24 October.
Pastor Seetoud worked with the Lao Evangelical Church, one of three officially-recognised denominations in Laos along with the Seventh-day Adventist and Roman Catholic churches, and was recognised as a Bible teacher, although he also worked as a farmer to earn a living. He had been arrested and briefly detained in 2018 for evangelism.
Pastor Seetoud planned to attend a Christian meeting on 20 October in Thakhek, about 100 km from his home, but he failed to arrive and more than twenty people searched for him on a nearby mountain pass and at a local hospital, without success. A local resident later found his body in a ditch off a mountain road near the village and uploaded photos of the scene to Facebook, enabling the search party to find the body on 23 October.
A local witness (a soldier from nearby Wangheen village) said that on 20 October he saw three men get out of a black truck with no licence plates and seize another man, push him violently into the truck and drive away. The witness, who requested anonymity for security reasons, said he assumed the authorities were arresting a drug dealer or other criminal but that after hearing about the preacher's death he realised that the man being abducted was Pastor Seetoud and he then alerted villagers.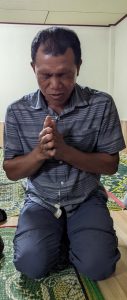 The pastor (pictured) leaves a wife and eight children, who are being supported by the Lao Evangelical Church. "No words can describe the pain that Seetoud's family and the local churches are experiencing," a church leader said. "The great injustice about the whole situation is that those in authority were either directly or indirectly involved in Seetoud's murder."
Church leaders say provincial police officials told them that Pastor Seetoud was likely killed because of his faith, while Lao Evangelical Church leaders said police officers at provincial level suspect he was killed by local officials at district level. According to church leaders his frequent trips to Thakhek were monitored and since July he had received warnings from village authorities, relatives and neighbours to stop his Christian activities, with threats of harm if he continued to share his faith.
Thakhek provincial and district police are investigating the pastor's death but a Christian villager said he now fears for his own safety because the same thing might happen to him and other Christians in the village. "If the murderers are not arrested, it will strongly affect the Christian community," he told Radio Free Asia.
Arrested
In August 2018 local police arrested Pastor Seetoud for evangelism (hosting a church service in his home) and tried to force him to sign a document renouncing his faith and pledging to stop preaching. The pastor refused and police detained him in the village school for three days. Local Christians said he was accused of holding an "illegal gathering" although his home services had been going on for more than three years.
Pastor Seetoud was released after provincial police were notified and he paid a fine. Continuing to hold church services in his home, he developed stronger ties with the Lao Evangelical Church of Khammouane Province, which has a church building in Thakhek, with members meeting in homes throughout the province.
The pastor and his family left animism for Christianity in 2015, but village authorities and local police said Christianity was incompatible with traditional beliefs and denied Pastor Seetoud and his family access to drinking water and other basic rights.
Growth and opposition
Lao People's Democratic Republic is a socialist, authoritarian one-party state which is around 60 percent Buddhist and 32 percent animist, although ancestral spirit worship is often blended with Buddhist beliefs. The government recognises Buddhism, Christianity, Islam and the Baha'i faith, but gives priority to Buddhism. The Ministry for Home Affairs and the Lao Front for National Development strictly regulate all religious institutions and Christianity is closely monitored.
The Lao constitution guarantees religious freedom and a 2019 religion law grants citizens equal rights before the law regarding belief or non-belief, but Christians say this is largely ignored in rural areas where they face opposition from residents or local officials. Local officials in rural areas often harass Christians and sometimes expel them from their villages and confiscate their property.
Speaking after Pastor Seetoud's death, a preacher from Nakai district who asked not to be named explained, "Each district is different in terms of other religious beliefs. Some provinces are strict and some are loose when it comes to harassment."
Laos has been experiencing rapid church growth, which is of great concern to those who see Christianity as a Western religion and do not want it to interfere with local worship of idols and spirits, and persecution of Christians has increased in the past two years, particularly in the south of the country.
In 2021, ministry leaders in Khammouane province said they baptised thousands of people and planted more than sixty churches, but local church leaders said they are being watched and fear for their lives.
(Morning Star News, Radio Free Asia)
Images: Morning Star News
Share this