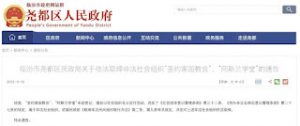 On 16 November Linfen City's Yaodu District Civil Affairs Bureau published an official notice on its website stating that it had shut down Linfen Covenant House Church and also Asilan School, run by the church, citing unauthorised religious and educational activities. The announcement (pictured) stated that the church and school had not registered with the government and had organised events without authorisation, thus making the church illegal.
Linfen Covenant Church is a large unregistered church in northeast China's Shanxi province – the photo below shows children in the church premises. Four leaders or staff members are in detention following a crackdown that began with a police raid on an outdoor family camp organised by the church in August 2022.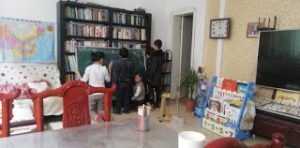 Over one hundred police officers raided the camp, which was attended by seventy church members, on 19 August and searched everyone present, confiscated their mobile phones and took them away overnight, only allowing some children to go home after 2 am.
Three of the Christians (Preacher Li Jie, his wife Li Shanshan and Preacher Han Xiaodong) were held on suspicion of "fraud" after the rest of those attending the camp had been released. Li Shanshan was released on bail on 3 September pending trial but Li Jie and Han Xiaodong have been formally arrested and charged with "fraud".
On 28 October police detained Linfen Covenant Church staff member Wu Tingting on suspicion of "fraud". On 21 November Bitter Winter reported that she has now been placed in criminal detention, although her family has not yet received official confirmation.
Police detained staff member Wang Qiang on 1 November, taking him away before he could even notify his family. He is in criminal detention, also on suspicion of "fraud". His wife Wen Huijuan is seven months pregnant and has been left to care for their young daughter alone.
False charges of "fraud"
The Chinese government increasingly uses "fraud" as a charge against leaders of unregistered churches, accusing them of "defrauding" the congregation by taking illegal collections and tithes, when they are simply taking up free-will offerings like other churches all around the world.
Since the crackdown on Linfen Covenant Church began in August, the authorities have brought in many members for questioning in an attempt to gather evidence and false testimony against the detained leaders. Some members were pressurised by their employers and families into lying that they were victims of fraud and signed pledges that they would never attend Linfen Covenant Church.
(Bitter Winter, China Aid)
Share this