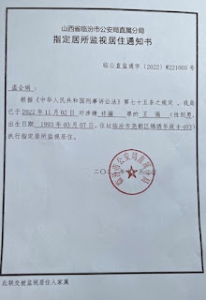 UPDATE (15 November 2022): After a week in Residential Surveillance at a Designated Location, Wang Qiang has been moved to criminal detention. His wife Wen Huijuan received a notice from Linfen Municipal Bureau of Public Security stating that he had been transported to the detention centre in Raodu District, Shanxi Province, and criminally detained on suspicion of "fraud" on 9 November.  
On 1 November police detained Wang Qiang, a staff member of Linfen Covenant Church in Shanxi province, and took him away before he could even notify his family. He is one of four leaders or staff members of the large, unregistered church now in detention, following a crackdown that began with a police raid on a family camp in August.
On 2 November Wang Qiang's wife Wen Huijuan received a notice (pictured) from police stating that Linfen City Public Security Bureau had placed her husband under Residential Surveillance at a Designated Location (RSDL) on suspicion of "fraud". The notice states: "According to the provisions of Article 75 of the Criminal Procedure Law of the People's Republic of China, on November 2, 2022, Wang Qiang, who was suspected of fraud, was subjected to residential surveillance in a designated location by our bureau."
Wen Huijuan is seven months pregnant and has been left to care for their young daughter alone.
Family camp raided
The crackdown on Linfen Covenant Church began on 19 August 2022, when over one hundred police officers raided an outdoor family camp attended by seventy members. Officers searched all church members present, confiscated their mobile phones and took them away overnight, only allowing some of the children to go home after 2 am.
Preacher Li Jie, his wife Li Shanshan and Preacher Han Xiaodong were taken into detention, while police searched their homes at 3 am and removed documents and books. On 23 August, their families received "Notice of Residential Surveillance in a Designated Location" from Linfen City's Public Security Bureau, stating that they had been placed in RSDL on 22 August on "suspicion of fraud" – the location was not stated.
The Chinese government increasingly uses "fraud" as a charge against church leaders, whom it accuses of "defrauding" the congregation by taking illegal collections and tithes, when all they are doing is taking up free-will offerings like other churches all around the world.
Li Shanshan was released on bail on 3 September pending trial but Li Jie and Han Xiaodong were criminally detained on suspicion of "fraud" on 2 September. They were transferred from their RSDL to a detention centre and on 30 September they were formally arrested and charged with "fraud".
On 28 October another staff member of Linfen Covenant Church, Wu Tingting, was taken away by police and put in RSDL, also on suspicion of "fraud".
Commenting on the Linfen detentions, China Aid reported that "church leaders and ordinary believers are facing tremendous pressure from the department handling this case… Some brothers and sisters were placed under severe pressure from their workplace, their family members, and relatives and were forced to write down reports stating that they were 'victims' and accusing church preachers of defrauding their money. They also had to sign a pledge never to attend Linfen Covenant House Church again."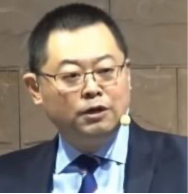 Linfen Covenant Church, like ERCC, refuses to join the government-controlled Three-Self Church. In 2018, Preacher Li Jie signed "A Joint Statement by Pastors: A Declaration for the Sake of the Christian Faith", a statement written by ERCC's Pastor Wang Yi (pictured) calling for religious freedom in China and protesting against increased state interference in religious activities since the new Regulations for Religious Affairs had come into effect in February 2018.
The Joint Statement was signed by over four hundred Chinese church leaders, many of whom have been harassed since they signed it. Linfen Covenant Church has endured constant harassment and persecution since Li Jie signed the Joint Statement.
(China Aid, International Christian Concern)
Share this