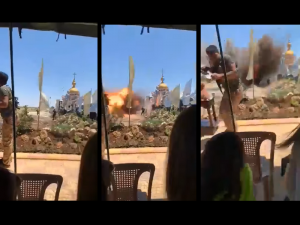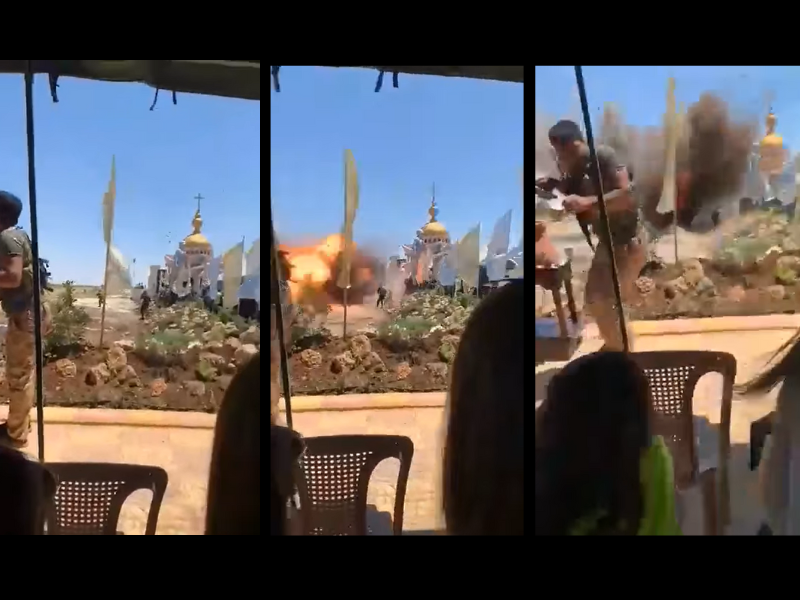 Two people were killed and twelve were injured in a drone attack during the opening ceremony of the Greek Orthodox Hagia Sophia Church in the town of Suqaylabiyah in Syria's central Hama province on Sunday 24 July.
A large crowd was in attendance, including many government officials, when a drone packed with explosives crashed and exploded in front of the church building, causing some damage. Video footage records the sermon being interrupted by the noise of drones and explosions and the congregation running for safety.
While Syrian state media attributed the attack to unspecified "terrorist organisations", The New Arab reported that the regime and the opposition have each accused the other of being the perpetrator and noted that drone attacks have been carried out by regime-affiliated and opposition militias in the past. Asia News reported that the attack had been blamed on Hayat Tahrir al-Sham, an al-Qaeda-affiliated group backed by Turkey that controls large areas in the provinces of Aleppo, Hama and Latakia in the northwest of the country.
The new church building is a mini replica of Istanbul's sixth-century Hagia Sophia, a Byzantine cathedral that was turned into a mosque during the Ottoman conquest in 1443, became a museum in 1934 and was turned back into a mosque in 2020, leading to outcry from Christians. Shortly after Hagia Sophia was turned back into a mosque, the Syrian government commissioned the new church building in Suqaylabiyah with the assistance of Russia, which supports President Bashar al-Assad's regime.
Patriarch condemns attack
The Greek Orthodox Patriarch of Antioch, John X, condemned the attack, expressing his deepest condolences and wishing a speedy recovery to the injured.
In a telephone conversation with Metropolitan Nicholas Baalbaki of Hama he lamented, "Our children in Suqaylabiyah are paying the price of their faith with blood. What happened in Suqaylabiyah is a despicable and reprehensible act of terrorism."
Christians in Syria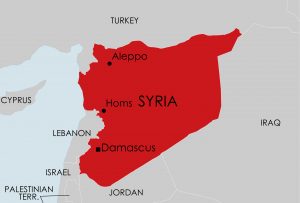 The Syrian civil war that began in 2011 has turned into an effective stalemate since 2020, with President Assad's government holding about 70% of the country, Kurdish forces in control of the northeast and Turkish-backed Islamist forces controlling parts of the north and northwest.
Since 2011, up to 600,000 people have been killed and almost 14 million displaced (half within Syria and half outside, mainly in Lebanon, Jordan and Turkey). Over one million Christians have been displaced, of whom an estimated 650,000  have left the country.
Christians living under government control fare reasonably well (especially Orthodox and Catholic, although the small evangelical population faces some suspicion and restrictions) and Christians in the Kurdish-controlled region enjoy relative freedom.
The vast majority of Christians have fled the Islamist-controlled areas, where most church buildings have been demolished or taken over and where it is forbidden to worship publicly, and the threat of a Turkish invasion in the north means Christians in the region fear ethnic cleansing.
(Asia News, BBC, Church in Chains Global Guide, International Christian Concern, Orthodox Times, The New Arab)
Image: Antioch Patriarchate via International Christian Concern
Share this