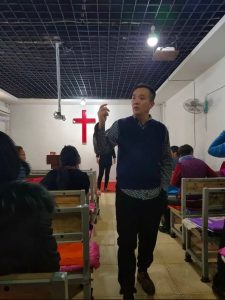 UPDATE (24 August 2022): Huinong District Court has sentenced Geng Zejun to one year and three months in prison for "organising illegal gatherings".
On 13 July, house church pastor Geng Zejun (50) was told that a court had suggested an eleven-month prison sentence at the end of a seven-hour-long trial, and that a verdict would be issued a few weeks later.
Pastor Geng was not present at Huinong District Court in Ningxia Autonomous Region in northern China for the trial, which was conducted by video link. He was charged with "organising illegal gatherings" and had resisted pressure from the authorities to plead guilty to the charge.
Geng Zejun was detained on Sunday 5 December 2021 when police and other officials raided a gathering held by the Church of the Rock (also known as Pansi house church) in a remote house. He was placed in administrative detention for 15 days for "disrupting social order" and his wife Hao Ying and five other Christians were detained for ten days and released on bail pending trial.
Two weeks after his release, police summoned Geng Zejun again on 4 January and detained him on suspicion of "organising illegal gatherings". He was formally arrested on 25 January and has been in custody ever since.
Hao Ying was grateful to some church members who met with her on the day of the trial. As she did in the days leading up to the trial, she again asked for the prayers of fellow-Christians in the wake of the court verdict, saying: "Thank you all for your prayers, and I implore you to raise your hands together and ask the Lord to strengthen Brother Geng, make him strong and courageous, and filled with the glory of God."
The Church of the Rock is known for its reformed theology and has consistently refused to join the government-approved Three Self Patriotic Movement church. On 27 December 2019, local authorities sealed the church building after the pastor of a local Three-Self church reported it. Police officers, national security agents and staff of the religious affairs bureau and local community management office issued a joint verbal notice to ban the church. The congregation managed to continue meeting, however, with its congregation growing to around 130 members.
(China Aid)
Image: China Aid
Share this