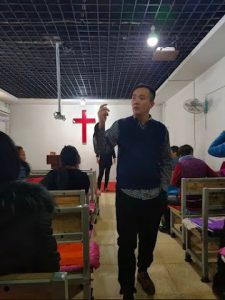 Geng Zejun, a house church pastor from Ningxia Autonomous Region in northern China, is due to go on trial on 13 July. He has been detained since 25 January on a charge of "organising illegal gatherings".
Geng Zejun was first arrested on Sunday 5 December 2021 when police raided The Church of the Rock (also known as Pansi house church) as it was meeting together.  The Church of the Rock is known for its reformed theology and has consistently refused to join the government-approved Three Self Patriotic Movement Church. Government-approved churches must adhere to China's increasingly strict religious regulations.
While older Christians present were asked to write down personal information and leave, police took six Christians to the police station for interrogation. Pastor Geng was administratively detained for 15 days and five others – Hao Ying (his wife), Luo Shiping, Ye Ningfang, Zhu Junying, and Wang Sufang – for 10 days for being "involved in illegal gatherings multiple times [since September 2021] in the name of Christianity" and "disturbing the social order."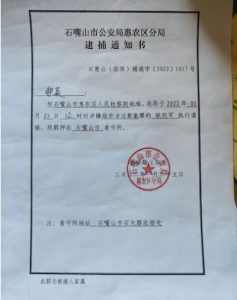 The church continued to meet together and Pastor Geng was summoned by police again on 4 January 2022 and given a further 15 day detention before being formally arrested on 25 January (see arrest notice pictured) along with Hao Ying, Luo Shiping, Ye Ningfang, Zhu Junying, and Wang Sufang. Pastor Geng was detained in Shizuishan Detention Centre while the other five were released on bail. His trial was originally scheduled for 22 June but has been postponed twice due to Covid.
Hao Ying has posted the following prayer request on social media: "I don't think our church services are illegal gatherings. Fellow Christians, please pray for brother Geng Zejun. He has been imprisoned for more than 6 months. We believe God is in charge. Please pray for God to calm his heart and keep him strong so that he can glorify God."
(China Aid, Bitter Winter)
Share this