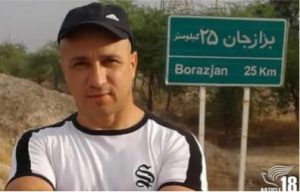 After two years in prison and twenty-one months in internal exile over 1,000 km from home, Mohammadreza Omidi (49) has been set free.
On 6 June, Mohammadreza (also known as Youhan) was told he could return home for 14 days' leave, after which his term in exile would be considered complete. He began his exile in September 2020, four weeks after finishing a two-year prison sentence for "acting against national security by propagating house-churches and promoting Zionist Christianity".
Mohammadreza arrived home in the city of Rasht in northern Iran, where he lives with his wife Maryam and daughters Sara and Sandra, following a 15-hour journey from Borazjan in the far south, where he had been exiled.
Mohammadreza and his fellow house-church leaders Youcef Nadarkhani, Saheb Fadaie and Yasser Mossayebzadeh were each sentenced to ten years in prison in July 2017. All four are converts from Islam and are members of the Church of Iran denomination.
At a retrial in June 2020, Mohammadreza's prison sentence was reduced to two years and Saheb and Yousef's to six. Yasser, who had not applied for a retrial, was released in February 2021 on condition that he engage in no further Christian activity; it is understood he was pressured to recant his faith in order to secure an early release.
Exiled and flogged
Mohammadreza was released from Tehran's Evin Prison two months after the retrial, but had to go into exile less than a month later as this part of his sentence had not been reduced. Youcef will also have to endure a two-year exile following his release from prison, scheduled for 2024.
One month into Mohammadreza's exile, a separate sentence of eighty lashes for drinking communion wine was carried out; Saheb was also flogged for the same "offence".
Uncertain future
Reflecting on the cases of the four Christian men, and specifically Mohammadreza's release from exile, Article 18 commented: "While two of the four men are now free, it has come at huge personal cost to both them and their families, and there is little hope that either will remain free from further prosecution should they again practise the faith for which they were imprisoned… So while today we rejoice with Youhan and his family, it remains clear that tomorrow may well bring trouble of its own."
Mohammadreza must now try to return to his working life as a salesman, although all his goods were confiscated and have not been returned, so he must begin again with no goods or capital.
Since his return home, Ministry of Intelligence agents have already contacted him and warned him against any contact with other Christians.
(Article 18)
Share this