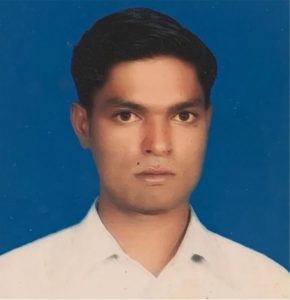 Lahore Christian Ashfaq Masih has been sentenced to death for blasphemy. In 2017, Ashfaq (34) was accused of blasphemy for saying that Jesus Christ is the only true prophet. He has been in prison ever since and – as is common in blasphemy cases in Pakistan – his court hearings have been repeatedly cancelled, apart from one hearing in March 2022. Eventually, on 4 July, he was sentenced to death by hanging.
Ashfaq's family members are very upset, especially his older brother Mehmood, and they plan to lodge an appeal. Mehmood described how, on the morning of 4 July, Additional Session Judge Khalid Wazir announced the judgment and handed a copy of it to Ashfaq. He said: "The sudden judgment stunned me and I didn't know what to do. I hardly gathered myself and came out of the courtroom and started crying as it was the end of the world for me. I rushed home and informed my family. My wife and children also started crying. As the news spread my relatives started visiting to console us, but it was not easy for me as Ashfaq is my only brother and I love him very much."
"I am innocent"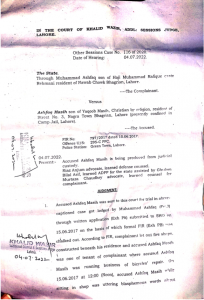 The judgment against Ashfaq (a copy of which has been seen by Church in Chains) records his not-guilty plea, in which he states, "I am innocent, the case against me is quite baseless, false and frivolous and framed against me just to destroy my shop, which I was running as a bicycle and motorbike mechanic. My shop was running well and I was very happy. Muhammad Naveed is also a motorbike mechanic and had made a shop in front of me. He was jealous because my business was running better. Muhammad Naveed had already fought with me on 5 June 2017 and threatened me with dire consequences.
"On 6 June 2017, Muhammad Irfan came to my shop for wheel balancing for his motorbike. I balanced the wheel and demanded my amount of labour as settled between us. Muhammad Irfan refused to give me money and said, 'I am a follower of Peer Fakhir [a Muslim ascetic] and don't ask for money from me'. I told him that I am a believer in Jesus Christ and I don't believe in Peer Fakhir and please give me my labour.
"Irfan went to the shop of Muhammad Naveed who sent Muhammad Irfan to my shop. Instead of giving me my labour they turned the matter to religious side and accused me of blasphemy. I was running my business in the shop of [complainant Muhammad Ashfaq] on rent. Muhammad Ashfaq wanted me to leave his shop. He time and again asked me to leave his shop and I always requested him that my shop is running well, please do not dispossess me. Muhammad Naveed and Muhammad Ashfaq have threatened me with dire consequences. They both made conspiracy against me and lodged a false FIR [First Incident Report] against me. I told the real story to a police officer but he did not record my version but conducted investigation ex-parte. I neither uttered any derogatory word against Prophet Muhammad nor can think about it. I respect Prophet Muhammad by heart and soul."
Ashfaq's accusers complained to the police, who registered a FIR under section 295-C of Pakistan's notorious blasphemy laws, a section that carries a mandatory death penalty.
Alleged blasphemy not recorded
Ashfaq's judgement notes the prosecution case that, "On 15 June 2017 at 12 noon, accused Ashfaq Masih while sitting in shop was uttering blasphemous words about Prophet Muhammad & said words [that] could not be restated."
Pakistan's blasphemy laws are a cause of such fear that complainants are often afraid to repeat specific blasphemous words lest they themselves are charged with blasphemy.
The defence argued that as the blasphemous words were not recorded in the application for registration of FIR, specific blasphemous words deposed in evidence should be considered as "dishonest improvements and afterthought". However, the judgment states that the fact that blasphemous words were repeated "reflected immense respect and affection of complainant towards Holy Prophet Muhammad" and argues, "it can be safely held that non-mentioning of blasphemous words in application for registration of FIR is not fatal for prosecution case". The judgment even adds, "in normal circumstances it could not be believed that a Muslim will spin a story in this regard".
Concluding his judgment, the judge stated, "I am of definite view that prosecution has successfully proved its case against accused Ashfaq Masih regarding uttering of blasphemous words on fateful day with express intention, beyond shadow of any doubt by producing cogent, confidence-inspiring evidence and defences."
Describing the defence evidence as "not believable", he pronounced, "Hereby I convict accused Ashfaq Masih and I awarded him death sentence and he will be hanged by neck till his death subject to confirmation by Hon'able High Court."
The judge informed Ashfaq that he could appeal his conviction. He also fined him and sent him back to Camp Jail in Lahore.
"Sad yet expected"
Nasir Saeed, the Director of CLAAS-UK, commented that the judgment is very sad yet expected. He said in a press release, "I don't remember any case where the lower court decided to grant bail or freed anyone accused of the blasphemy law. The judges are aware that such cases are made to punish and settle personal grudges with the opponents, especially against the Christians. 
"Because of pressure from the Islamic groups, lower courts' judges are always hesitant to free the victims but make popular decisions to save their skin and shift their burden to the high court. Ashfaq's case was very clear – the shop owner wanted him out and Naveed was a business rival who implicated him in a false blasphemy case. He is innocent and has already spent five years in prison for a crime he never committed."
Mr Saeed added, "I don't know how the world is going to react to this news. The international conference on FoRB [the Freedom of Religion or Belief International Ministerial Conference held in London on 5 and 6 July] has already started and participants all over the world are attending the conference. World leaders and international organisations have already expressed their concern over the ongoing misuse of blasphemy laws in Pakistan. I believe the British government and other participants will take this matter seriously and express their concern to the Pakistani government.
"The vigilante killing and misuse of the blasphemy law continues to grow in Pakistan, especially against religious minorities. Several innocent people have been killed and their worship places are attacked merely on allegations of blasphemy. The National Assembly has passed a resolution calling for the law not to be abused in ways like this, but failed to bring any changes or legislation to stop the ongoing misuse of the blasphemy law."
He concluded, "CLAAS is in touch with the family and is working with its partners to submit an appeal in the high court against the lower court's judgment."
(CLAAS-UK)
Share this