Pastor Yang Rongli (67) of Golden Lampstand Church in Linfen city, Shanxi province, is reportedly in poor health and is being denied treatment for severe diabetes. She is being detained at Linfen's Yaodu District Detention Centre while she awaits trial for "fraud", a charge frequently used by Chinese authorities against house church leaders in recent years.
In a letter circulated among house churches by her brother Yang Kai on 15 July, Pastor Yang's condition is described as "serious". He explains: "She needs to take special hypoglycaemic medications regularly every day. Not only there is no such medication in the detention centre, but family members are not allowed to send it or to visit." Yang Kai also said that his sister was being starved in detention.
Yang Rongli has led Golden Lampstand Church with her husband Wang Xiaoguang for over thirty years and is head pastor of the 50,000-member Linfen House Church Network, a group of thirty churches in Linfen city and its surrounding villages. She worked at Shanxi Normal University until 1998, when she became full-time pastor, and the huge growth of the network since then has alarmed Chinese Communist Party authorities. They have persecuted members for many years, including by cutting off water and electricity. Churches in the network refuse to register with the state-sanctioned Three Self Patriotic Movement and the Religious Affairs Bureau.
Pastor Yang featured in Church in Chains' Lent Prayer Project in 2016, when she was serving a seven-year prison sentence for "illegally occupying farmland and disturbing traffic order by gathering masses" – she had organised a prayer rally after a violent raid in which over one hundred Christians were injured. Pastor Yang was released from prison in 2016 but was placed under police surveillance – the image above was taken on the day of her release.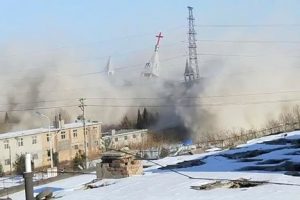 In January 2018, a Chinese Communist Party demolition team demolished Golden Lampstand Church with dynamite, claiming it did not have the necessary permits. The building had been constructed in 2008 and paid for by the congregation. (The image of the building being demolished is from a video taken by church members.) Members of the congregation began to meet outdoors and in homes, with police continuing to harass them.
In July 2021, Linfen city officials started a massive investigation to identify core members of Golden Lampstand Church, summoning pastors and evangelists from other affiliated churches for interrogation. Pastor Yang was detained on 7 August along with several other leaders including her husband. Seven of them were formally arrested on 27 September on "fraud" charges and were transferred to the procuratorate for review and prosecution on 27 December. They are awaiting trial.
(Bitter Winter, China Aid, International Christian Concern)
Images: China Aid
Share this