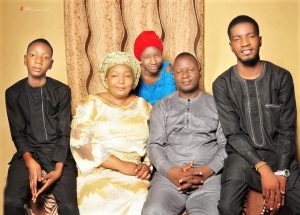 Gunmen stormed Pastor Daniel Umaru's home in Mubi Local Government Area, Adamawa state, around midnight on 5 July. They shot dead his sons Fanye (23) and Kefrey (19) and shot the pastor in the right knee before kidnapping his daughter Ijagla (13). She was released three days later.
Pastor Daniel told The Whistler, "I received a call from my daughter's kidnappers demanding a ransom of thirty million Naira [approximately €71,000] before they will release my daughter. The family gathered money and paid the kidnappers and Glory be to God she was released last night. My daughter is currently in the hospital undergoing treatment in Mubi."
A family source told Punch Nigeria, "We paid money, huge amount of money, of course, before they released her to us on Saturday evening, just after her two brothers were laid to rest at the EYN Church headquarters in Kwarhi." Eklesiya Yan'uwa A Nigeria (EYN), the Church of the Brethren in Nigeria, is the denomination in which Pastor Daniel ministers.
Midnight raid
Describing the attack on Pastor Daniel and his family, local resident Aunty Adunni told Morning Star News in a text message, "He was shot and left to bleed to death. Both the wounded pastor and his wife, who became unconscious during the attack, were taken to the hospital."
A family member said the couple had been admitted to the Modibbo Adama University Teaching Hospital in Yola, "due to gunshot injury and trauma". Mrs Umaru suffers from high blood pressure and collapsed in shock during the attack.
Speaking from his hospital bed, the pastor said that three men armed with guns and a sword broke into the house looking for money and that he was injured and his two sons were killed as they tried to prevent the men from entering the house. He commented, "I don't believe there's security in this country any longer. I'm short for words and don't know what to even say. I'm sad and helpless."
Recounting the attack to The Whistler, Pastor Daniel said, "This incident happened around 12 o'clock midnight, on Tuesday. My family and I had just finished our evening devotion and were about to retire for the night, and I left my children watching TV in the parlour. Just a few minutes later, I heard them shouting that people had invaded the house. And immediately, I rushed out to the parlour. On getting there, I noticed that the intruders were trying to force themselves into the parlour."
He said three attackers armed with guns and a cutlass began shooting through the window before entering the property, killing his sons first and then shooting him in the right knee. Collapsing to the ground, he was unable to prevent them taking his daughter.
The pastor reported that his attackers asked him "Are you the pastor?" and that when he replied "Yes I am," they said, "We've been sent to kill you." He also reported that his attackers demanded church collection money.
"I have forgiven"
On 8 July, the day Ijagla was released, her two brothers were buried. Their mother had regained consciousness and was discharged from hospital in time to attend her sons' funeral, but Pastor Daniel was still in hospital recovering from his injuries and their daughter was yet to be freed.
Speaking at the funeral, Mrs Umaru said: "I have forgiven those behind these killings and abduction. Also, I have accepted the will of God."
(Barnabas Fund, Morning Star News, Punch Nigeria, The Whistler)
Image: Morning Star News
Share this