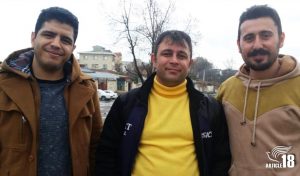 UPDATE 30 November 2022: Ahmad, Morteza and Ayoob had to return to court in June 2022 to face a second trial on identical charges to those for which they had already been sentenced to five years' imprisonment in April 2022. The trial opened on 19 July at the same court that sentenced them the first time, the 2nd Branch of the Revolutionary Court of Rasht, and at a hearing on 2 November they were cleared. However, they must still serve the sentences associated with their first conviction – Article 18's director Mansour Borji said the ruling in the second trial has no bearing on the first, even though the charges were identical.
A week later, in a separate development, Morteza was informed that he had been granted a "partial pardon" and his prison sentence had been reduced by half, to two and a half years. He was then granted ten days' leave from prison, having become eligible for furlough through serving a sufficient proportion of his reduced sentence. No explanation was given for Morteza's partial pardon and Mansour Borji said the decision to pardon only one of the three men appeared "completely random".
Christian converts Ahmad Sarparast, Morteza Mashoodkari and Ayoob Poor-Rezazadeh (pictured, left to right) have been informed that their appeals against their five-year prison sentences have been rejected.
Their lawyer Iman Soleimani commented, "No attention was paid to the defence, or to the fact that these clients, with no criminal records and young families, were re-arrested before the outcome of their appeal, without committing a crime, and are currently being held in solitary confinement."
In April, Ahmad (25), Morteza (38) and Ayoob (28), all members of the Church of Iran in Rasht, were each sentenced to five years in prison and fined for "engaging in propaganda and education of deviant beliefs contrary to the holy Sharia" and "connections with foreign leaders".
The three men had been arrested in September 2021 and held for interrogation before being released on bail after several weeks, but were re-arrested in early May and detained in Lakan Prison in Rasht, northern Iran.
Article 18 reports that they are "currently in the hands of intelligence agents of the Iranian Revolutionary Guard Corps (IRGC), who were responsible for their re-arrest" and that they were told the reason for their re-arrest was that they had continued their religious activities, and therefore had been brought in to "consider their actions in private".
Ahmad and Ayoob were re-arrested at their homes on the night of 8 May, as were two other members of the same house church, Behnam Akhlaghi and Babak Hosseinzadeh, and taken to an IRGC detention centre. Morteza was not at home when the IRGC agents arrived and was told to hand himself in next day. Behnam and Babak, who were released on the afternoon of 9 May, were already facing charges of "propaganda against the state" given to them in February.
(Article 18)
Share this