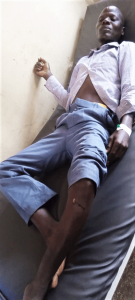 In two recent attacks in Uganda, Muslim extremists killed a youth pastor and burned down a church building, and a father killed his daughter for leaving Islam by stabbing her in the eyes on the day she became a Christian.
Youth pastor Emmanuel Mugabi (32) died on 26 May from an axe blow to the head sustained during an Islamic extremist attack on a church six days previously – he is pictured on the day of the attack.
Bishop Sserugga John Assaph of Bukomero Miracle Centre Church in Bukomero, Kiboga District said Emmanuel sustained deep cuts on his leg and head and lost consciousness in the attack. He died of a blood clot from his head injuries after a week of treatment.
The bishop said that after the church organised an evangelistic event and distributed Bibles, a mob brandishing swords, axes and sticks attacked the church building on 20 May.
He told Morning Star News, "They pulled down the building while shouting 'Allah akbar' and thereafter set it on fire with petrol and rubber on timber, burning iron sheets, chairs, Bibles and other church property."
The bishop called the police and officers arrived soon to hear loud wailing and screaming from the church building's storage area. "The rescue team found a man in a pool of blood," he told Morning Star News. "The police called me to identify the victim, and I found that he was my youth pastor."
The bishop described how church members were left in tears after their worship building (pictured) was set ablaze and demolished, with equipment all destroyed.
The chief of the local police post, Lydia Ashaba, said officers had opened a case against the assailants and would soon apprehend and charge them.
Emmanuel's body was buried on 29 May, and on their way home from the burial the bishop and associate pastor Ivan Serunjoji were attacked by Muslim extremists.
They were stopped by a man on a bridge over the Kiyanja River. "We thought that maybe he needed assistance from us," the bishop said. "As we stopped, we saw other men entering the road from the bush who started shouting, mentioning my name, 'Bishop Sserugga! Bishop Sserugga! Kill him, kill him.' They had long sticks and iron bars, and they started beating us."
He identified three of the attackers as having been involved in the burning of the church building. They fled when a car approached – one of them jumped into the river and died. The two pastors received treatment for head, hand, leg and back injuries.
Bukomero is a predominantly Muslim community with four large mosques, approximately 120 km northwest of Kampala. The bishop explained, "The Muslims are very hostile to any new religion that comes into the community."
Uganda is over 80% Christian and in general enjoys religious freedom. Muslims comprise about 12% of the population, with high concentrations in eastern areas of the country where they oppose the presence of churches and increasingly persecute Christians. Converts from Muslim backgrounds are at risk of attack by family or community members and there are regular reports of Christian converts being injured or killed.
Stabbed in the eyes for leaving Islam
After having several dreams about Jesus, Hawa Amoti (28) of Nansana, Wakiso District in central Uganda visited a Christian neighbour early on the morning of May 29. "Amoti came to our home very early in the morning and needed to know more of Issa [Jesus], whom she had seen in a dream," said the neighbour, unidentified for security reasons. "After explaining to her about eternal life and forgiveness of sin that comes from Jesus who came to take away the sins of the whole world, she willingly accepted Jesus for the salvation of her soul. I then prayed for her, and then together we went to church in Nansana."
After the service, Amoti joined the neighbour's family for lunch at his home. Her brothers and father, Haji Shariifu Agaba, heard that she had been seen worshipping at church and when Amoti arrived home Agaba ordered his sons to seize and beat her, then took a sharp knife and pierced her eyes, said a brother who tried to defend her, and whose name is withheld for security reasons. He reported that their father said, "I want to remove these eyes so that you stop seeing churches forever – even if you die, we are not going to bury you."
Amoti's screams drew neighbours who rushed to rescue her and arranged a vehicle to bring her to a nearby hospital, where she died of profuse bleeding from her eye injuries.
Church members buried Amoti's body, while community leaders in Nansana condemned the attack and vowed to arrest and charge Agaba.
(Morning Star News)
Share this