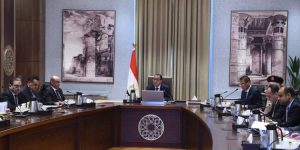 Egypt's Cabinet-affiliated committee charged with examining the status of unlicensed churches to grant them legality approved a new batch of 216 churches and affiliated service buildings on 15 May. It was the 26th batch to receive legalisation since the committee began its task in September 2017, following the passing of the 2016 Law for Building and Restoring Churches.
Prime Minister Mostafa Madbouly presided over the committee meeting (pictured), which reviewed decisions made during the previous meeting on 24 January 2023. Those participating in the meeting included the ministers for justice, local development and parliamentary affairs and representatives of the construction department of the Armed Forces and of other ministries and authorities.
The recent decision brings the number of churches and affiliated community service buildings approved for legalisation to 2815 out of a total 3730 that applied under the 2016 law. Legalisation becomes final only when the approved churches comply with provisions of structural soundness and civil defence safety conditions, prove land ownership and pay the required dues.
2016 Law for Building and Restoring Churches
Until the Egyptian parliament passed the Law for Building and Restoring Churches in 2016, it was almost impossible for churches to obtain permission to construct new church buildings or repair existing ones. Many Christians had no option but to meet for worship in unlicenced premises.
The 2016 Law was intended to make it quicker and easier to obtain permission to construct and repair church buildings and to make provision for legalising the status of Egypt's approximately 5,000 unlicenced church buildings. Some 3,730 churches applied for permits.
The Cabinet-affiliated committee met in October 2017 to start work on the legalisation process and in January 2018 the Ministry of Housing announced that Christians would be allowed to meet in unlicenced premises while registration applications are processed. However, when the authorities started making site visits to assess applications, some extremist Muslims intent on ridding their villages of churches protested and attacked local Christians.
Every few months the committee issues a batch of approvals for buildings belonging to Orthodox, Catholic and Evangelical Coptic Churches, but legalisation becomes final only when approved churches prove land ownership, comply with provisions of structural soundness and civil defence safety conditions and pay any required dues.
Coptic news agency Watani reports: "As a sizeable number of unlicensed churches were built in rural areas or underprivileged, unplanned urban areas characterised by very narrow streets, and crowded wall-to-wall small buildings, complying with standard safety conditions has not been attainable in many cases. Church officials complained about this to the Cabinet committee which then decided to involve the Ministry of Housing in resolving the issue by figuring out adequate safety requirements according to relevant building codes. Until this is resolved, churches have been required to fulfil the minimum precautionary measures, such as providing fire extinguisher facilities."
Deadly church fire in 2022
On 14 August 2022, 41 Christians died in a fire at Abu Seifein Coptic Orthodox Church in Imbaba, a densely packed neighbourhood in Giza on the outskirts of Cairo. It met in a four-storey building squeezed between apartment complexes that had been illegally taken into service in 2007 and was officially licensed in 2019. The fire was caused by a short circuit to the air conditioning unit, sparked by an overload when a private generator did not shut off upon the return of electricity following an outage.
Most deaths were caused by smoke inhalation and the stampede to escape. Many children were in the fourth-floor nursery when fire broke out and, unable to escape, 18 of them died in the blaze.
Archbishop Angaelos of London tweeted,  "At best, today's tragic #EgyptChurchFire is a direct result of a painful time when Christian communities could not build purpose-designed churches and would have to covertly use other buildings, not fit for purpose and lacking the necessary health and safety features and escapes."
The Egyptian authorities were quick to respond to the tragedy, with President Abdel Fattah al-Sisi ordering that the church be repaired and Prime Minister Mostafa Madbouly announcing compensation for families of the dead and injured. Al-Azhar Mosque, Egypt's top Islamic institution, pledged aid and the Red Crescent sent specialised teams for psychological support.
Read more about Egyptian Christians in Church in Chains' Egypt Country Profile.
(Watani, Christianity Today, Wikipedia)
Photo: Watani
Share this