Egypt's cities and agricultural activity are concentrated along the banks of the Nile and its delta, and the rest of the country is mostly desert. The economy depends on agriculture, tourism and cash remittances from Egyptians working abroad, mainly in Saudi Arabia and the Gulf. Cairo is Africa's largest city, with about 7 million people (city) or 17 million (greater urban area).
Christians in Egypt
Egypt was a Christian country when Islam arrived in the seventh century. Now, after centuries of discrimination and persecution, Christians make up about 10% of the population, with the majority belonging to the Coptic Orthodox Church. The Christian community in Egypt is the largest in the Middle East and there has been growth in recent years in the number of Christians from a Muslim background.
Christians have enjoyed greater protection under President al-Sisi than under his predecessor President Morsi, but sectarian violence against Christians has continued, with the Islamic State terrorist group claiming responsibility for many attacks. In 2017, over one hundred Christians were murdered in church bombings, gun attacks on pilgrim buses and individual attacks. Egypt's Defence Minister ordered the army to rebuild damaged church buildings, and many churches have been given armed security.
A continuing problem for the Egyptian church, especially in Upper Egypt, is the kidnapping of young Christian women for ransom and enforced marriage to Muslims. Christians protest that police fail to act when they report kidnappings.
Building Permits
For decades, it was almost impossible for churches to obtain permission from the Egyptian government to construct new church buildings or repair existing ones. Building a mosque requires only a regular planning permit, but until recently building a church required a presidential permit and years of paperwork. Many Christians had no option but to meet for worship in unlicenced premises, and they were sometimes attacked by Muslim mobs that suspected them of using homes for church services.
On 30 August 2016, the Egyptian parliament passed the Law for Building and Restoring Churches, intended to make it quicker and easier to obtain permission to construct and repair church buildings and to make provision for legalising the status of Egypt's approximately 5,000 unlicenced church buildings (including around 3,000 Coptic Orthodox churches). Some 3,730 churches applied for permits.
One of the provisions of the law is that a church may be denied legalisation for security reasons – applications must now be submitted to provincial governors, who are required to consider "the preservation of security and public order", which gives grounds for refusal if local extremists put pressure on governors and threaten to attack. This provision has led to fears that the law might actually entrench discrimination.
In October 2017, a cabinet committee met to start work on the legalisation of unlicenced churches and on 6 January 2018, the Ministry of Housing announced that Christians would be allowed to meet in unlicenced premises while registration applications are processed. Land began to be allocated for church buildings in new towns or developments and government permits began to be granted. However, when the authorities started making site visits to assess applications, extremist Muslims intent on ridding their villages of churches began to protest and attack local Christians; some attacks escalated to include stoning and burning of Coptic homes.
The slowness of the committee was widely criticised and in April 2019, with over 2,800 applications still pending, Prime Minister Mustafa Madbouli stated that it should speed up its work and legalise unlicenced churches as soon as possible.
On 14 November 2022, the committee approved the legalisation of a twenty-fourth batch of churches and affiliated service buildings, bringing the total approved for legalisation up to 2,526. Legalisation becomes final only when approved churches comply with provisions of structural soundness and civil defence conditions, and pay the required dues.
Egypt in turmoil
Egypt has experienced political turmoil since the January Revolution of 2011. President Hosni Mubarak resigned in February 2011, and in June 2011, Muslim Brotherhood candidate Mohammed Morsi won the presidential election. Christians hoped their situation would improve but extremist Muslims, notably the ultraconservative Salafis, attacked their homes and businesses and set church buildings on fire – President Mubarak had banned extremist groups, but hundreds of Salafis returned to Egypt from abroad and some were released from prison.
On 30 June 2013, millions of protestors across Egypt called for President Morsi to resign, and many Christians joined the protests. The army ousted him on 3 July. When General al-Sisi announced the deposition on state television, Orthodox Pope Tawadros II appeared with him, and within hours mobs of Morsi supporters began to attack Christians and their homes, businesses and church buildings.
On 14 August 2013, police and soldiers forcibly broke up two large pro-Morsi camps in Cairo, and hundreds of people died. In retaliation, radical Morsi supporters attacked churches and Christian-owned buildings all over Egypt, as well as police stations, hospitals and other private and public properties. Church buildings and Christian homes and businesses were daubed with anti-Christian slogans and large crosses overpainted with a red X. Over seventy churches and Christian institutions were destroyed by fire, as well as many Christian homes and businesses. Some Muslims tried to protect Christians and their churches.
Egypt's Defence Minister ordered the army to rebuild churches burned by protesters, and some of Cairo's biggest churches were given armed security. A new constitution was approved in January 2014, which was seen as being more inclusive of Christians, especially the Coptic Orthodox Church, and General Abdel al-Sisi was elected President in May 2014.
2016 Bombing
On 11 December 2016, 23 Christians were killed in a bomb attack on a chapel attached to St Mark's Coptic Cathedral in Cairo. The death toll later rose to 28. Another 65 Christians were injured, and the building was badly damaged. President Sisi responded by declaring three days of national mourning, and the army repaired the building. Islamic State claimed responsibility, and hundreds of Copts protested that the government was not doing enough to protect them from extremist attacks.
2017 Attacks
Between 31 January and 23 February 2017, militants from a group calling itself Islamic State of Egypt killed seven Coptic Christians in Al-Arish, North Sinai Province, and on 19 February the group released a video threatening Copts. Hundreds of terrified Christians fled Sinai. Elsewhere in Egypt, five Copts had been murdered in under two weeks in January.
At least 49 people were killed and over 120 others were injured when suicide bombers attacked two Coptic churches during Palm Sunday services on 9 April 2017. The first bomb exploded at St George's Coptic Orthodox Church in the Nile Delta city of Tanta, killing at least 27 and wounding 78 others. Hours later, a suicide bomber was stopped at the door of St Mark's Coptic Orthodox Cathedral in Alexandria. He detonated explosives that killed at least 22 people, including four police guards, and injured 48 others. Islamic State claimed responsibility for both attacks.
On 26 May, militants armed with machine guns killed 30 Copts in an attack on a convoy of buses carrying pilgrims to St Samuel Monastery in Minya, southern Egypt. About 25 other Copts were injured. Once again, Islamic State claimed responsibility.
Between 26 May and 6 July, five more Copts were murdered in individual attacks. No one claimed responsibility for the deaths of the four men and one woman.
In mid-July, churches cancelled all summer activities apart from church services, following an Interior Ministry warning of terrorist attacks. The Ministry sent letters to churches saying investigations revealed that Islamist terrorists were planning nationwide attacks against the military, police and churches.
On 12 October, a Coptic Orthodox priest was murdered in Cairo by an attacker armed with a machete.
On 29 December, gunmen killed eight Copts and a Muslim police officer in Helwan, just south of Cairo. Six of the Christians were leaving a service in Mar Mina Coptic Orthodox church, where the police officer was on security duty, and two were Christians shot in a nearby shop. At least five other Christians were injured in the church attack, which was claimed by an affiliate of Islamic State.
2018 Bus Bombing
On 2 November, at least seven Christians were shot dead and 19 were injured in a terrorist attack on two buses carrying Coptic pilgrims to a monastery in Minya province. Islamic State claimed responsibility. The buses were travelling to St Samuel Monastery in Minya and the attack took place at the same location as the deadly bus attack of 26 May 2017.
(Assist News, BBC, Christian Solidarity Worldwide, Compass Direct News, Irish Times, Middle East Concern, Morning Star News, Sat-7, Telegraph, Watani, World Watch Monitor)
Church in Chains in Action
Church in Chains has been involved in supporting Christians in Egypt for over twenty years. Two fact-finding visits and constant monitoring of persecution incidents have led to a number of meetings with successive Egyptian Ambassadors to Ireland to discuss religious freedom issues.
In 2017, "Michael" (pseudonym used for security reasons), leader of a Christian ministry in Egypt spoke at Church in Chains' annual conference in Dublin.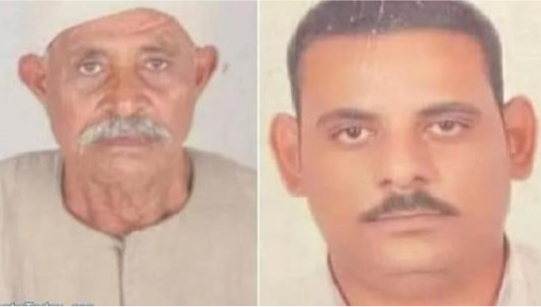 Islamic State militants have shot dead two Copts in Egypt's Sinai region