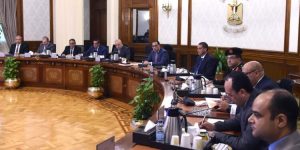 On 14 November the cabinet-affiliated committee tasked with legalising unlicensed churches in Egypt approved legalisation of a new batch of 125 churches and affiliated service buildings, the 24th batch since the committee began its task in 2017.
Prime Minister Mostafa Madbouly presided over the committee meeting (pictured) at which participants included the ministers of local development, housing and parliamentary affairs, and also representatives of the engineering department of the armed forces and the ministry of antiquities.
The decision brings the number of churches and affiliated service buildings approved for legalisation up to 2526 out of a total 3,730 that applied for legalisation under the Law for Building and Restoring Churches that was passed by parliament in 2016.
Legalisation becomes final only when approved churches comply with safety measures (including provisions of structural soundness and civil defence conditions), prove land ownership and pay the required dues.
The 125 recently-approved churches are required to fulfil minimum safety measures, such as providing fire extinguishers, and must urgently secure the supplies required in the decision (which will be issued by the Minister of Housing) until they can complete the remaining safety requirements.
Cabinet spokesperson Nader Saad said that church leaders and representatives will be invited to attend the next meeting of the committee to discuss how churches can fulfil the safety conditions required for legalisation as quickly as possible.
Law for Building and Restoring Churches
The 2016 law was introduced to make it quicker and easier to obtain permission to construct and repair church buildings and to make provision for legalising the status of Egypt's approximately 5,000 unlicenced church buildings (including around 3,000 Coptic Orthodox churches).
Before the law was passed it was almost impossible for churches to obtain permission from the government to construct new buildings or repair existing ones. Many Christians had no option but to meet for worship in unlicenced premises and they were sometimes attacked by Muslim mobs that suspected them of using homes for church services.
In October 2017 a cabinet committee met to start work on the legalisation of unlicenced churches and in January 2018 the Ministry of Housing announced that Christians would be allowed to meet in unlicenced premises while registration applications are processed.
Read more about Egyptian Christians in Church in Chains' Egypt Country Profile.
(Watani)
Photo: Watani
Share this