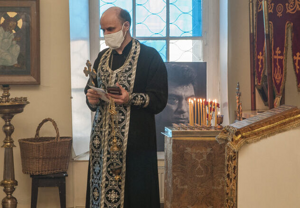 On 10 March, a court fined Fr Ioann Burdin (pictured) of the Moscow Patriarchate's Kostroma Diocese the equivalent of one month's average local wage for condemning Russia's invasion of Ukraine and stressing the importance of the commandment "Thou shalt not kill".
The priest made his remarks in a statement he posted online on 25 February and in a sermon he preached on Sunday 6 March.
On 25 February 2022, the day after Russian troops invaded Ukraine, Fr Ioann posted the following statement on his parish website, signed by himself and fellow priest Fr Georgy Edelshteyn: "Brothers and sisters! In the early morning of 24 February, Russian troops attacked Ukraine. There is shelling of Kiev, Odessa, Kharkov, Mariupol and other Ukrainian cities. Russian soldiers are killing their brothers and sisters in Christ. We Christians do not dare to stand aside when a brother kills a brother, a Christian kills a Christian. Let us not repeat the crimes of those who hailed Hitler's action on 1 September 1939. We cannot shamefacedly close our eyes and call black white, evil good, say that Abel was probably wrong in provoking his older brother. The blood of the inhabitants of Ukraine will remain on the hands of not only the rulers of the Russian Federation and the soldiers who carry out this order. Their blood is on the hands of each of us who approved this war or who simply remained silent."
In his 6 March sermon, Fr Ioann again condemned the bloodshed, emphasised the importance of the commandment "Thou shalt not kill" and prayed for the people of Ukraine and for an end to the war. Someone attending the service apparently called the police about the content of the sermon, but Fr Ioann had gone home by the time police arrived at the church building so they phoned to summon him for interview.
On 10 March, a court fined Fr Ioann 35,000 Roubles (equivalent to one month's average local wage) under Russia's new Administrative Code Article 20.3.3 Part 1, which punishes "discrediting the use of the Armed Forces of the Russian Federation in order to protect the interests of the Russian Federation and its citizens, [and] maintain international peace and security".
Two witnesses in the case testified that Fr Ioann said that Russian troops had "begun a war with Ukraine", that he would pray for Ukraine and "for a speedy end to the war", and that parishioners could find more information on the parish website.
Fr Ioann told Forum 18 on 10 March, "We will appeal, but the outcome is clear" and added that the decision was "a ban not only on expressing one's opinion, but also even on professing one's religious beliefs".
He continued, "I will continue to serve as a priest, as I did before. What I had to say to my Christian brothers, I have said. It turned out that even more people heard it than I expected. I have nothing to add to what has already been said.  If a priest cannot preach 'Thou shalt not kill', then the space for preaching remains very narrow."
By the afternoon of 11 March, Fr Ioann posted that enough money to pay the fine had been donated through the parish website, and thanked those who had donated. He told Forum 18 that he would give the excess to the church's House of Mercy hospice.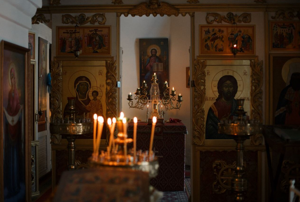 Fr Ioann has been in charge of the Church of the Resurrection of Christ (pictured) in the village of Karabanovo in the Kostroma Region, northeast of Moscow, since 2015. In addition to his post on the parish website and the sermon he preached, he also posted a link to a change.org petition against the war and links to statements by foreign Orthodox clergy criticising Russia's invasion or calling for an end to the conflict, and his parish Twitter account bore a "No to war" banner until 9 March.
Administrative Code Article 20.3.3 and other new "offences"
President Vladimir Putin signed Administrative Code Article 20.3.3 into law on 4 March, along with several other amendments to the Administrative and Criminal Codes which penalise calling for sanctions on Russia and disseminating "false information" about the armed forces. By 8 March, there had been 144 prosecutions under the new amendments, including for online posts, handing out flyers and displaying flags and placards.
Fr Ioann is believed to be the first person prosecuted under the new Administrative Code Article for expressing opposition to the war related specifically to the exercise of freedom of religion or belief.
Russian Orthodox priests sign open letter calling for ceasefire
The Russian Orthodox Patriarch Kirill of Moscow said on 24 February that he "deeply [empathises] with everyone affected by this tragedy" but he has not condemned the invasion and appeared to claim in a sermon on 6 March that Russia was protecting Donbas from pressure to adopt liberal values, especially gay pride parades.
By 9 March, however, more than 280 Russian Orthodox priests from around the world had signed an open letter calling for an immediate ceasefire and criticising the suppression of anti-war protests.
Written by Rev Andrej Kordochkin, Dean of St Mary Magdalene Russian Orthodox Cathedral in Madrid, the letter begins, "We, the priests and deacons of the Russian Orthodox Church, each in our own name, appeal to everyone on whom the cessation of the fratricidal war in Ukraine depends, with a call for reconciliation and an immediate ceasefire."
It goes on to state, "We mourn the trial that our brothers and sisters in Ukraine were undeservedly subjected to. We remind you that the life of every person is a priceless and unique gift of God, and therefore we wish the return of all soldiers – both Russian and Ukrainian – to their homes and families safe and sound… We respect the God-given freedom of man, and we believe that the people of Ukraine should make their choice on their own, not at gunpoint, without pressure from the West or the East."
Four hundred Russian pastors sign open letter
Meanwhile, an open letter signed by four hundred Russian pastors in the space of two days pleads, "We call on the authorities of our country to stop this senseless bloodshed!" It goes on to state, "No political interest or goal can justify the deaths of innocent people. War destroys not only Ukraine, but also Russia – its people, economy, morality, and future."
The letter was signed by mainly Baptist and Pentecostal leaders affiliated with churches or seminaries in Moscow, St Petersburg and more than forty other Russian cities.
Commenting on the letter, Mark Elliott, editor emeritus of East-West Church Report (a journal focused on explaining Eurasian Christianity to Christians in the West) said: "This is an extraordinarily courageous step compared to evangelical timidity previously under Putin. I am amazed and heartened that these brave people are defending Ukraine. They will suffer for this unless Putin is dethroned. Lord have mercy."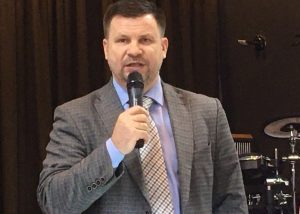 Separately, General Secretary of the Russian Evangelical Alliance Rev Vitaly Vlasenko (pictured) has sent an open letter to the World Evangelical Alliance (WEA, of which the REA is a member) lamenting the invasion and appealing for forgiveness, with the request that the WEA share the letter with its worldwide constituency.
"To my dear brothers and sisters around the world," the letter begins, "As the General Secretary of the Russian Evangelical Alliance, I mourn what my country has done in its recent military invasion of another sovereign country, Ukraine."
Rev Vitaly goes on to write, "Everything I could do to prevent war, I did in an attempt to stop this military invasion: In my capacity as General Secretary of the Russian Evangelical Alliance, I wrote an open letter to President Vladimir Putin the day before the invasion, in which I supported the request of the religious leaders of Ukraine for a peaceful solution to all conflict. 
"We initiated fasting and prayer for peace and harmony between Russia and Ukraine. Our Alliance took part in public prayer alongside Russian, Ukrainian, and European leaders for the reconciliation of all parties. The Russian Evangelical Alliance provided humanitarian assistance to more than 500 refugees from Ukraine stationed in southern Russia." 
(Forum 18, Christianity Today, Independent Catholic News, World Evangelical Alliance) Images: Forum 18
Share this