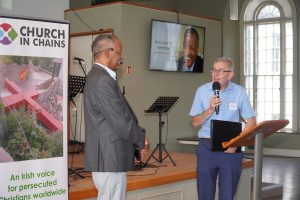 Dr Berhane Asmelash (Director of Release Eritrea) told delegates at Church in Chains' annual conference at Trinity Church in Dublin's city centre that Christians in Eritrea continue to meet together to pray and worship despite the ever-present threat of arrest.
He said that there are more Christians in Eritrea now than ever in the thirty year history of the country. "Twenty years ago, the number of evangelicals was very small but now it has multiplied several times because the Gospel can never be in chains. It is like a bush fire… it is the work of the Holy Spirit… it is not the work of human beings. Christians cannot stop worshipping because their heart will not allow them to stop. They meet for Bible study and prayer despite the risk of arrest because they are in love with their Lord."
Prison Experience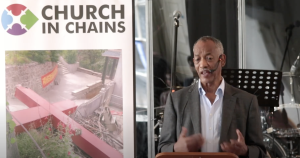 Dr Berhane spoke about his own experience as young Christian of imprisonment and torture in Eritrea (during the period when it was under Ethiopian rule). He was arrested while worshipping secretly in a house with other Christians. When he was being taken to prison, he said that his main focus was not on what he might suffer but rather on the opportunities for witness. "I said I will meet many people in prison and I want to share my faith with them," he explained. When he was taken away to be tortured, he said, "I fixed my mind to see God – to see His great works so that even if I die, I will die joyfully. I was singing and praising Jesus – my heart was filled with joy."
"In the cell where I was imprisoned with many others, there was no room to lie down and sleep. I said to my fellow-prisoners (who included many criminals and a serial murderer) 'From outside you see me weak and miserable but inside I am strong because I have Jesus.' People asked me how it works and so I preached to them every night for the eleven months that I was there and people were getting converted."
Current situation in Eritrea
Dr Berhane said that the situation in Eritrea remained unchanged, with some Christians being released from prison and others being arrested. He told delegates that on the previous day, he had received news of the release of half of the 103 young Christians arrested in April while recording a praise video in Asmara. The other half of the group remains in prison. On the other hand, eleven Christians had just been arrested in the previous week when they were gathered together in a house for worship. Dr Berhane thanked Church in Chains for its faithful support of Release Eritrea's work in assisting the families of Christian prisoners in Eritrea over many years.
Twen speaks by video link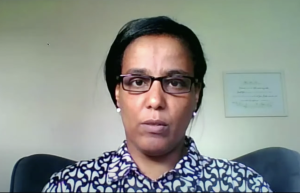 Former prisoner Twen Theodros spoke to the conference by video link and began by thanking the delegates: "I want to thank God that you have been praying for me for many years and for the love and care that you showed me. I want to thank the Lord for that. To see myself standing before you is an answer to your prayers.
"Although in these 16 years there was a lot of pain, a lot of thirst, a lot of hunger and a lot of suffering, God was faithful as His word says – 'I will never leave you or abandon you' – so He was always with me. I managed to cross all this pain by His grace.
"So when I pass through all these hardships, God gave me the opportunity to test His love and His care. Now what I have in my heart is just this, His love and care. It's the same as Peter and John, when they were beaten and then they walk out from the prison joyfully. For the same thing I rejoice, but God counted me worthy to be His witness.  And I always praise Him!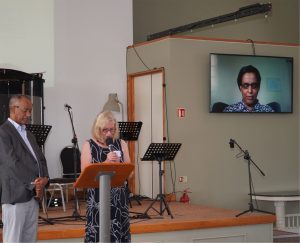 "God has done great things in my life and I want to thank Him! Through all my journeys, the powerful hand of God has helped me to go through. And again I want to thank all of you. Your hard work hasn't been in vain."
The session closed with Pamela Coulter praying for Berhane, Twen and Eritrea.
Questions and Answers
One of the most interesting sections of the conference was a Q & A session with Berhane in which he answered a wide range of questions from delegates (some of his answers will be included in the Autumn issue of Church in Chains magazine). Questions included How did you come to faith in Jesus? Were there times when you doubted God and how did you overcome in those moments? How did your knowledge of God change when you were in prison? Are prisoners allowed to have Bibles and are they allowed visitors? How hard is it for prisoners to adjust back to everyday life, especially if they move to a western country? Can we petition the Eritrean government in a way that will not cause more suffering for the Christian prisoners? In what way were you tortured and what was the most difficult thing for you in prison? Do the guards realise that the Christians they are torturing are not guilty, but good citizens?
Global Updates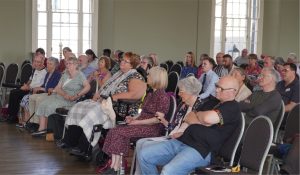 David Turner updated delegates at the conference on recent developments in Iran, Nigeria and Pakistan.
He said that it is hard to discern patterns of persecution in Iran as there had been several prisoner releases in the past year, but during June and July at least 69 Christians were detained in a wave of arrests across Iran.
He reported that the situation for Christians in the Middle Belt region of Nigeria has got even worse in the past year. Recently there was a huge surge of violence in Plateau state – at least three hundred Christians were killed in Fulani militant attacks in May and June. Church in Chains has continued to send aid to Nigeria to meet the immediate needs of displaced Christians (providing food, shelter and trauma counselling).
David told delegates that during the past year Church in Chains had sent more aid to Pakistan than to any other country. This was partly due to a tremendous response from supporters to our appeal to help Christians affected by the devastating floods that hit the country last autumn. Typically, our aid goes to support the families of Christians imprisoned under the blasphemy laws and also some ex-prisoners who have to live in hiding. Most recently, Church in Chains has sent aid to the Christian victims of the sectarian attack in Jaranwala in August. He also highlighted the presentation of a petition, together with a report about the operation of the blasphemy laws, to Pakistan's Ambassador to Ireland in June, when we had a useful meeting during which the ambassador acknowledged that the implementation of the laws needs renewal and reform, saying "we need to do better".
Share this