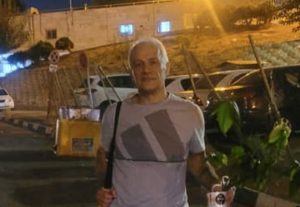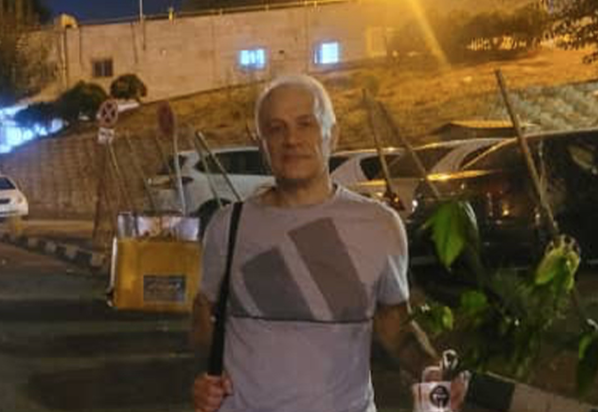 Ethnic-Armenian house-church leader Joseph Shahbazian (59) has been released from prison after a court granted him a full pardon. He had been in Tehran's Evin Prison since August 2022, serving a ten-year prison sentence which was reduced to two years in May 2023 following a retrial. He is pictured outside the prison, following his release.
Joseph had applied for furlough or to be released to serve the remainder of his sentence at home with an electronic tag, but on the evening of 13 September he was summoned to the Evin Prison office and informed that he had been pardoned. He was given an hour to collect his belongings and was then set free to return home to his family, including a nine-month-old granddaughter – his first grandchild, born during his imprisonment.
Joseph suffered ill health during his 13 months in prison but for several months was denied a medical appointment, and even afterwards was not told of his diagnosis. He recently discovered by chance that he was suspected to be suffering from a serious illness, but it is not known whether this was a reason for his pardon.
Joseph was eligible for conditional release, having served more than one-third of his reduced sentence, but he did not apply for it because a conditional release would require a pledge to refrain from organising and hosting house-church meetings with Christian converts.
Commenting on Joseph's release, Article 18's director Mansour Borji said, "We thank God for Joseph's release, but he should never have been imprisoned in the first place only for exercising his constitutional right to a place to worship. 
"But despite the continued mistreatment of Christians like Joseph, we celebrate this rare piece of good news after a constant barrage of sad reports recently of an upsurge of arrests involving more than one hundred Christians in the past three months alone."
Background
Joseph was arrested on 30 June 2020 when agents from the Islamic Revolutionary Guard Corps raided a house-church gathering in Tehran. He was charged with "acting against national security by promoting Zionist Christianity" and bail was set at the exorbitant figure of three billion tomans (approximately €140,000) – an unprecedented amount that was twice the previous highest bail demand for a Christian prisoner of conscience.
His family could not raise the bail, despite submitting title deeds to two apartments worth two billion tomans (Joseph's home and his mother's apartment below) and they pleaded for a reduction. On 22 August 2020 the court accepted the amount submitted for his bail and he was released on a reduced bail of two billion tomans.
In June 2022 Joseph was sentenced to ten years in prison for "founding or leading an organisation that aims to disrupt national security". His prison term was to be followed by two years in internal exile in a remote province in the southeast of Iran and he was also sentenced to a two-year ban on travelling abroad or membership of any social or political group.
In August 2022 Joseph lost his appeal and was summoned to Evin Prison to begin serving his sentence, but in February 2023 the Supreme Court granted him a retrial and on 24 May his ten-year sentence was reduced to two years.
Read Joseph Shahbazian's Prisoner Profile.
(Article 18, Middle East Concern)
Photo: Article 18
Share this