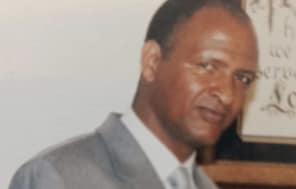 UPDATE (25 APRIL 2023) Pastor Tesfay's body was finally buried on Saturday 22 April at St Teklehaymanot Cemetery in the HazHaz suburb in the north of Asmara (his family is from the south of Asmara).
Eritrean Christians are mourning the death of a pastor who was imprisoned for ten years for belonging to a banned church. Pastor Tesfay Seyoum was a founding leader of the Eritrean "Meserete Kristos" (Christ is the foundation) church and suffered a brain tumour during his imprisonment. Members of his church and many friends and fellow believers in the Eritrean diaspora tried to arrange treatment for his condition.
Eventually, prison authorities sent Pastor Tesfay to Dembe Sembel hospital in the capital, Asmara, in early April for treatment but he died just five days later on Sunday 9 April. Pastor Tesfaye, who was in his 60s, was married with one child. His family and friends are reported to be distraught about his death and the difficulties that have arisen with regards to his burial.
As Pastor Tesfay was a leader of a banned church, his family could not get permission for his body to be buried in either of the burial grounds around his village of origin in the south of Asmara (the Eritrean Orthodox Godayf cemetery or the Hazhez public cemetery). His body has remained unburied for ten days, in contradiction to cultural norms that require bodies to be buried as close to the time of death as possible. Pastor Tesfay's body was taken home after his death but has since been taken back to Dembe Sembel hospital.
Speaking about Pastor Tesfay, a fellow Eritrean Christian, now in the USA, stated: "Tesfay was the most decent and humble person I know, I was with him when he started the church that he was a pastor of. It was our hope that he would get medical treatment for his illness following his decade-long detention."
The family is hoping that the funeral will be allowed to take place soon and that their ordeal would be over. Eritrean Orthodox Church priests who allow the burial of Eritreans from banned churches come under a lot of pressure and this situation is increasingly causing distress to the surviving families and the wider community.
Background
In May 2002, the Eritrean government banned all religious groups except the Eritrean Orthodox, Roman Catholic and Lutheran churches and Sunni Islam. The "Meserete Kristos" church began in the 1960s as a gathering of evangelical Ethiopians (at that time Eritrea was part of Ethiopia) who taught the importance of accepting Christ as one's personal Saviour, regular study of the Bible and the transformative power of Christ in a person's life. The church also emphasised God's accessibility to lay people through Scripture, the movement of the Holy Spirit and the local congregation.
The Eritrean government continues to imprison Christians for belonging to and participating in activities of banned churches. Thousands of Eritreans have been imprisoned over the years and many are tortured for refusing to recant their faith. Currently there are close to five hundred Christian prisoners and some have been in incommunicado detention since 2004.
(BBC Tigrinya,  Christian Solidarity Worldwide, Mennonite Quarterly Review, Release Eritrea)
Share this