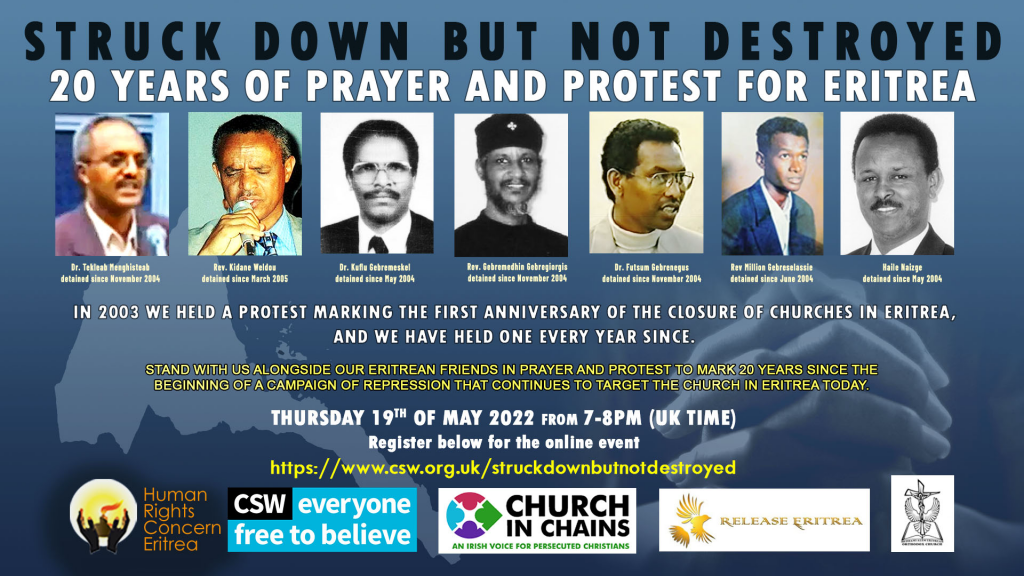 Christians from the UK and Ireland and elsewhere joined together for an online vigil to mark the 20th anniversary of the closure of churches by the Eritrean government in May 2002.
The decision to close all churches – apart from the Eritrean Orthodox, Roman Catholic and Lutheran churches – marked the beginning of the persecution of Christians in Eritrea which has continued ever since.
Church in Chains has joined with Christian Solidarity Worldwide, the Eritrean Orthodox Church in the UK, Human Rights Concern-Eritrea and Release Eritrea in an annual vigil outside the Eritrean Embassy in London since 2005. The event moved online in 2020 (due to Covid-19).
David Turner (Church in Chains) led the event and introduced participants. Rev Daniel Habtey, an Eritrean pastor, spoke about the churches in Eritrea while Kebreab Yimesgen (a human rights activist) spoke about Christian prisoners including his own pastor, Dr Kiflu Gebremeskel. There are currently an estimated 200 known Christian prisoners in Eritrea.
Elsa Chyrum (Human Rights Concern-Eritrea) spoke about the desperate suffering of Eritrean refugees including those who are victims of trafficking while Dr Khataza Gondwe (Christian Solidarity Worldwide) spoke about the Tigray crisis in neighbouring Ethiopia (in which Eritrean army conscripts are fighting). Each topic was followed by prayer including by Dr Berhane Asmelash  and Selam Kidane of Release Eritrea.
During the vigil, a joint letter from the five organisations to the Eritrean Embassy in London calling for the unconditional release of every prisoner of conscience was posted to the embassy's Facebook page and vigil participants were encouraged to do likewise.
Prayers and Bible Verses
During the vigil, several participants shared prayers and Bible verses (many from the Psalms) including the following.
"May God bless our brothers and sisters in Eritrea, may God strengthen and keep them strong as we join them in standing together for what we believe. Our prayers are with you."
"As for the saints who are in the land, they are the glorious ones in whom is all my delight." (Psalm 16:3)
"Lord console those who mourn in Zion, to give them beauty for ashes, the oil of joy for mourning, the garment of praise for the spirit of heaviness that they may be trees of righteousness, the planting of the Lord, that He may be glorified." (Isaiah 61:3)
"You have persevered and have endured hardships for my name, and have not grown weary." (Revelation 2:3)
"Arise Lord lift up your hand, Oh God do not forget the helpless" (Psalm 10:12)
"May the Lord answer you when you are in distress." (Psalm 20:1)
"Our hearts cry out to you Lord for our sisters and brothers in Eritrea, Tigray and those who are refugees. Too many have died & suffered terribly. Father God work mightily to rescue, strengthen, release & restore each person. In the name of our brother and Prince of Peace, Jesus Christ. Amen"
The event concluded with a song and prayer by Helen Berhane (Eritrean gospel singer and former prisoner).
Share this