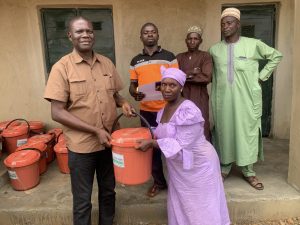 On 10 May our partner organisation Stefanos Foundation distributed relief items, funded by Church in Chains, to families in the villages of Murish, Mai-tumbi and Jwak in the Mangu district of Plateau state.
Fulani militants had attacked the villages in mid-April killing many people and destroying houses. The families had to flee into nearby towns for safety and while some families have returned to these communities, many are still displaced. The farming communities are in need of food and support as they cannot access their farms due to insecurity.
Stefanos Foundation has been working with volunteers on the ground to identify families who had lost their homes and livelihoods in attacks for the distribution of food and non-food relief items.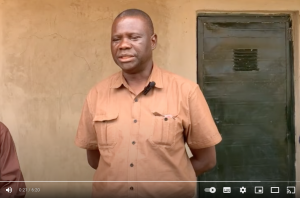 At the beginning of the aid distribution, a Stefanos Foundation staff member (pictured) stated the motivation behind their work, paraphrasing James 1: 27: "Pure and undefiled religion is when you meet the needs of the people." He also reminded the villagers to hold on to their belief in a God of love and forgiveness and not to take up arms against anybody.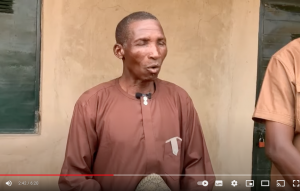 An elder from the village (pictured) followed on by expressing his thankfulness in prayer: "God Almighty, King of Kings, we bring our gratitude before you this afternoon. Today we are grateful for the visitors who have come here, who have brought some blessings this way. God, our King, we are grateful for the gifts that have reached us here. Father, comfort us and restore what we have lost in your grace. Almighty One we are also bringing our request concerning our brothers who have taken the long road here. You have protected them. Some do not even know this village, but in Your grace you have brought them here and they have checked on us. Almighty God, pour Your blessings on them… In Jesus Name, Amen!
Subsequently aid buckets filled with non-perishable food items were distributed to the people present.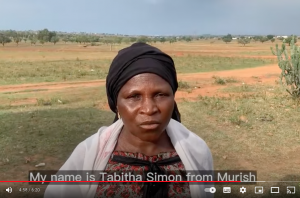 Tabitha Simon (pictured) also expressed her gratitude to the team: "We are very grateful because of God's grace that we have seen. When our misfortune happened, we didn't know it would turn like this. In God's grace He has done everything for us, for that we say thank you. We are grateful to you who have remembered us. You have not left us behind. But you came to help us, we are saying thank you. We are grateful to you because you have taken things beneficial to you and given to help us. We are saying thank you. As you go back, may God who brought you, return you to your houses safely. May God protect you on the way. Thank you!"
Stefanos Foundation said, "We would like to pass on these words of thanks to the supporters of Church in Chains, without whom this aid distribution would not have taken place."
(Stefanos Foundation)
Share this