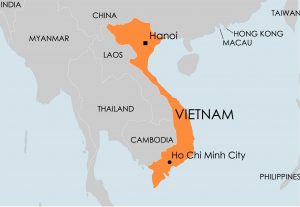 A Vietnamese Christian identified only as Brother Khan died recently after being arrested, detained for two days and tortured in detention. After returning home, he could not eat or drink anything for two days and told family members that he did not think he would live very long. He then pleaded with them to continue to stand firm despite everything they were enduring for their faith.
Soon after, Brother Khan collapsed and died, leaving behind his wife and two children aged 14 and 8. Voice of the Martyrs Australia, which reported the news, supplied funds to cover the funeral costs.
Brother Khan was the first convert in one of Vietnam's Central Highlands provinces – he became a Christian around four years ago and then led his family to Christ. Voice of the Martyrs reports that "in rural regions of Vietnam, a sole convert family in an area with no other Christians is a target for the authorities".
Blinded during interrogation
In a separate incident, a Vietnamese Christian couple identified only as Brother Duong and his wife Kim were recently summoned to the police station for interrogation in response to their bold witness to the gospel. The authorities tried to entice Brother Duong and Kim to renounce their faith with gifts and when that failed they began to threaten them, but the couple remained resolute.
One of the officers became angry and used the end of his baton to poke Brother Duong in his left eye, which is now permanently damaged so that he can no longer see out of it. Voice of the Martyrs Australia is funding his ongoing medical treatment.
Tribal Christians persecuted
While Vietnam's constitution provides for freedom of religion and Christians in cities can gather in relative freedom, tribal Christians living in the Central and Northwest Highlands experience pressure and persecution from local authorities and their families and communities.
In July 2022 Morning Star News reported that Christians belonging to the Hmong tribe in central Vietnam's Nghe An province were undergoing increasingly severe persecution, with local officials competing to create "Christian-free zones". Christian leaders said the officials were operating "with no conscience or humanity".
Entire Christian extended families in the region were forced out of their homes unless they recanted and reverted to the animistic practices of their ancestral religion but most refused to give up their new Christian faith, which they testified had freed them from demonic oppression. While some lost homes, others saw their fields, livestock, farm machinery and tools seized and had their homes ransacked and electricity cut off.
Read more about Christians in Vietnam in Church in Chains' Vietnam Country Profile.
(Voice of the Martyrs, Morning Star News)
Share this