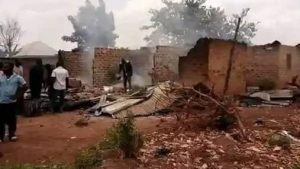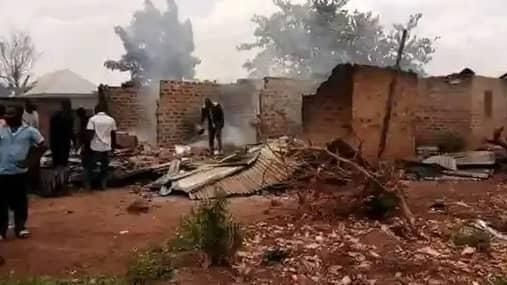 Fulani militants have killed over 125 Christians in 16 villages in Plateau state's Mangu Local Government Area in a deadly 48-hour killing spree. They also burned houses, destroyed farmlands and left more than 20,000 people displaced.
The attacks began with overnight raids on 16/17 May, when Fulani militants armed with AK-47s and machetes killed 42 Christians and burned dozens of houses in at least eleven villages. They continued their deadly attacks elsewhere in Mangu in the following days, despite the Plateau state government imposing a curfew to stop people travelling. International Christian Concern reported that witnesses said the Fulani often get a "free pass" from government and military leaders who are "tied to and mostly sympathetic with the Fulani".
A survivor who fled with other villagers watched as the militants killed her husband, father-in-law, four siblings and burned her home. "We did nothing to them, but the Fulani killed us because of our faith," she said.
Another survivor who sustained a gunshot wound and lost five family members including his wife and father told International Christian Concern: "We don't have guns to defend ourselves. The military and police came when the Fulani finished attacking the village and killing 27 from my village."
A local resident who witnessed the Fulani attacking Kiwi village on 18 May, where at least ten people were killed and houses burned and destroyed, said: "We received an early sign warning, but the security officials refused to listen to us."
Survivor Rev Jesse Joshua Jwanle of the Assembly of God Church in Gaude village told BBC that groups of attackers arrived from west of the village, shooting as they approached. Almost everybody began to run, he said, with some killed and others managing to escape – Rev Jesse ran to the neighbouring town of Halle for cover. His house was burnt and he lost all his possessions except the clothes he was wearing. Rev Jesse said the attackers also burnt church buildings and he lost a church member.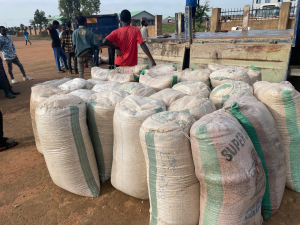 A Jos-based mission said the attacks have continued, including the total destruction of the Mangu village of one of their team members, where even grain stores were burned down. In response, the mission has begun to deliver sacks of grain to those affected (pictured).
One of the missionaries wrote, "We have three mission stations in villages around Mangu. All the missionaries are in Mangu town. Most of the village women and children have gone into Mangu for safety. The schools there are displacement camps now and everyone is short of food. On Sunday night this week [a team member's] village was attacked but the villagers were armed and prepared and were able to repel the attack. Men are staying in the villages that are still standing at night, farming in the day. The women and children and elderly are staying in Mangu or with family elsewhere. [Team members] report there are military now in Mangu but said they did not respond to calls from the villages when the attack was happening."
"Ethnic cleansing"
Community leaders have accused Nigeria's federal government and police of lacking the capacity and political will to defend minority tribes in Plateau state, while also noting state governor Simon Lalong's failure to show up and sympathise with them.
Describing the attacks as "ethnic cleansing", Plateau's governor-elect Caleb Mutfwang condemned the Fulani militants and called on the federal government to do more to help secure the state.
On 19 May a representative of the communities where the killings took place, Joseph Gwankat, National President of Plateau state's Mwaghavul Development Association, read a statement at a press conference in the state capital Jos in which he said state police had demonstrated "low capacity and political will to secure minority tribes in Nigeria" and added, "we strongly recommend for state policing in all states and communities in Nigeria".
Mr Gwankat also stated, "Today, we want the world to know that what is happening to us can best be described as genocide. It is systematic and deliberate ethnic cleansing of minority tribes in Nigeria and we cannot allow this to continue… The humanitarian situation is overwhelming and pathetic. People are either squatting with relatives, neighbours, in churches and other available public places. They need food, toiletries, medication and places where they can rest their heads. There is trauma and psychological depression. There is fear of even their safety where they are taking shelter as the threats spread… We must reiterate Government take immediate steps to end this callous killing and destruction of lives and properties in the land. This is the primary responsibility of Government to its citizens."
In contrast, Nigeria's President Muhammadu Buhari released a statement at the State House, Abuja, on 18 May in which he said Plateau state governor Simon Lalong had made Plateau safer. In the statement he said, "Governor Lalong has worked hard to restore peace and security to Plateau State. His efforts have yielded positive results as Plateau is no longer perceived as a place to feel unsafe. Well done, Governor Lalong!"
BBC reported that Governor Lalong ordered security forces to pursue and arrest the attackers and that he said he was seriously disturbed about the situation. Governor Lalong said the government would "stop at nothing" to "deal mercilessly" with those behind the attacks.
(BBC, International Christian Concern, Leadership, Steadfast Global )
Main photo: Red Cross
Share this