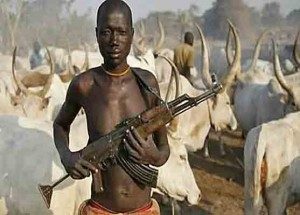 The Fulani are an ethnic group of between 25 and 40 million people spread throughout West and Central Africa. About a third of the Fulani are pastoralists, making them the largest nomadic pastoral group in the world, and more than 90% of all Fulani are Muslims. Several West African leaders are ethnic Fulani, including Nigeria's President Muhammadu Buhari.
In recent years, Nigeria's Middle Belt has experienced widespread violence as Fulani herdsmen increasingly use military-grade weapons to carry out attacks in a campaign that began as an attempt to drive largely Christian farmers off fertile grazing land. Thousands of Christians have been killed and their properties looted and burned, including hundreds of church buildings.
The Middle Belt is a volatile zone of convergence between the majority Muslim north and the majority Christian south. Tension has existed in the region for centuries between nomadic Fulani herders and settled farmers and has escalated as climate change desertifies traditional Fulani grazing land in northern Nigeria, driving many herdsmen south into settled farmers' land where grazing cattle destroy the crops. Population increases are also putting a strain on resources, and some farmers have planted crops on herders' traditional cattle routes and have carried out reprisal attacks and cattle rustling.
International media often report violence in the region as a conflict between herdsmen and farmers, using the phrase "Christian-Muslim clashes" to imply equal balance rather than a militant attempt by one group to drive another group from the land, but Fulani terrorists have moved far beyond the quest to find grazing land and are carrying out raids on entire villages – including massacres and house burning – and attacks on military forces, with the majority of attacks occurring in Kaduna, Plateau and Benue states. Witnesses report hearing the terrorists shout "Allahu Akbar" as they attack, and it is believed that they have links with other jihadist organisations, including Boko Haram. Christian farmers fear what they see as an attempted Islamisation of the region and many observers are describing the attacks as genocide.
Plateau State's Christian Association of Nigeria chairman, Dr Soja Bewarang, reports that churches have lost many pastors and leaders in the attacks and says he is concerned about the future of Christianity in the state. In a statement released on behalf of the Christian Association of Nigeria, Dr Bewarang described the conflict as an "unholy act of systematic genocide… a deliberate attempt to destroy the cultural heritage of​ Plateau people".
The Nigerian government has attempted to limit the violence through anti-grazing policies and military deployment but has not found a solution that satisfies herders and farmers, and it has great difficulty governing the remote rural areas where Fulani militants are most active.
The 2020 Global Terrorism Index (published annually by global think tank the Institute for Economics and Peace) ranked Nigeria third in the world for the impact of terrorism in 2019, after Afghanistan and Iraq, despite a reduction in terrorist violence since the previous year. Overall deaths from terrorist attacks fell from 2043 in 2018 to 1245 in 2019, with deaths attributed to Fulani extremists falling from 1159 to 325. (Deaths attributed to Boko Haram factions rose from 589 to 737.)
While terrorist violence declined in most states in which Fulani extremists operate, Kaduna state recorded a 77 per cent increase in terror-related deaths, and this trend continued into 2020 – during a particularly deadly spike in violence in July 2020, 171 deaths were recorded in a three-week period in Fulani attacks on Christian villages in south Kaduna state.
Impunity
The issue of attackers' impunity was addressed in a major report published by Amnesty International in 2018, titled "Harvest of Death: Three Years of Bloody Clashes Between Farmers and Herders in Nigeria". Throughout many communities across several states, Amnesty International's researchers heard reports of the security forces' failure to protect people from deadly attacks, even when provided with information about impending attacks.
The report documents "the failure of the government in fulfilling its constitutional responsibility of protection of lives and property by refusing to investigate, arrest and prosecute perpetrators of attacks" and shows how "the government's inaction fuels impunity, resulting in attacks and reprisal attacks, with at least 3,641 people killed between January 2016 and October 2018, 57% of them in 2018 alone".
Amnesty International's report concludes that "perpetrators of the crimes are getting away, encouraged by government's glaring unwillingness to live up to its obligations".
(Amnesty International, Barnabas Fund, Christian Association of Nigeria, Global Terrorism Index 2020, INcontext International)