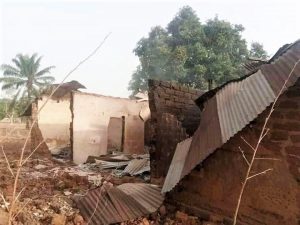 On Sunday 20 March, more than one hundred Fulani militants attacked four predominantly-Christian villages (Tsonje, Agban, Katanga and Kadarko) in the town of Kagoro in southeast Kaduna state's Kaura Local Government Area (LGA), killing 32 Christians and torching homes and businesses.
Chairman of Kaura LGA Matthias Siman told Channels Television that the Fulani arrived in three buses at about 7pm and rampaged until 11pm. The militants killed 32 civilians and two soldiers and torched over two hundred houses, 32 shops, 17 motorbikes and three other vehicles. Seven people were injured and received hospital treatment and one woman was abducted. The photo below shows two of the wounded at Kagoro's Evangelical Church Winning All Health Centre.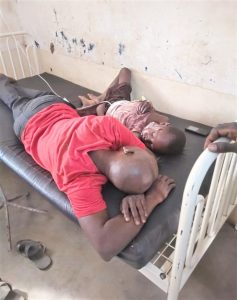 Morning Star News reported comments from several local residents in which they expressed their despair at the ongoing attacks on Christian communities. Violet Peter lamented, "My mum's family houses were all razed down, and one of my cousins was burnt to death in their house. We haven't been able to reach some of our relatives. Lord please, this is too much for us."
Favour Gimbiya Shekari said she heard gunshots from her base at the Evangelical Church Winning All Theological Seminary in Kagoro. "I've never experienced what I did last night," she told Morning Star News. "We could hear the gunshots very close to us. This is not the country we were enjoying before. Our children can't go to school today; we don't know our fate anymore."
"Is this a war declared against Christians?" asked Florence Tachio, while Mercy Waziri said, "I weep for my people! O Lord, arise and let our enemies be scattered!"
On 21 March, the government imposed an indefinite, 24-hour curfew on two council areas of Kaura and Jema'a counties, but church leaders said that forcing residents to remain indoors could further endanger the lives of Christians.
Rev John Hayab, chairman of the Kaduna state chapter of the Christian Association of Nigeria (CAN), said in a statement on 22 March, "The CAN Kaduna State Chapter is sad and grieving following the continued killings, kidnappings, banditry, and the unimaginable evil going on in our state unabated without any substantial action by the Government and security forces. Kaduna state citizens are tired of the government's rhetorical responses without concrete action taken to protect lives and property. Accordingly, we want to hear and see the killers and kidnappers arrested, as the government's usual media condemnation whenever there is havoc is not good enough… CAN, therefore, calls on the Kaduna state government to swallow her pride and accept that she has failed the people genuinely seeking help to immediately halt the wanton killings, kidnappings, and terrorist activities going on in the state."
The Nigeria office of Amnesty International issued a statement condemning the continuing attacks in Kaduna state and calling on the federal government to end them.
Fifty Christians killed, over 100 abducted in attacks in Giwa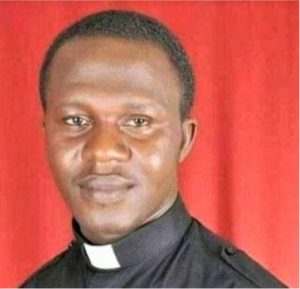 On the night of 24-25 March, Fulani herdsmen attacked nine predominantly-Christian villages in Kaduna state's Giwa LGA, killing at least fifty Christians, including children. They abducted over one hundred Christians at gunpoint and carried them off into the nearby forest. One of those abducted was Fr Felix Fidson Zakari (pictured) of St Anne's Catholic Church, Zango Tama village, whose church building was burned down. The attackers also stole cows and burned around thirty vehicles.
"They also burned houses, stores and killed animals," local resident Nuhu Musa told Morning Star News by text message. "These attacks continued and lasted up to the morning of Friday, 25 March. They didn't allow even the dead bodies to be buried, as they shot at mourners and those who returned to the villages to conduct funerals for those killed. Giwa Local Government Area of Kaduna state is bleeding."
Lamenting the government's failure to protect villagers against attacks, local resident Muazu Gogi pleaded, "Pray for us to survive these attacks by herdsmen and bandits. These herdsmen and bandits attacked several villages in Giwa Local Government Area and killed more than fifty persons. The government is aware about the killings and destructions by these Fulani terrorists and armed bandits but is unable to protect the people."
Over fifty Christians abducted in Kachia
Three days before the Kagoro attack, Fulani militants raided the predominantly-Christian village of Agunu Dutse in Kachia LGA, also in Kaduna state, and kidnapped at least thirty women, 16 men and around nine children, taking them away into the forest.
A large number of militants armed with sophisticated weapons arrived at 12.30 am on 17 March and took up position quietly as the villagers slept, before storming the village. Local resident Rahila John Nuhu told Morning Star News in a text message, "The herdsmen terrorists invaded our village, Agunu Dutse, while the Christian villagers were sleeping. Please be in prayer for these Christians being held captive in an unknown location at the moment."
Another local resident, Philip John, told Morning Star News by text message, "They trooped into our village in large numbers and began shooting indiscriminately at anyone on sight." Villager Luke Godwin Waziri said the attack lasted two hours and listed those abducted (most of whom have Bible names), before pleading, "Please pray along with us, most especially at this trying moment."
(Barnabas, Morning Star News, PunchNG, Religious Liberty Prayer Bulletin)
Photo credits: Morning Star News (Jonathan Kish Adamu and Gideon Agwom Mutum), Catholic Diocese of Zaria
Share this