Eritrea is situated in the Horn of Africa and is bordered by Sudan in the west, Ethiopia in the south and Djibouti in the southeast. Its capital is Asmara. Eritrea is one of the world's most repressive and closed countries, described by Human Right Watch in 2009 as a "giant prison". It is ranked last of 180 countries by Reporters Without Borders because there is no press freedom (North Korea ranks 179). There is no independent judicial process and unions and political parties cannot be formed. There may be as many as 20,000 prisoners of conscience, including hundreds and sometimes thousands of Christians.
Eritrea gained independence from Ethiopia in 1993 after a 30-year war, and the two countries fought a border war between 1998-2000, following which the Eritrean government became increasingly repressive.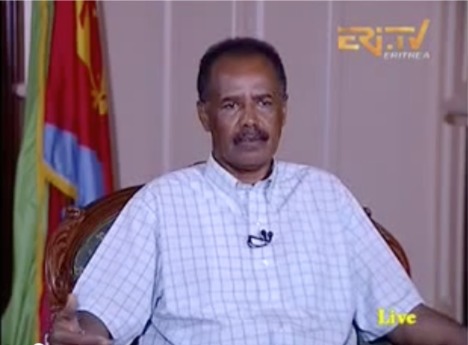 President Isaias Afewerki (pictured), who led the fight for independence, oversaw a crackdown on political opposition and the media in 2001, closing all independent media organisations and taking increasingly repressive action against anyone perceived to be a threat to the government, including Christians. In September 2001 President Afewerki ordered the detention of 21 senior government members, military officers and journalists who had called for democracy and had criticised him – they have not been seen since and ten are reported to have died. Most foreign aid workers were forced to leave in 2002.
Since independence there has never been an election and the constitution has not been implemented. The ruling party, the People's Front for Democracy and Justice, controls nearly every aspect of society. Radical Islam is gaining support and the government has sympathy for extremist groups, notably al-Shabaab – it has reportedly supplied al-Shabaab with weapons.
The crackdown on Christians followed a Pentecostal revival, particularly amongst young Eritreans doing military training and service – President Afewerki seemed concerned that young Eritreans serving in the army, who had become Christians, would refuse to obey orders.
Eritreans must complete their secondary education with a year at Sawa Defence Training Centre, followed by military service, supposedly for 18 months. However, the government's fear of Ethiopia means that military service (mandatory for all men and unmarried women between 18 and about 50) can last indefinitely, and conscripts often serve for many years, for little or no pay. Female recruits report frequent sexual abuse by military commanders. Many conscripts desert and try to escape to neighbouring countries.
Persecution of Christians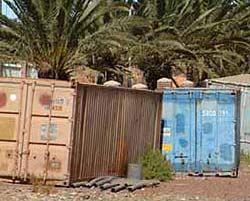 In May 2002, the Eritrean government banned all religious groups except the Eritrean Orthodox, Roman Catholic and Lutheran churches and Sunni Islam. Christians from banned denominations began to be arrested (often at church services, Sunday Schools and even at weddings) and incarcerated in appalling conditions in shipping containers, open air facilities in military camps, pits in the ground and police stations, without charge or trial. They experience torture, hard labour, filthy conditions and insufficient food. Prisoners crowded into metal shipping containers face extreme heat during the day, freezing temperatures at night, and a lack of oxygen and hygiene. Researchers for Open Doors International say they are not aware of any Christians currently held in shipping containers, but that journalists and opposition politicians are still held in them.
Christian prisoners are denied visits from lawyers and family, and may not pray aloud, sing or read the Bible. Several prominent church leaders arrested in 2004 have remained incarcerated in high-security prisons ever since, incommunicado. Church properties have been seized, their bank accounts frozen and members made redundant. Jehovah's Witnesses suffer because of their refusal to take part in military service.
The majority of Eritrean Christians are Eritrean Orthodox: of the total population, about 42% are Orthodox, 3.4% Roman Catholic and 1.4% Protestant. The number of evangelicals is growing but is impossible to estimate as they meet in secret.
The number of imprisoned Christians fluctuates between about 200 (estimated in Spring 2017) and 3,000. Many others are under house arrest, and these numbers do not include those being held in military camp prisons. Beatings, torture and extreme deprivation (starvation and lack of medical care, even after bones are broken in beatings) leave many prisoners disabled and some dead. Many come under severe pressure to sign documents renouncing their faith. If they refuse they are brutally punished and threatened that their families will be arrested.
In May 2017, the security forces began a campaign of house-to-house raids across the country, targeting members of non-sanctioned churches. By mid-August they had detained at least 210 Christians and imprisoned them in desert camps and military facilities. Most were taken during raids on their homes, a few were arrested at prayer meetings and about 49 were detained at a marriage celebration in Asmara.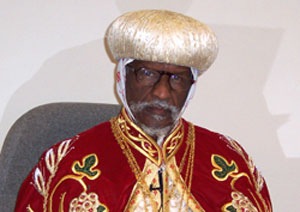 Even the permitted churches face interference (government-appointed leaders) and also increasing persecution. In January 2006, the patriarch of the Eritrean Orthodox Church Abune Antonios (pictured) was deposed by the government because he asked for the release of some Christian prisoners. He was put under house arrest and replaced by a government appointee. Now aged 90, the patriarch suffers from diabetes and remains in incommunicado detention, in an unknown location. Priests and monks seen as sympathising with him have been detained, harassed and conscripted.
Several priests have been in prison since 2004 because of their involvement in a renewal movement within the Orthodox Church. In April 2014, five Christians training to be pastors in the permitted Lutheran church were arrested in Asmara.
Helen Berhane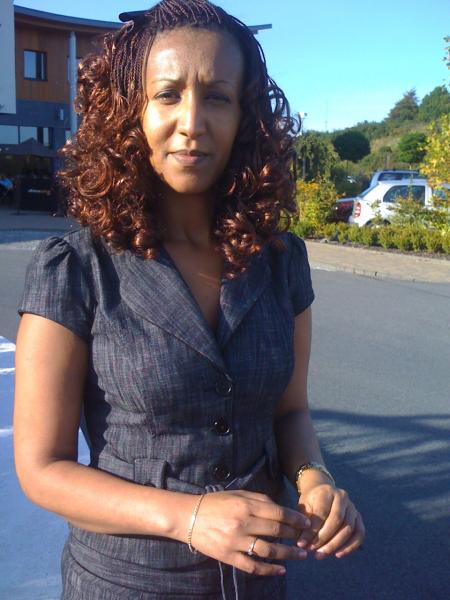 Helen Berhane is a Christian singer and preacher who was arrested in Asmara in 2004 after an album of her gospel music was released. She was put in prison, where she spent most of her time in a crowded metal shipping container. Those imprisoned in containers suffer extemes of heat by day and cold by night, claustrophobia, insufficient air and lack of privacy for the inadequate sanitation. Helen later spoke about God answering her prayers for help by inspiring her to sing songs of praise and encourage other prisoners to do the same. She viewed the constant pressure exerted on her to sign a document recanting her faith as an opportunity instead to restate her faith.
In October 2006 Helen was brought to hospital after a very bad beating by a prison guard. She escaped from Eritrea and eventually went to live in Denmark with her daughter, Eva. Helen's health is much better now. In 2009, Helen visited Ireland, to speak and sing to Irish Christians and to say "thank you for praying for me". In 2010, in Copenhagen, Helen married Tesfaldet Meharenna, an Eritrean.
Refugees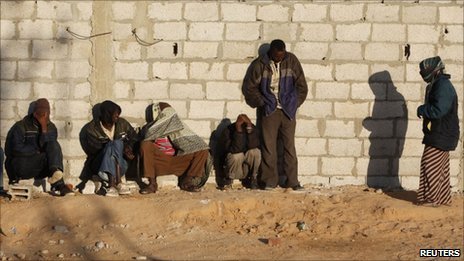 Poverty, oppression and indefinite military conscription lead many Eritreans to flee to other countries, despite the government's shoot-to-kill border policy. Leaving national service or the country without permission is considered treason, and refugees are sometimes pursued for recapture by the Eritrean authorities, who may also target family members remaining behind.
The UN estimates that about 4,000 Eritreans flee the country every month. Most Eritreans who manage to escape without falling prey to human traffickers settle well, especially in Ethiopia, Kenya and Uganda, but those who have tried to settle in Islamic countries such as Sudan (where there are over 100,000 Eritrean refugees), Libya and Egypt have experienced human rights violations.
Some refugees walk across the border to Ethiopia or Sudan, but others pay traffickers to smuggle them across the border. Many of those who fall into the hands of criminal gangs of abusive traffickers (operating mainly along the Eritrean/Sudan and Egyptian/Israeli borders) are held hostage in Bedouin-operated torture camps in the Sinai Desert. A report presented to the European Parliament shows that around 30,000 Eritreans have been kidnapped since 2007 and taken to the Sinai while ransom payments are demanded.
The Sinai camps are full of mainly Eritrean refugees, most of them Christians, who are brutally treated pending payment of exorbitant ransoms by their families. Those who can raise the ransom then face the danger of Egyptian border guards, who have shot many trying to cross into Israel. Those who cannot raise the ransom are murdered or have their organs forcibly harvested and sold on the black market. Camp inmates face starvation, rape and torture, with no access to medical care afterwards, and many are kept in chains, while others are forced into hard labour. Some have been shot dead while trying to escape their captors.
Eritreans are the second largest group by nationality to seek asylum in Europe after Syrians, many risking their lives to cross the Mediterranean Sea in rickety boats supplied by people-traffickers. In early October 2013, there were many Eritreans (mostly Christians) amongst the 366 African refugees who drowned when they were shipwrecked off the coast of Lampedusa in Italy.
European Parliament resolution July 2017
On 6 July 2017, the European Parliament passed a resolution condemning in "the strongest terms" the "systematic, widespread and gross human rights violations" in Eritrea. The resolution said Eritrea has "one of the worst human-rights records in the world, with routine human-rights violations taking place every day". It highlighted the rise in "harassment of and violence against those practising religious faiths" since 2016, and called for the Eritrean government to put an end to the "detention of the opposition, journalists, religious leaders and innocent civilians".
United Nations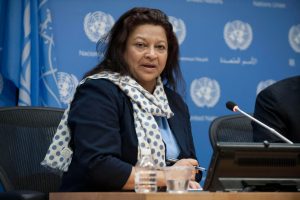 In October 2012 the UN appointed its first Special Rapporteur on the situation of human rights in Eritrea, Sheila Keetharuth (pictured), who has been denied entry to Eritrea repeatedly. Presenting her latest report to the United Nations Human Rights Council in June 2017, she warned that Eritrea must stop delaying action to tackle the severe human rights abuses meted out to its citizens, saying: "I regret to report that, as of now, the Government has made no effort to end ongoing human rights violations, which the Commission of Inquiry on Human Rights in Eritrea described as amounting to crimes against humanity."
Ms Keetharuth noted that, "The practice of arbitrary arrest and detention of individuals based on their religious belief continues," and mentioned the arrest of Christians in Ginda and Adi Quala in May 2017 and the continuing detention of Patriarch Antonios. Among the report's recommendations is a call for the immediate and unconditional release of "all those unlawfully and arbitrarily detained, including members of the G-15 [politicians], journalists and members of religious groups".
On 23 June 2017, the United Nations Human Rights Council extended Ms Keetharuth's mandate as the Special Rapporteur for Eritrea by a further year.
On 1 July 2016, the UN Human Rights Council adopted a resolution calling for UN bodies to take urgent action on Eritrea, despite strong lobbying by the Eritrean delegation. The Commission of Enquiry on Eritrea had released a report on 8 June describing widespread and systematic crimes against humanity since 1991, "namely enslavement, imprisonment, enforced disappearance, torture, other inhumane acts, persecution, rape and murder". The resolution condemned the "widespread and gross" human rights violations which "are being committed by the Government of Eritrea in a climate of generalised impunity".
(Christian Solidarity Worldwide/Human Rights Watch/International Christian Concern/Open Doors/Operation World/Release Eritrea/Reporters Without Borders/UNHCR/World Watch Monitor)
Church in Chains in Action
Church in Chains has campaigned with several other organisations for many years to raise awareness of the persecuted church in Eritrea. Each year, Church in Chains participates in an annual protest vigil at the Eritrean Embassy in London (which is also accredited to Ireland).
In summer 2017, Church in Chains launched a postcard campaign encouraging supporters to send postcards to President Afewerki and Estifanos Habtemariam Ghebreyesus (the Eritrean Ambassador to the UK and Ireland, based in London) appealing for the release of Christian prisoners.
Church in Chains has sought to engage with the Eritrean authorities and has had discussions with the Eritrean Ambassador to the UK and Ireland.
Church in Chains also channels aid (via partner organisations) to the families of Christian prisoners in Eritrea.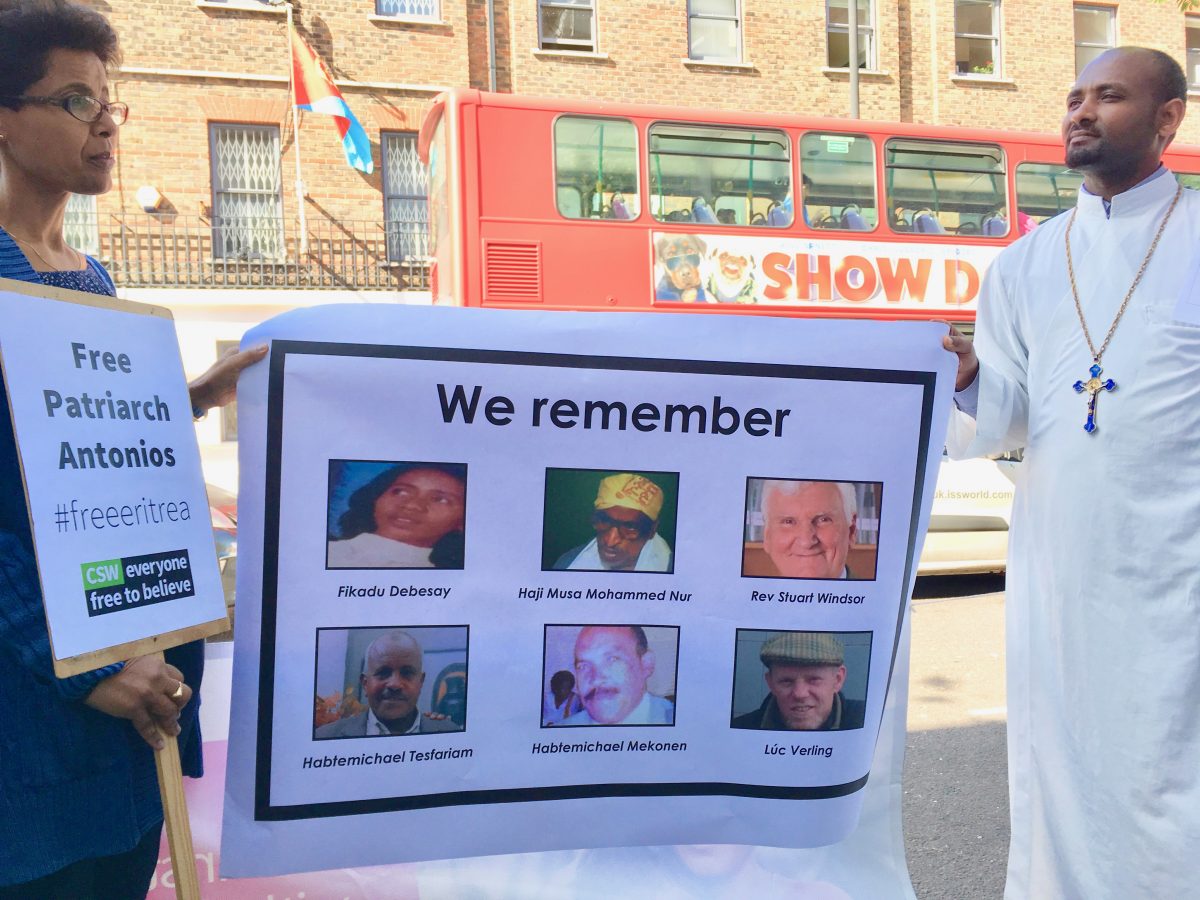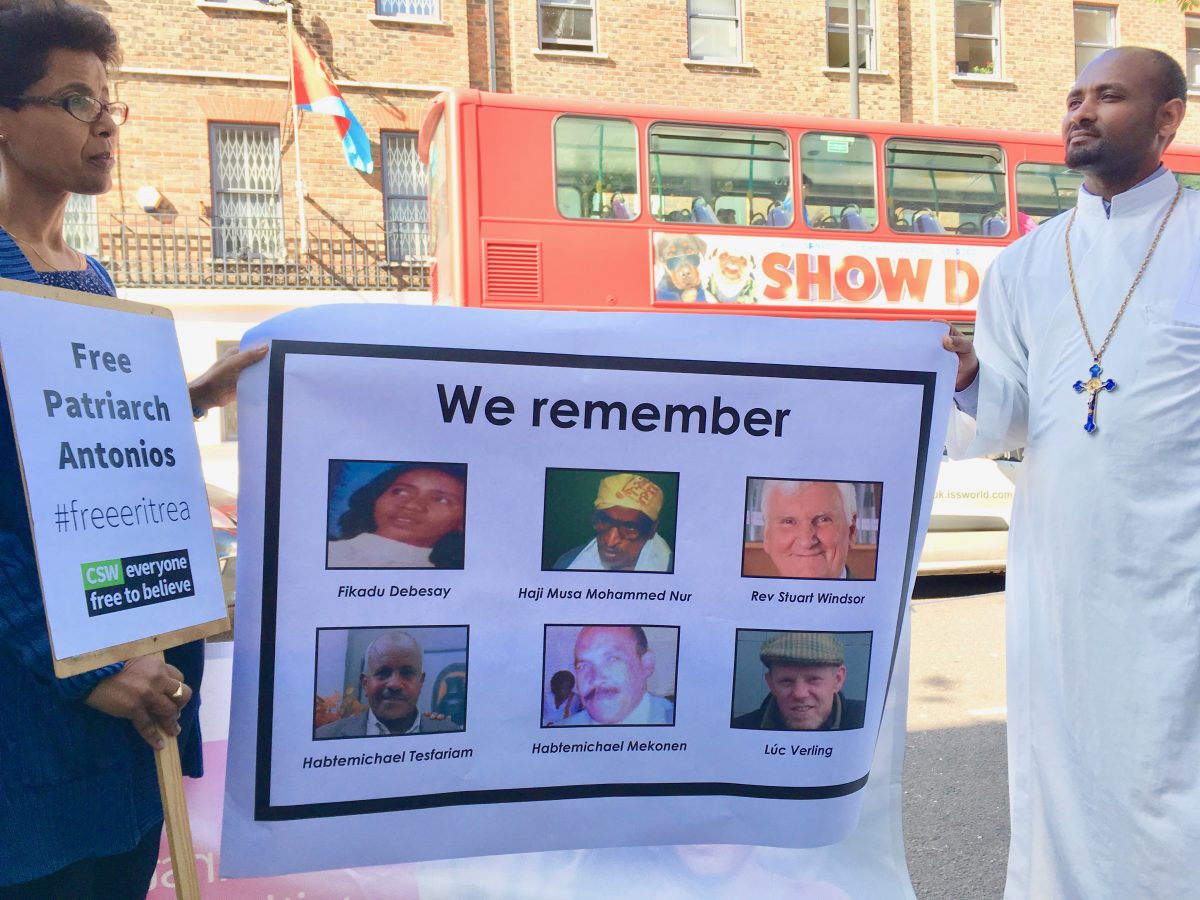 A minute's silence was held during the annual vigil on behalf of Christian prisoners at the Eritrean Embassy in London – to remember prisoners of conscience who died during the past year as well as two long-term supporters of Eritrean Christian prisoners.