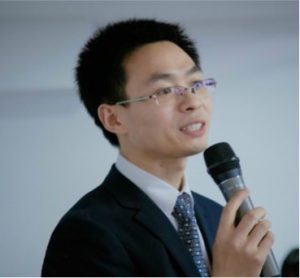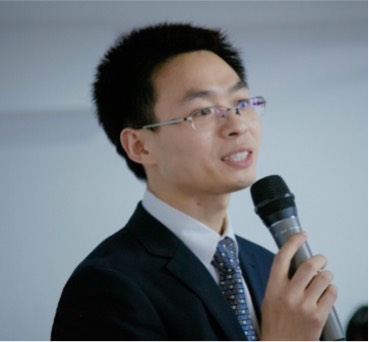 Elder Qin Defu of Early Rain Covenant Church in Chengdu, capital of China's southwestern Sichuan province, was released from prison on 9 December after completing his four-year prison sentence. He has been reunited with his wife Xiao Hongliu and their two children.
Elder Qin (39) was arrested following a raid on Early Rain Covenant Church (ERCC) on 9 December 2018 and in November 2019 he was sentenced to four years in prison for "illegal business operations" – a charge that relates to his involvement in printing hymnals and other books for church use without a licence.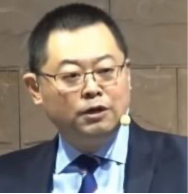 ERCC is one of the most prominent unregistered house churches in China, with more than eight hundred members. The government harassed the church for many years but a severe crackdown began in December 2018 (see below) after lead pastor Wang Yi published "A Joint Statement By Pastors: A Declaration for the Sake of the Christian Faith" (a protest against increased state interference in religious activities since the new Regulations for Religious Affairs had come into effect in February of that year) signed by over four hundred Chinese church leaders. Pastor Wang is serving a nine-year prison sentence for "inciting subversion of state power" and "illegal business operations".
Authorities interrupt online conference 
On the day of Elder Qin's release, ERCC hosted an online conference titled "Testimony conference on the 4th anniversary of the December 9th crackdown" to commemorate the raid on the church four years ago. More than one thousand people attended the online event, which had two sessions (one in the afternoon and one in the evening) and was interrupted several times by the authorities. ERCC has not been able to meet together in person as an entire church since it was banned four years ago, so members meet in small groups and worship together online.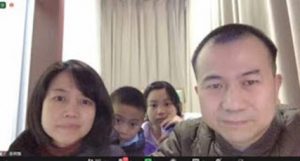 Before the event started, host Elder Li Yingqiang played video archive of Pastor Wang Yi preaching, but halfway through he exclaimed, "The police are already here. They are knocking at my door. I'll be gone soon." Elder Li prayed and added, "I'm leaving now. Goodbye brothers and sisters." He was taken to the police station on suspicion of "disturbing social order" and forty minutes later police officers summoned his wife Zhang Xinyue and their two children (pictured) under the same charge. They were allowed to return home at 10.30 pm.
Preacher Dai Zhichao took over hosting the conference, but at 7.47 pm he posted on his WeChat Moments that police had summoned him under the charge of "organising activities in the name of a banned social organisation". National security agents had placed him under residential surveillance since 29 September, prohibiting him from leaving his home and telling him that he would be monitored "long-term". Preacher Dai was released at 1 am on 10 December and police officers continue to monitor him.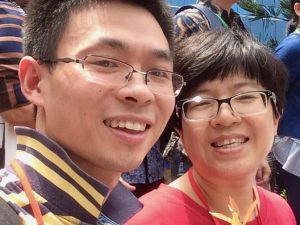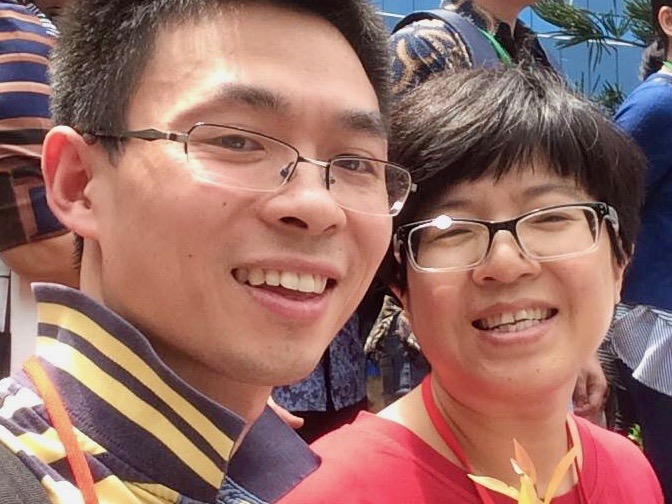 As well as preaching and singing, the conference included videos created by ERCC's small groups to welcome Elder Qin Defu back home (he is pictured, left, with Xiao Hongliu before his imprisonment) and several Christians living in other cities and countries shared their testimonies ­– some told of difficult times in prison, some testified to the encouragement they had received from ERCC and Pastor Wang's teaching, while others admitted to denying their church under police pressure but spoke of repenting and returning to church with the encouragement of the Holy Spirit.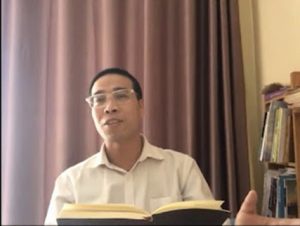 Minister An Yankui (pictured) of ERCC church plant Zion Reformed Church, who had been released from prison nineteen days before the conference, shared his prison testimony – he had been sentenced to a year in prison for "crossing the national border illegally" after he attended a Christian conference in Malaysia. Minister An described being beaten up, ridiculed and humiliated but said that although he experienced moments of weakness, he later became an ambassador of the gospel to many prisoners.
Reporting the news of the online conference, ERCC's Facebook page asked readers to pray for its members "as they continue bearing their crosses for the sake of Christ, waiting for the day that they can worship together again in person as a whole church".
Crackdown
Following the 2018 raid on ERCC, police detained over 150 members, many of whom said they were tortured in an attempt to extract false evidence against Pastor Wang. Since then many released members have lost their jobs, been evicted or had their bank accounts frozen. Some were even sent back to their home towns in an apparent attempt to weaken the church leadership.
The authorities also closed ERCC's premises in December 2018, but members continued to meet in small groups. Many are under surveillance and police officers have intimidated, threatened and detained them in an attempt to prevent attendance at meetings.
Read Qin Defu's Prisoner Profile.
(China Aid, Pray for Early Rain Covenant Church)
Photo credits: China Aid
Share this