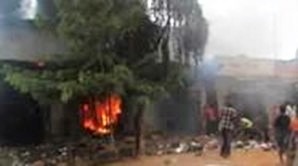 On 20 November Muslim extremists burned down a house in Luuka Town Council West Ward, Luuka District, where a small Christian fellowship with 23 members had been meeting.
The leader of the fellowship Nicholas Mugume, said that two prominent Muslim families had put their faith in Christ in early November as the result of an outreach by the group. These conversions had angered local Muslims and on the day of the attack four Muslims sent by a mosque leader arrived at Nicholas' home.
"After a heated discussion, complaints and accusations of us converting Muslims, they poured petrol into the charcoal stove, and immediately fire spread and caught the entire house as the assailants left," Nicholas told Morning Star News.
The family house was burnt down to the ground and a PA system, a motorbike, a bicycle and other items were also destroyed in the fire. The Mugumes, a family of five, have had to relocate to another town where they are temporarily renting a house.
One of the assailants warned them that if they continued to covert people to Christianity, there would be further serious consequences for them.
Pastor and wife injured in church attack
Two days earlier, a pastor and his wife were seriously injured in an attack on an evening service of Believers' Church in Nansonko village, Kibuku District. 56-year-old Pastor Jude Sitaalo explained that the attack was in response to an evangelistic event during the summer when five young Muslim men had given their lives to Jesus. He said that he had received three threatening messages, one of which stated: "Pastor, let our children come back to Islam, and if not we are going to kill you and destroy your church." 
On 18 November Pastor Jude Sitaalo and his wife, Naisiga, were meeting with ten other church members, when a mosque leader with a group of Muslims burst into the service at around 7.30p.m. The men started beating him with sticks and one man cut him with a long knife. When a church member and the pastor's wife tried to intervene, they were also seriously beaten. Both Jude and Naisiga sustained cuts on their heads and backs. When Jude was interviewed in hospital, where he was receiving treatment, he said: "We are suffering for pastoring converts from Islam" .
Two brothers attacked after conversion
On 13 November Arafah Senyange (28), and his brother Zulufa Hajati Nakimuli (43), were beaten in Busembatia town, Bugweri District following their conversion from Islam to Christianity in October.
After returning from a Sunday service the two brothers were studying the Bible under a mango tree outside their father's home when one of their brothers, local mosque leader, Hamuza Lubega, arrived shouting "Allah Akbar!". He seized their Bible and began tearing its pages. "We were accused of bringing an unholy, corrupted book into the home of a Muslim family and following Issa [Jesus] as the Son of God, which is blasphemy in Islam", Zulufa told Morning Star News.
The Muslim cleric sent one of the converts' brother to fetch other family members and a cane to use on them. When they arrived, they started beating them until a group of Christians passed by in a truck. The attackers told the Christians that "they were disciplining their family members who had left their family religion of Allah," The Christians managed to rescue the two injured brothers and bring them to a private clinic for medical treatment.
Zulufa sustained wounds all over his body, while Arafah was left with deep cuts on his head and hands. Immediately after the attack Arafah's wife took their three young children to stay with her Muslim relatives, as she feared further trouble from her Muslim family-in-law.
Pastor beaten, church building destroyed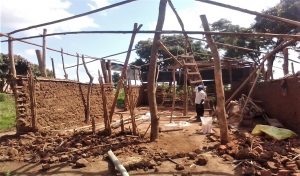 On 8 November, Muslim extremists on  beat a pastor and demolished the Voluntary Salvation Outreach Church of Christ building In Katantala village, Kiboga District, in the Buganda Region northwest of Kampala.
Pastor Agaba Ezera said that the attack  was prompted by church members leading 23 Muslims to Christ in August. The conversions took place after church members visited local homes to share the gospel, he said.
"This angered Muslims, and they came and attacked the church on Nov. 8 at about 8 p.m., while we were in the evening fellowship," Pastor Ezera told Morning Star News. "From out of nowhere, people came shouting and chanting Islamic words as if they were going to attend Eid prayers. They started beating us and pushing the church building down, as well as pulling off the iron sheets.
"I was beaten badly with blunt objects, but glory be to the Lord Jesus because I survived though they thought that they had killed me," Pastor Ezera said from his hospital bed.
The pastor, who sustained leg, back, arm and head injuries, said he recalled one of the assailants saying, "You brought kafiri [infidels] here and converted our elderly woman by giving her salt and soup – you must die today."
Police said investigations were under way.
(Morning Star News)
Photos: Morning Star News
Share this