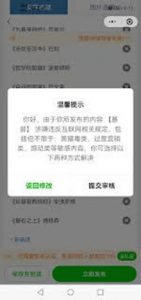 Chinese app WeChat has censored the word "Christ" in a message sent between members of an online reading group led by Ran Yunfei of Early Rain Covenant Church in Chengdu, Sichuan province. The group has apparently fallen victim to China's new religious regulations, the "Measures for the Administration of Internet Religious Information Services", which came into effect on 1 March.
The reading group, set up five years ago on WeChat, involves members reading one book a month, at the end of which Ran Yunfei sends out audio messages to help them understand the reading. Members recommend book titles and vote on them using the popular messaging app's built-in voting system. Recently, however, the voting did not pass WeChat's censorship, with the following message appearing:
"The word 'Christ' you are trying to publish violates regulations on Internet Information Services, including but not limited to the following categories: pornography, gambling, and drug abuse; excessive marketing; incitement.
The issue can be resolved through one of the following: 
1. Edit your content
2. Submit for review"
To pass censorship, the group administrator had to replace part of the word "Christ".
Measures for the Administration of Internet Religious Information Services
The new "Measures for the Administration of Internet Religious Information Services" seriously limit Christians' use of the Internet, making it illegal to post any religious material online without obtaining an Internet Religious Information Services Licence. Only officially-registered organisations or individuals from China's five recognised religions may apply, which means that unregistered house churches (including Early Rain Covenant Church) that came to rely on online activity during the Covid-19 pandemic no longer have that option.
The authorities will check all material posted online by licenced groups or individuals to ensure they promote socialist values and support the CCP and are not intended for proselytisation. The Measures apply to all online activity including websites, apps, social media, blogs, messaging and webcasts.
On 11 February, before the Measures even took effect, Ran Yunfei and many other Christians were temporarily banned from posting on WeChat and Christian lawyer Zhang Peihong's WeChat account was permanently deleted.
Application process begins 
Now that the Measures have taken effect, each province has started accepting applications for the Internet Religious Information Service Licence and also for "Information Censorship" training (seminars to improve religious information auditors' ability to censor religious information and ensure it conforms to the central government's political requirements). The government plans to grant licences to registered official religious groups that complete the training; exams for the new licence began in each province in mid-March.
(China Aid)
Share this