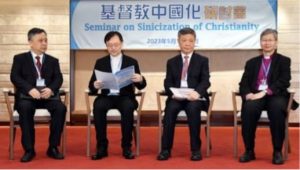 Hong Kong's Protestant churches have been told it is time to "sinicise," just as churches in mainland China have already been forced to do.
A two-day seminar was held on 18-19 May in Hong Kong's YMCA premises on the topic of "The Sinicisation of Christianity", jointly hosted by the China Christian Council (CCC, an official umbrella organisation for China's Protestant churches) and Three-Self Patriotic Movement (TSPM, the government-controlled Protestant body), and the Hong Kong Christian Council.
The Chinese Communist Party (CCP) has been increasing its efforts to sinicise all religions in recent years, to make them Chinese in character and bring them into submission under the CCP. In line with this policy, churches have been pressurised to register with the TSPM or the Chinese Catholic Patriotic Association.
This programme is now being extended to Hong Kong, which is a special administrative region of China. A former colony of the British empire, Hong Kong was transferred to China in 1997 and in recent years it has seen a tightening of Chinese control and an erosion of civil liberties.
Sinicisation seminar
The Chinese delegation of 24 attendees included TSPM chairperson Rev Xu Xiaohong, who presided over the seminar, CCC president Rev Wu Wei, five TSPM academics and other clergy, who were joined by church leaders and scholars from Hong Kong. Bitter Winter reported that "More or less voluntarily, some 120 Protestant leaders from Hong Kong had to attend."
In his opening remarks, Rev Wong Ka-fai, chairperson of the Hong Kong Christian Council, pointed out that in the past Hong Kong churches did not often discuss the concept of sinicisation and said he hoped to deepen this discussion in the future.
CCC president Pastor Wu Wei explained in one of the opening speeches that President Xi Jinping expects the sinicisation of Christianity to encompass not only an aesthetic style but an adaptation to China's political system, led by the Central Committee of the CCP. He stated that adhering to sinicisation is to "take the core values of socialism as the origin."
In a keynote speech, TSPM chairperson Rev Xu Xiaohong said that the sinicisation of Christianity was a requirement for Christianity's development in China and said it was not intended to change Christian beliefs. He emphasised that Christianity must have Chinese characteristics and said the future direction was the sinicisation of theological thought and better operation of the church in the context of a socialist society.
Rev Shan Weixiang, Vice President of the CCC, said in one of the closing speeches that true Hong Kong Christian patriots are those who sinicise their churches, as has been done in mainland China.
The primate of the Anglican Church of Hong Kong, Archbishop Andrew Chan Au-ming, who is a member of the National Committee of the Chinese People's Political Consultative Conference of Hong Kong, prayed a prayer of benediction.
Learn more about sinicisation and the persecution of Christians in China in Church in Chains' China Country Profile.
(Bitter Winter, China Christian Daily, My Christian Daily)
Photo (from left): Rev Xu Xiaohong (TSPM chairperson), Rev Wu Wei (CCC president), Rev Wong Ka Fai (chairman of the Hong Kong Christian Council) and Milton Wai-yiu Wan, emeritus professor of the Chinese University of Hong Kong.
Share this