The People's Republic of China is the world's most populous country and is now the world's second-largest economy. Despite the enormous economic transformation of recent decades there remains a huge disparity between urban and rural areas and the economic boom has led to serious environmental degradation and heavily polluted cities. China's military power and international influence have also grown hugely in recent years.
The head of state is President Xi Jinping, who is also General Secretary of the Chinese Communist Party (CCP). Since the Communist revolution in 1949, the CCP has maintained strict control over the people, cracking down on any signs of opposition and sending outspoken dissidents to labour camps. Human rights groups criticise China for executing hundreds of people every year and for failing to stop torture.
Government control over religion is evident in the decades-long struggle in Tibet over the leadership of the Dalai Lama, the exiled spiritual leader who is campaigning for autonomy within China; in the long-running dispute with the Vatican over the appointment of Roman Catholic bishops; in the brutal crackdown on the Falun Gong spiritual movement; and the severe restrictions imposed on the practice of Islam, especially in the northwest province of Xinjiang where the Uighur people live.
Christians in China
The Chinese constitution states that "Citizens of the People's Republic of China enjoy freedom of religious belief" (Article 36), but in practice the state only recognises five religions (Protestantism, Catholicism, Buddhism, Taoism and Islam) and controls each by a state-sanctioned patriotic religious association. All five are regulated and strictly controlled by the State Administration for Religious Affairs, which was an organ of the CCP's Central Committee until 2018, when it became a sub-department of the CCP's United Front Work Department.
Protestantism is regulated through the Three-Self Patriotic Movement (TSPM), so named because the objective of the movement is that Chinese churches become independent of foreign missions by being self-supporting, self-governing and self-propagating. Catholicism is regulated through the Chinese Catholic Patriotic Association (CCPA), set up to be independent of the Vatican because the Communist Party did not want Chinese people to follow a foreign leader, the Pope. The practice of other faiths is officially prohibited but often tolerated, especially traditional Chinese beliefs.
During the Cultural Revolution (1966-76) even the officially-recognised groups were banned and all religious activity was forced underground. The house church movement grew enormously, and thousands of pastors were persecuted. At the end of 1970s China began to reform, restrictions eased and the TSPM and CCPA re-emerged.
There are probably at least 100 million Christians in China, but it is impossible to estimate accurately. The TSPM has about 20 million members and the CCPA nearly 6 million. Protestant house churches may have at least 70 million members, and it is estimated that there are about 12 million "underground" Roman Catholics.
In recent years the Communist Party has been increasing its efforts to "sinicise" religion (make it Chinese in character and bring it into submission under the Chinese Communist Party) and force all local churches to register with the TSPM or CCPA. Registered churches must sing patriotic songs, fly the national flag, put up portraits of the president, install surveillance cameras, display quotes from the president's speeches extolling "core socialist values" and listen to pro-Communist Party sermons. Many church buildings have had crosses forcibly removed.
Christians who attend registered churches are "free" to worship within limits, but these churches are strictly controlled and their leaders are appointed by the Communist Party. Approval is needed if churches wish to hold additional meetings, invite visiting speakers, change the leadership or engage in any activities outside the church building. Evangelism is forbidden and under-18s may not attend.
The degree of control varies across China. Increasingly, the government is also cracking down on TSPM churches, prompted by concerns about size or prominence of church buildings.
The majority of Chinese Christians choose to operate independently as they want the freedom to decide on their leadership, arrange their own meetings, hold Sunday school and preach the gospel. These independent, unregistered churches have become widely known as house churches, even though many do not meet in houses. Most started as small, secret groups in homes, but many are now so big that they rent space in offices and restaurants. These big urban groups are sometimes known as the "third church", distinct from registered churches and rural house churches.
The extent of persecution of house churches varies greatly across the provinces and sometimes even within provinces but many leaders suffer harassment, heavy fines, arrest and torture. The government is currently engaged in a campaign to eradicate house churches by increasing the pressure on them to incorporate into the TSPM and closing down those that fail to comply.
The campaign to eradicate house churches has been facilitated by the implementation of the controversial "Revised Regulations for Religious Affairs", which came into force on 1 February 2018 and was followed and reinforced by five sets of restrictive new "Administrative Measures": the "Administrative Measures for Religious Groups" (which came into effect on 1 February 2020); "Administrative Measures for Religious Clergy" (1 May 2021); "Administrative Measures for Religious Institutions" (1 September 2021); "Measures for the Administration of Internet Religious Information Service" (1 March 2022); and "Administrative Measures for Financial Affairs of Religious Premises" (1 June 2022). These six sets of regulations and measures have increased the authorities' control over all religious practice in China.
Their introduction followed a provincial government campaign in Zhejiang called "Three Rectifications and One Demolition", which was launched in 2014 on the pretext of correcting or demolishing "illegal structures" that violated local regulations. The campaign led to the forced removal of over 1,800 crosses and the demolition of about forty church buildings. Many Christians were injured and hundreds detained, including pastors and human rights lawyers, while trying to protect church buildings. Sanjiang Church  in Wenzhou, which cost 30 million yuan (almost €4.5 million) to build, was completely demolished in April 2014 despite thousands of Christians occupying the building in an attempt to save it.
Bibles
The Chinese government permits Bibles to be printed by the Amity Press in Nanjing, and there has been a huge increase in the number available in recent years. Amity Press has printed tens of millions of Bibles, for use by TSPM and CCPA churches and for export. However, there are still not nearly enough Bibles to supply all the Christians in house churches, especially in rural areas, where house churches are growing fast.
In April 2018 the government banned the online sale of Bibles in China, and on 1 May 2021 the Bible App was removed from the App Store in China.
(Asia Harvest, BBC, China Aid Association, Christianity Today, CNN, Compass Direct News, International Christian Concern, Operation World, Wall Street Journal, Wikipedia)
Church in Chains in Action
For many years, Church in Chains has called for greater religious freedom in China, has sought to support house church Christians facing harassment and restrictions and has campaigned on behalf of individual prisoners and churches.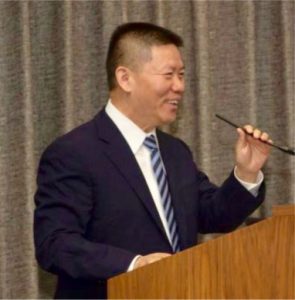 In September 2019, Dr Bob Fu, founder of partner organisation  China Aid, visited Ireland to speak at Church in Chains' annual conference in Dublin. During his visit, Dr Fu also launched Church in Chains' China Report at Buswells Hotel, Dublin.
In 2016, Church in Chains organised a postcard campaign (pictured) calling for the release of Bao Guohua and Xing Wenxiang,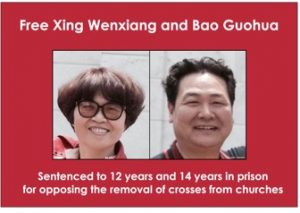 two pastors given long prison sentences for opposing the removal of church crosses.
In 2011, Church in Chains organised a postcard campaign  from Irish Christians to the Mayor of Beijing calling for an end to the harassment of Shouwang Church. Also in 2011, Bob Fu spoke at Church in Chains' annual conference in Athlone.
In 2008, Church in Chains presented a petition from Irish Christians to the Chinese Embassy in Ireland calling on the Chinese government to respect and implement its obligations to provide genuine freedom of religion for all.
Church in Chains has sponsored the sending of thousands of Bibles and Christian books to Christians in China via partner organisations.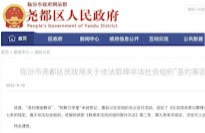 Linfen Covenant Church and the school it runs have been shut down for "unauthorised activities"