The People's Republic of China is the world's most populous country. The head of state is President Xi Jinping who is also General Secretary of the Communist Party of China, making him China's paramount leader. The head of government is Premier of the State Council Li Keqiang, sometimes referred to informally as the Prime Minister, who has held office since 2013.
In February 2011 China overtook Japan to become the world's second-largest economy. However, in 2012 the debt crisis in the eurozone – one of the biggest markets for Chinese goods – slowed its growth, and there remains a huge economic disparity between urban and rural areas. The economic boom has led to serious environmental degradation, and China has many of the world's most-polluted cities. Shanghai is the largest city, but Beijing is the capital. Widespread corruption is another major problem in China.
Since the Communist revolution in 1949, the Communist Party has had a monopoly on power and has exerted strict control over the people. The authorities crack down on any signs of opposition and send outspoken dissidents to labour camps. Human rights groups criticise China for executing hundreds of people every year and for failing to stop torture.
Government control over religion can be seen in the decades-long struggle in Tibet over the leadership of the Dalai Lama, the exiled spiritual leader who is campaigning for autonomy within China; in the long-running dispute with the Vatican over the appointment of Roman Catholic bishops; in the brutal ongoing crackdown on the Falun Gong spiritual movement, which is designated an "evil cult"; and the severe restrictions imposed on the practice of Islam, especially in the northwest province of Xinjiang where the Uighur people live.
Christianity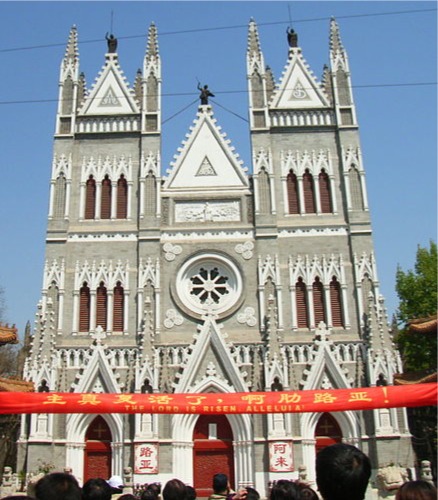 There are five officially recognised religious faith groups in China, regulated and strictly controlled by the State Administration for Religious Affairs (which is to be taken over by the United Front Work Department, an organ of the Communist Party's Central Committee, by the end of 2018). The five religious groups are Buddhism, Taoism, Islam, Protestantism (the Three-Self Patriotic Movement or TSPM) and Catholicism (the Chinese Catholic Patriotic Association or CCPA). The CCPA is independent of the Vatican, because the Communist Party does not permit Chinese people to follow a foreign leader, the Pope.
During the Cultural Revolution (1966-76) even the official groups were banned and all religious activity was forced underground. The house church movement grew enormously, and thousands of pastors were persecuted. At the end of 1970s China began to reform, restrictions eased and the TSPM and CCPA re-emerged.
There are probably at least 100 million Christians in China, but it is impossible to estimate accurately. The TSPM has about 20 million members and the CCPA nearly 6 million. Protestant house churches may have at least 70 million members, and it is estimated that there are about 12 million "underground" Roman Catholics.
Christians who attend registered churches are "free" to worship within limits, but these churches are strictly controlled and their leaders are appointed by the Communist Party. Approval is needed if churches wish to hold additional meetings, invite visiting speakers, change the leadership or engage in any activities outside the church building. Evangelism is forbidden, as is baptising under-18s, and most registered churches may not run Sunday schools. The degree of control varies across China, and some TSPM churches have been targeted in government crackdowns, prompted by concerns about size or prominence of church buildings.
The majority of Chinese Christians choose to worship independently. They want the freedom to decide on their leadership, arrange their own meetings, hold Sunday school, print and distribute Bibles and Christian books as needed and preach the gospel. These independent, unregistered churches have become widely known as house churches, even though many do not meet in houses. Most started as small, secret groups in homes, but many house churches are now so big that they rent space in offices and restaurants. These big urban groups are sometimes known as the "third church", distinct from registered churches and rural house churches.
While some house churches have been able to meet more openly in recent years, many leaders continue to suffer harassment, heavy fines, arrest and torture. The extent of persecution experienced by house churches varies greatly across the provinces of China and sometimes even within provinces. It also varies in accordance with directives issued by the central government, which frequently calls for crackdowns on "illegal religious activity".
The government's fear that the "Jasmine Revolution" would spread from North Africa and the Middle East led to a crackdown on dissent, typified by the persecution of Shouwang Church in Beijing (see below). The government views house churches as a Western threat to the regime, and the crackdown is an attempt to force them to incorporate with the TSPM.
New Regulations for Religious Affairs February 2018
Controversial new Regulations for Religious Affairs came into force on 1 February 2018. They have the stated aim of protecting citizens' freedom of religious belief but have provoked controversy, with some religious leaders saying they are a violation of religious freedom. Strict criteria must be met for religious organisations to register or to establish a place for religious activities, and the regulations include controls such as requiring religious teachers and staff members to report to the authorities, online religious activities to be reported, large donations to be submitted for examination and approval to the religious affairs departments, and guidelines on where religious organisations can exist and the activities they can organise.
Bibles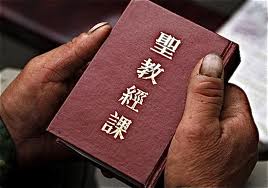 The Chinese government permits Bibles to be printed by the Amity Press in Nanjing, and there has been a great increase in the number available in recent years. Amity Press has printed tens of millions of Bibles, for use by TSPM and CCPA churches and for export. However, there are still not nearly enough Bibles to supply all the Christians in house churches, especially in rural areas, where house churches are growing fast.
Many rural Christians are very poor and could not afford Bibles even if they were available. Radio and the internet are other important sources of Christian teaching – radio broadcasts can be made in minority languages, to reach people who have no Bibles or Christian books.
The Three-Phase Plan
The Chinese government is engaged in a three-phase campaign to eradicate house churches. The government's strategy, outlined in a document issued in September 2011 by the State Administration for Religious Affairs and the ministries of Public Security and Civil Affairs, is to use "humane law enforcement measures" to achieve the total eradication of house churches. The document calls for the following actions:
PHASE ONE From January to June 2012, local authorities to conduct thorough investigations of house churches nationwide and create dossiers on them.
PHASE TWO For the following two to three years, authorities to concentrate on cleaning up the house churches that have been investigated and have had files created, by strongly encouraging them to incorporate into the Three-Self Patriotic Movement.
PHASE THREE Within ten years, authorities to wipe out house churches by closing down those that refuse to comply.
In a survey conducted by human rights organisation China Aid Association in several provinces since the start of the campaign, over 95% of house church leaders said they had already felt the impact of the investigations, while 85% said local religious affairs departments had already created a dossier for their group. In a press statement, China Aid Association said: "Since the beginning of 2012, we have noticed an increase in the frequency of persecution. In addition to the continuing persecution of Shouwang Church in Beijing, the number of similar cases has risen 20% over last year and has spread into other areas, including Christian education, publication and bookstores."
Three Rectifications and One Demolition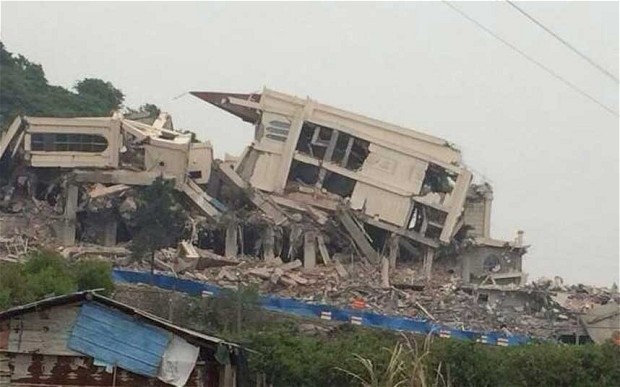 Since the beginning of 2014, in the coastal Zhejiang province, the provincial government's "Three Rectifications and One Demolition" campaign has led to the forced removal of over 1,800 crosses from church buildings and the demolition of about forty church buildings. The campaign was launched to correct or demolish "illegal structures" that violated local regulations. Many Christians have been injured and hundreds detained while seeking to protect their church buildings. Many pastors and several human rights lawyers have been detained because of their opposition to the cross removal campaign.
The city of Wenzhou, known as "China's Jerusalem" because of its large Christian community and many churches, has had the largest number of churches affected. In one of the most notorious cases, in April 2014 thousands of Christians occupied the Sanjiang mega-church (pictured) in Yongjia County, Wenzhou, in a failed attempt to save it. Sanjiang Church, which cost 30 million yuan (almost €4.5 million) to build, was completely demolished.
Shouwang Church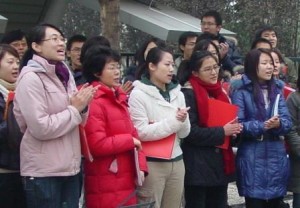 Shouwang Church is one of Beijing's largest house churches, with about 1,000 members. Since April 2011 the church had to hold outdoor services, following a series of evictions from rented premises and the withholding of keys to a property the members had bought, all due to government pressure on landlords and the vendor. Leases signed in December 2011 were terminated due to pressure on landlords from the local police, the housing management office and other government agencies.
Outdoor services were held every Sunday at a Beijing plaza, whatever the weather. Each week many members were arrested – hundreds were detained in police stations for periods up to 48 hours, and many were placed under temporary house arrest. Several leaders have spent months under house arrest (Pastor Jin Tianming has been under house arrest since April 2011) and some members have lost their jobs and homes.
While the main Sunday service has been discontinued, the church continues to meet in small groups, including student and youth groups.
Alimujiang Yimity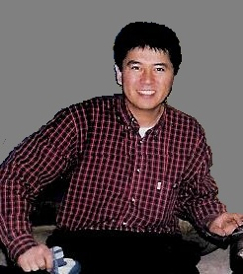 Uighur Christian Alimujiang Yimity, a former Muslim who became the pastor of a church in Xinjiang province, is serving a 15-year prison sentence in Urumqi on a charge of "illegally providing state secrets to foreign nationals". He had simply met and talked with visiting Christians from the USA, and it is believed that the real reason for his detention was his Christian faith and witness among the Uighur people.
Alimujiang was arrested in February 2008 and sentenced in August 2009, and two appeals have failed. The United Nations Commission on Human Rights stated, in September 2008, that Alimujiang was illegally and arbitrarily detained.
(Asia Harvest, BBC, China Aid Association, Christianity Today, CNN, Compass Direct News, Operation World, Wall Street Journal, Wikipedia)
Church in Chains in Action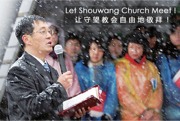 For many years, Church in Chains has called for greater religious freedom in China and has sought to support house church Christians facing harassment and restrictions.
Church in Chains has presented a petition from Irish Christians to the Chinese Embassy in Ireland expressing shock at the disruption of normal, peaceful religious activity by the Chinese police and calling on the Chinese government to respect and implement their obligations to provide genuine freedom of religion for all.
Church in Chains has also campaigned on behalf of individual prisoners and churches. In 2011, it organised a postcard campaign (pictured) from Irish Christians to the Mayor of Beijing calling for an end to the harassment of the church. In 2016, Church in Chains organised a postcard campaign calling for the release of Bao Guohua and Xing Wenxiang, two pastors given long prison sentences for opposing the removal of church crosses.
In response to the huge need for Bibles and Christian literature, Church in Chains has sent thousands of Bibles and Christian books to Christians in China via partner organisation, Chinese Church Support Ministries.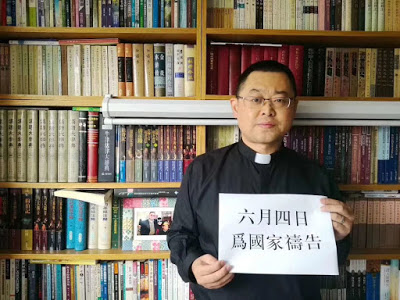 Police in Chengdu, Sichuan arrested 17 members of Early Rain Blessing Church who were attempting to hold a prayer service on 4 June to commemorate the victims of the 1989 Tiananmen Square Massacre.