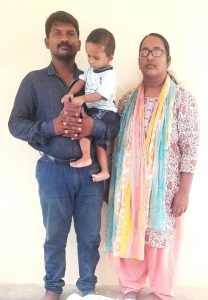 Pastor R. Kirubendran (33, pictured with his family) was released on bail on 24 May after spending a month in prison following a raid on his church during which he was falsely accused of "forcible conversion" and "insulting religion". Four previous attempts to secure bail had failed. Pastor Kirubendran's wife Manju Tiruvendram (32) and their 18-month-old daughter spent 13 days in jail before being released on bail on 6 May.
Pastor Kirubendran said he was shocked at the charges as he and Manju had ministered for six years in the town of Kasimabad in Ghazipur district, Uttar Pradesh state without any previous incident.
"Everything was very smooth and cordial, until suddenly that Sunday the crowd was hurling accusations on us," he told Morning Star News. "The villagers had never opposed us since the time we started worshipping here till now."
The couple led an Indian Pentecostal church and also provided free education for the village since 2017, holding classes for two hours each day from Monday to Saturday for sixty children. "I wanted to educate them," Pastor Kirubendran said. "Families who have money send their children to coaching classes by paying hefty fees. What about the poor children? My wife and I had a lot of burden for the education of the poor children, so we wanted to teach them."
Manju said they also provided guidance and other help to villagers. "We have no money, so we could not help them financially," she said, "but we advised them whenever they asked for it, and we also stood by them; if they had to take someone to the hospital in emergency, we went with them."
Pastor Kirubendran said it is not possible to resume services, which were attended by around ninety people and were held in a rented property in Barapur village, around 2 km from their home. "The person from whom we had rented the house has blocked the entrance of the church with a bamboo mesh," he explained. "Those who have complained against us, they are high-caste people. They are the rich and affluent. My life can get in danger, I must stay safe and keep a low profile. We will have to prove that we are not guilty but are innocent."
The couple moved to Kasimabad from Coimbatore in Tamil Nadu state six years ago. "We came to north India with a lot of burden to serve the Lord," said Manju, "but landed up in jail despite doing nothing wrong."
Arrested, charged and jailed
On 23 April a group of ten mainly high-caste Hindus and around twenty police officers in four vehicles arrived at the church premises soon after Sunday worship finished and accused Pastor Kirubendran and the church of forcible conversion.
Police asked the Christians about their activities and they replied that they met for prayer and worship and also taught underprivileged children. The crowd continued to accuse the pastors of moving from Coimbatore to forcefully convert the villagers. "We did not retaliate or speak back harshly, but humbly answered all their questions," Manju said.
Police searched the premises and confiscated Bibles, songbooks, Pastor Kirubendran's sermon book and a book recording children who attended the informal school. They arrested the couple, their daughter and a female church member who had been a Christian before the couple moved to the area – she was later released after her husband intervened and told the police that they were local residents.
En route to the Kasimabad police station, police stopped their vehicles at the insistence of a crowd at another church around 1.5 km away, led by Pastor Ramesh Masih. "The Sunday service was still going on when we stopped at Ramesh's church," Manju said. "The rest of the police vehicles waited there, while our vehicle took us to the police station."
While police interrogated Pastor Kirubendran, two news reporters arrived and also began to question the couple. "The media persons rigorously questioned me for almost two hours," the pastor told Morning Star News. "They picked every word that I said and asked me hundreds of questions, like where have I come from? What am I doing in this village? And why did we come here, and so on."
Soon the police officers who had stopped at Pastor Masih's church arrived with him and seven or eight members of his congregation. The officers had confiscated songbooks, Bibles and other literature and they questioned Pastor Masih about the books.
Police registered a complaint against Pastor Kirubendran, Manju Tiruvendram, Pastor Masih and two of his church members in a First Information Report under Indian Penal Code sections for "deliberately insulting religion," "provoking to breach peace," "criminal intimidation" and under Uttar Pradesh state legislation for "unlawful conversion".
Joy and heartbreak in prison
Pastor Kirubendran said he was amazed that the message he had delivered at the service on the morning of his arrest was from Philippians 4 v. 4-9, which speaks about rejoicing in the Lord, prayer and peace.
"I told my congregation that day how we can rejoice in the Lord always – our rejoicing does not depend upon our circumstances, but upon our relationship with the Lord. Knowing that our identity is in the Lord… that is how we can rejoice in any and every circumstance," he said. "For the first two weeks, my own message and these verses were encouraging me – that I have to continue to rejoice in the Lord, whatever my circumstances be, the Lord is with me."
When Pastor Kirubendran's daughter became ill in prison, however, it broke his heart – he said he wept before the Lord and pleaded with God to save her. Thankfully, mother and daughter were released on bail after 13 days.
After Manju was released she visited her husband and wept, which deeply troubled him. He said anxiety over the future and concern for his family overwhelmed him as he wondered how he would face the case against him, how to pay for legal costs and what might be happening to his wife and child.
"When I could not get bail, my heart became very sad," he said. "Initially I always prayed that the Lord would grant the bail, but my bail plea was repeatedly rejected. I changed my prayer to, 'Lord, whether I get the bail or not, let my faith stay steadfast.'"
Attacks every Sunday
Lawyer and rights activist Dinanath Jaiswar said that recently churches throughout the district have been attacked. "In the month of April, churches were attacked in Ghazipur District every Sunday," he told Morning Star News. "Local right-wing groups identified each church in the district and prepared a list. According to the list, they attacked churches and, levying false allegation of forced conversion, sent the pastors to jail. In this way they have been successful in shutting down the churches in the district."
The number of incidents of persecution of Christians in Uttar Pradesh rose following the introduction of harsher anti-conversion laws in the state in November 2020. Dinanath Jaiswar reports that from December 2020 to May 2023 some 234 people have been arrested and jailed under the laws, although none has been convicted. This year he has recorded 115 anti-Christian incidents in Uttar Pradesh from January to June.
(Morning Star News)
Photo: Morning Star News
Share this