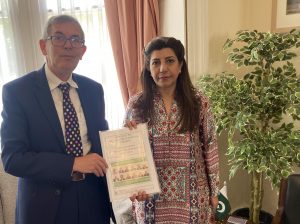 On 6 June, Ms Aisha Farooqui (Ambassador of Pakistan) met with a Church in Chains delegation at the Embassy of Pakistan in Dublin. David Turner (Director, Church in Chains) presented her with a copy of the Petition/Report outlining Church in Chains' concerns about the need for reform of Pakistan's blasphemy laws. Ambassador Farooqui welcomed David Turner and Pamela Coulter to the Embassy and said she was ready to listen to our concerns.
David Turner emphasised that Church in Chains' concerns about the blasphemy laws were widely shared across the political spectrum in Ireland as demonstrated by the fact that the Petition was signed by twelve TDs and Senators including Ivana Bacik (leader of the Labour Party), Peadar Tóibín (leader of Aontú) and Seán Haughey (Foreign Affairs Spokesperson for Fianna Fáil).
"Unfortunately, the legal process is usually very long"
Ambassador Farooqui stated that the blasphemy laws predated the state of Pakistan and had been inherited from the time of British rule. She also pointed out that several other countries had similar blasphemy laws.
She said that many blasphemy cases in recent years were rooted in local politics or local grievances and that, unfortunately, the legal process is usually very long – a fact that she attributed to Pakistan's large population. She stated that the government of Pakistan had introduced some administrative changes which have reduced the number of cases.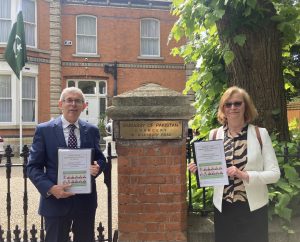 David Turner intervened to say that any such changes had not affected the cases highlighted in the report and Pamela Coulter spoke about the long delay in Shagufta Kiran's case being held and in Asif Pervaiz's appeal being heard and also about the pain and suffering caused to Shagufta and Asif by being held in solitary confinement. The Ambassador noted that Asif's appeal hearing was scheduled for 8 June (two days after the meeting).
Ambassador Farooqui acknowledged that these long delays have resulted in much pain and suffering and said that she was not going to shy away from the issue and said that there has to be a speedy and a more effective way to deal with blasphemy cases. While the government is aware that Christians face discrimination, she pointed out that the white stripe in the flag of Pakistan is representative of the important position of minorities in Pakistani society. "We keep on trying to make things better for our minorities."
She traced the origins of the severe penalties under the blasphemy laws to the Soviet invasion of Afghanistan, the rise of the Taliban and war in Afghanistan and also stressed that the "War on Terror" from 2001 had resulted in large numbers of Afghan refugees entering Pakistan and a consequent increase in the influence of radical Taliban ideology in Pakistan.
Blasphemy Laws "weaponised"
Pamela Coulter said that it appears that the blasphemy laws have been "weaponised" against the Christian community. She again raised the cases of Shagufta Kiran and Asif Pervaiz  and David Turner raised the case of Zafar Bhatti and the numerous delays in his case (some caused by absences of lawyers and judges being on holiday). He emphasised the human suffering caused by such delays (in terms of hopes rising as a court hearing date approached only to be dashed by yet another adjournment) and spoke about Zafar Bhatti's wife now being in her 70's. Ambassador Farooqui responded by stating that judicial delays in Pakistan were widespread and not unique to Christians or minorities but Pamela again emphasised that religious minorities, including Christians, are disproportionally affected by the blasphemy laws.
As the cordial forty-minute meeting drew to a close, David and Pamela asked Ambassador Farooqui if she could encourage her government to take action in four particular cases of Christian prisoners who have all suffered repeated adjournments – Zafar Bhatti, Shagufta Kiran, Asfaq Masih and Asif Pervaiz (details included in the report presented).
"We need to do better"
Ambassador Farooqui concluded by stating that the government of Pakistan does care about the suffering caused under the blasphemy laws and acknowledged that the implementation of the laws needs renewal and reform. She said "We need to do better" and committed to send on the Petition/Report to her government and also to the independent Human Rights Commission of Pakistan.
The report contained an overview of the Blasphemy Law, mini-profiles of four Christians imprisoned under the law, a listing of other Christians facing charges under the laws, a listing of people of other religions facing similar charges, a summary of voices calling for reform and five recommendations to the government of Pakistan.
Share this