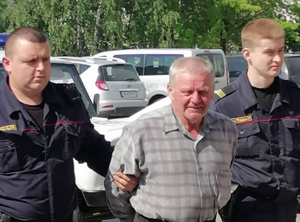 On 1 June, Vladimir Burshtyn was arrested and detained for being part of a group of Baptists who shared their faith on the streets in Drogichin, a town in southwestern Belarus. Pastor Burshtyn, who is in his 70s, had travelled 110km from his hometown of Malorita to take part in the musical outreach event. Police interrupted the event and took Vladimir to Drogichin police station, where he was detained for 24 hours until a court hearing the following day. It is believed that Vladimir was singled out by the authorities because he had a record of organising unapproved events.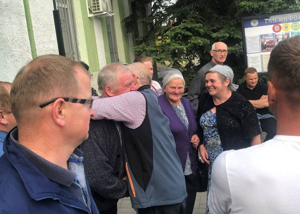 On 2 June, in a closed trial, the retired Baptist pastor was handed a fine of 555 Belarusian Rubles (approximately €200) which is the equivalent of more than a month's average pension. On his release Vladimir was welcomed by more than twenty local Baptists who waited outside the police station for him. He has lodged an appeal against the ruling.
When human rights organisation Forum 18 (which reports on freedom of belief violations in Central Asia, Russia, S. Caucasus, Belarus and Occupied Ukraine)  asked Svetlana Shchur, the Head of the Ideology Department of Drogichin District Executive Committee, why singing and speaking about God was illegal, she denied that the arrest had anything to do with religion and stated that any public event needed permission of the local authorities for health and safety reasons.
In 2008 Pastor Burshtyn was fined for sharing his faith outside a market in the town of Ushachi and in 2005 for a similar event in his hometown of Malorita.
Young Christians arrested for talking about Easter
On 28 April a court in Minsk fined seven young Protestants about two months' average wages each for talking about the meaning of Easter in the centre of the capital city. The young Christians had shared their faith on the streets on 15 April, the day before Orthodox Christians celebrated Easter. They invited passers-by to write their sins on a piece of paper and attach it to the cross in a symbolic act. Police arrested and handcuffed the Christians and took them to Central District police station where they were held for about eight hours. Thirteen days later a court sentenced each one to close to the maximum fine possible under that particular penal code article. They have not appealed against the fines.
Five of the seven Christians were members of Minsk's New Life Pentecostal Church. On the day of the court ruling New Life Church stated on Telegram messenger: "Unfortunately, the court did not take into account the arguments of the young people that they sincerely wanted to share the meaning of Easter with others, that public order was not violated, and that they shared their message with those who were interested."
Belarus is Europe's last dictatorship with President Alexander Lukashenko holding power since 1994 and successive elections being viewed by international observers as neither free nor fair.
All religious activity in Belarus is subject to government control and churches are kept under close surveillance. Unregistered religious activity is illegal and Baptists and Pentecostals experience the most difficulties because of their evangelistic activities. Permits are required to hold events outside church premises or to import religious literature.
Since Christian leaders condemned police brutality in violently breaking up the series of mass demonstrations against the outcome of the 2020 Presidential elections, the state's attitude to Christians has hardened even further.
(Forum 18)
Photos: Baptist Council of Churches
Share this